Exxon Mobil (NYSE:XOM) has just reported earnings and the Street reacted first by selling the news, only to buy the stock throughout the day Friday to help the name rebound to levels seen pre-earnings. This rebound in the name bodes well longer-term for the stock and for the sector. On the surface, we couldn't understand the selling, other than some impacts from Hurricane Harvey which hit earnings. We closely watched the action because this is the one blue-chip we use as a measure for the health of the oil sector. We have maintained that XOM still is compelling for a long-term entry point, especially anytime it is under the $80 mark, which means it is offering a healthy yield on its dividend payout. The question is though, is the company healthy here?
Revenue picture
We all know that oil prices have suffered over the last three years and there has been a direct correlation with revenues of the company. But with oil now at a two year high, we have a reason to believe the revenue picture will substantially improve. Indeed, when comparing the last several third quarters, it appears we are seeing improvement:
Figure 1. Exxon-Mobil Third Quarter Earnings Over The Last Four Years.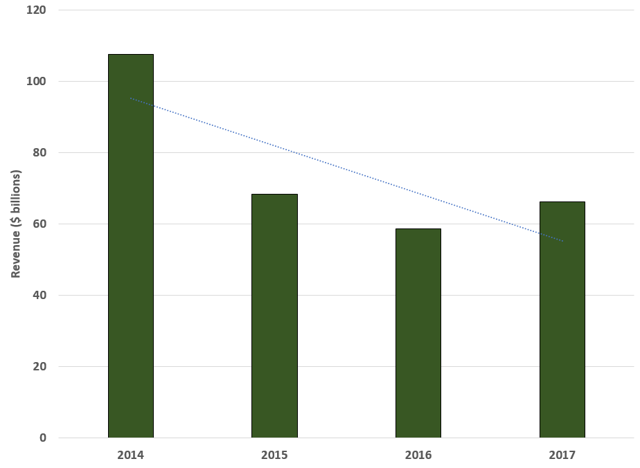 Source: SEC Filings
Revenues were strong in the quarter and did rise as a whole in 2017 versus 2016. They came in at $66.2 billion and rose a solid 13% over last year. This strongly surpassed our expectations on the top line. Although we were certainly factoring in impacts from Hurricane Harvey, our projections were more upbeat than the Streets' consensus. We were looking for $65 billion. Exxon crushed our expectations by $1.2 billion. While these numbers are key, the sector is, of course, still struggling, compared to five years ago. That said, certain segments are performing better than others, but earnings have demonstrably improved from the low points.
Earnings
As we have detailed many times before the company has dramatically cut costs. Have we reached a tipping point? We believe expenses have been nearly cut to the maximum, without significantly harming revenue potential. Expenses (excluding the Singapore purchase of an aromatics company) were about in line with last year. As we have said before, trimming the so-called "expense fat" is long past done. Exxon is trying to cut spending without damaging the vitality of the business and we think the company has been very successful. Capital and exploration expenditures worldwide were $4.4 billion, up very slightly from the Q3 2016 levels. These expenditures have dipped in recent years:
Figure 2. Exxon-Mobil Third Quarter Operational Capital Expenditures Over The Last Four Years.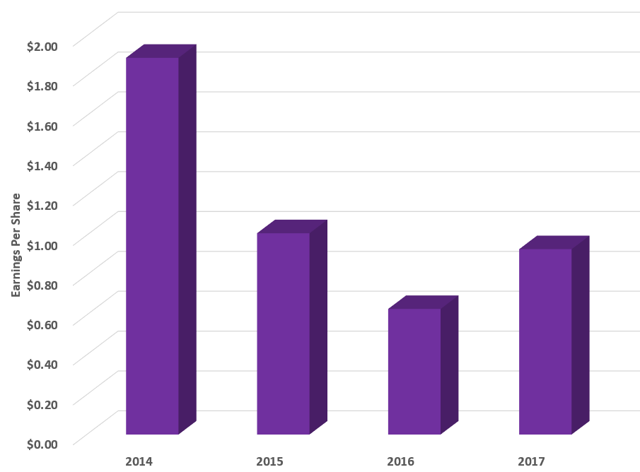 Source: SEC Filings
While expenses have been cut considerably over time, Exxon is still churning out relatively strong production and this continued strong production comes in the face of cutting labor and operational expenses. This is a major sign of strength. For three years, the company has been slashing expenses to help maintain the bottom line, but at this point it seems we may have reached a plateau in the amount of expenses that can be cut. Given the fact that expenses were about flat from last year (excluding the Singapore purchase), while revenues rose, earnings per share were strong once again:
Figure 3. Exxon-Mobil Third Quarter Earnings Over The Last Four Years.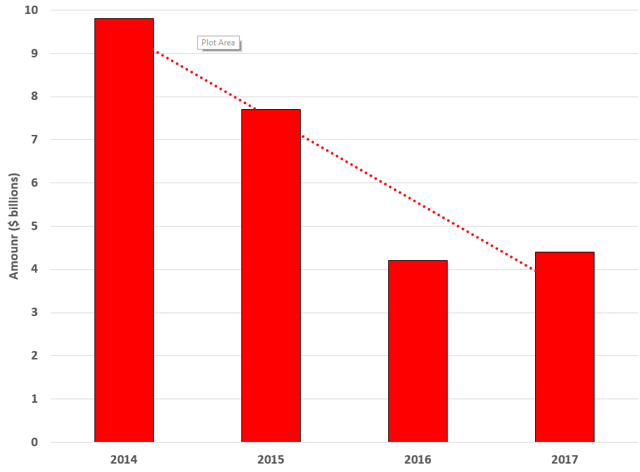 Source: SEC Filings
Compared with last year the company saw strong improvement. The company's Q3 earnings came in at $3.97 billion, or $0.93 per share. What is more, we were expecting that earnings per share would approximate $0.90, but thanks to the stronger than expected revenues seen, our projections were exceeded by $0.03. What is key to realize is that these earnings, with net income almost at $4 billion, were 50% higher than last year. This improvement was mostly a reflection of oil and gas realizations, strong management and improvements in refining operations, however, the impact of Hurricane Harvey weighed on certain segments, and hit overall earnings for $0.04 per share.
Segment specific earnings
Overall earnings came in at $4 billion, but what is really significant is the trends in each segment:
Figure 4. Exxon-Mobil Third Quarter Segment Specific Earnings Over The Last Four Years.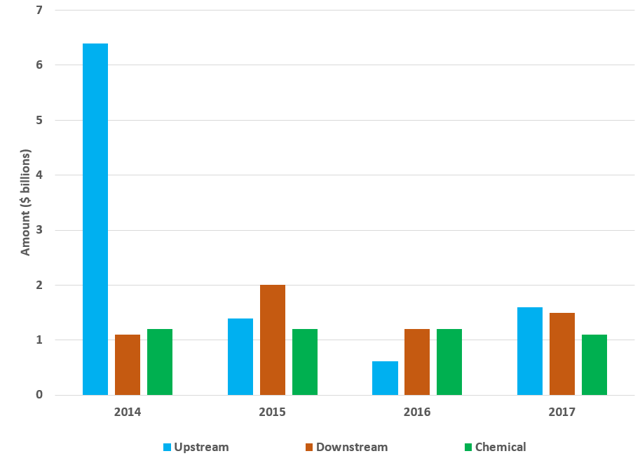 Source: SEC Filings
There has been strong improvement over the last three years. In the present quarter, upstream segment earnings rose mostly due to higher prices of oil. The downstream segment performed well even in the face of Hurricane Harvey's impacts, with earnings coming in at $1.5 billion. Despite downtime, Exxon worked quickly and brought its refineries back online following the storm ahead of schedule to restore product supplies. While the overall $0.04 per share hit to earnings was felt, it could have been worse. However, the downtime did weigh on the chemical segment earnings which were down slightly from a year ago, even though volume growth improved. Looking ahead in this segment we expect substantial improvement. This is because commodity pricing is improving and during the quarter Exxon capitalized on growing demand in Asia by purchasing its aromatics plant in Singapore.
Singapore purchase
We excluded the Singapore purchase of an aromatics plant when extrapolating the capital expenditures to allow for proper comparisons. However, this is a major purchase as Exxon has picked up one of the largest aromatics plants on the globe. Had we factored in the purchase it would have showed capital expenditures jumped 43% year-over-year to nearly $6 billion.
This purchase will allow the company to boost its attributable aromatics production to 3.5 million tons per year, and add 65,000 barrels per day of transportation fuels capacity. In addition it would boost paraxylene (which is used to make plastic bottles and other textiles) by 80% in Singapore. Singapore is already Exxon's largest producer of paraxylene. With expected growth in chemical demand of 45% in the next decade this purchase will allow the chemical segment to respond to the rising demand. We predict that once fully on line, present earnings in the segment could be boosted by as much as 10-20% per quarter, depending on expenses and costs of commodities.
Our take on the stock
The company exceeded our upstream and downstream expectations, while meeting our chemical expectations. Still, it outperformed our high expectations for revenues and earnings, and this is very bullish. But there is one more reason why we like the stock here on any pullback under $80. It is because even at these still lower levels of commodity prices, for the last four quarters cash flows and asset sales have covered the dividend and business investments. We are particularly pleased with cash flows:
Figure 5. Exxon-Mobil Cash Flows and Dividends Paid Over The Last Four Quarters.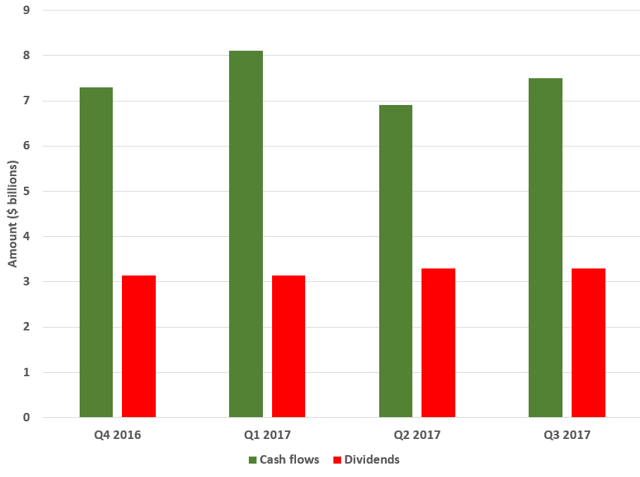 Source: SEC Filings
There is no doubt that with the lower prices of oil, the company is making less money than it did a few years ago, but cash flow is improving. This is important for the long-term health of the company. Cash flow from operations (excluding any asset sales) was $7.5 billion, and this is very strong, up $2.3 billion from Q3 2016. There were asset sales of $0.9 billion which helped cover the Singapore property. As you can see with the dividends, the stock yields 3.7% at present levels. The company remains incredibly shareholder friendly, and is doing all it can to maintain strong cash flow in this difficult time to protect the company and its shareholders.
We like the stock here, although as the stock moves toward $90 we are less compelled. A fair buy on this stock, all things considered is about $85. Therefore, buyers should target under $80 as this in our estimation is a bargain, and pushes the yield toward 4%. While the company is healthy here, be warned that a dip in oil prices could send shares substantially lower again. Timing buys has been difficult in recent years. Still, we continue to view Exxon as one of the most reliable blue-chip stocks out there. Regardless of where oil goes short-term, we are buying an effectively managed company that is capable of cutting expenses to the core and selling off underperforming assets to protect the bottom line and the dividend, while making substantial investments in manufacturing capacities.
WANT TO COMMENT OR LEAVE A REACTION? CREATE AN ACCOUNT NOW
—
Please Like And Share Our Content!