We told you to get out after shares spiked following Q2 earnings. After another 25% decline, you have lost another 50%. What we said back in fall 2016 remains true today. The loss of customers is simply and absolutely unsustainable. Let us discuss:
Revenues
Frontier reported revenue of $2.25 billion but thanks to controlled expense operating income of $309 million. While expenses management is key, revenues continue to decline:
Figure 1. Frontier Communications Revenues Over the Last 6 Quarters.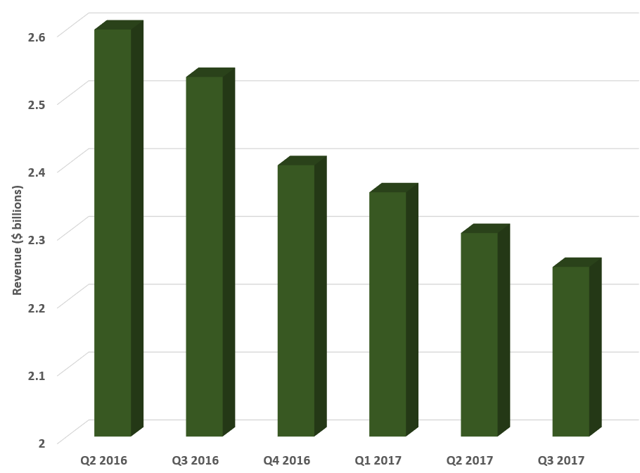 Source: SEC Filings
Revenues were down quarter-over-quarter once again. Revenue is 11% lower than last year's thanks to the loss of customers which we will discuss in a moment. This is simply worrisome. The results were however slightly better than our projections. We were overly bearish and anticipated revenues of $2.15 billion. The company surpassed our estimates by $100 million. This was a positive result, but let us investigate the customer loss issue.
Customer loss
Customer turnover has been the death of the company. On this front, there has been some slight reason to be positive. Customer churn slowed in the quarter to 2.08%, and improved from 2.24% last quarter. This also is down from the 2.37% before that. This was better than our projections for 2.15%. However, that still means customers are leaving. Let us look deeper into where the losses are stemming from.
Residential customers
At the end of the quarter, Frontier had 4,486,000 residential customers, down from 4,585,000 residential customers in Q2 and down from 4,736,000 at the end of Q1. Coming into the year, there were 4,891,000 residential customers. This is sad. Continued declines are a fundamental weakness in this name. You simply cannot invest in a name like this when such losses are happening.
The company has played with pricing to try and offset these losses. Total residential revenue was $1.10 billion for Q3 2017, compared to $1.12 billion last quarter. The average monthly residential revenue per customer has fallen too in many quarters, however this was one positive piece of news. Average monthly revenue per residential customer rose from $80.38 last quarter to $80.91. While the increase is welcomed, keep in mind that this is still down from the mid $80s almost a year ago.
Business customers
The business client side of the company continues to suffer as well. At the end of the quarter, Frontier lost another net 10,000 customers. It is now down to just 463,000 business-based customers. This is down from 473,000 business-based customers to start the quarter. The company entered the year at 502,000 business customers. We believed that business customer loss would decline, but we were wrong in this regard as the churn rate expanded. With this loss of customers, business revenues were down once again. This is another negative trend that should be a flag to you. Total revenue from business-based customers was $958 million in Q3 2017, vs. $ 982 billion last quarter. Average monthly revenue per business customers also continued to fall.
Broadband customers
Broadband used to be a source of strength for Frontier, but the pain continues here. The company buries these results in tables now, rather than discussing them outright. After the Verizon deal the company gained many broadband customers vs. last year. However, for now the fifth time since we have been covering the name, the company lost broadband subscribers. At the end of the quarter, the company had 4,000,000 broadband customers. This is a decline of another 63,000 subscribers from the 4,063,000 at the start of the quarter. This was also down from 4,271,000 broadband customers to start the year. This is just another reason to avoid the name.
Bottom line? Customer loss is crippling the company and it has weighed on sales with no signs of slowing down. The customer losses are across the board, in all segments.
Earnings
With overall operating expenses of $1.9 billion, the company managed to offset revenue losses. The expenses were down $700 million from last quarter. Therefore, earnings were not as bad as we thought on an adjusted basis, but the trend is unhealthy:
Figure 2. Frontier Communications Earnings Per Share Over the Last Six Quarters.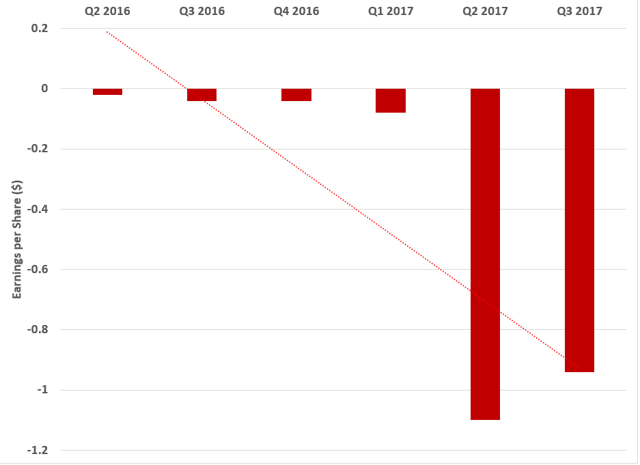 Source: SEC Filings
Net loss attributable to common shareholders was $38 million, a substantial improvement from the $662 million loss last quarter (there was a $500 million impairment charge last quarter). After making adjustments, the company lost far less per share than we had anticipated. We were expecting a loss per share of $1.20. Thanks to expense controls and recognized synergies the company surpassed our expectations by $0.26, losing $0.94 per share. Of course, the trend is negative.
Our take on the stock
We still see no reason to buy the stock. The dividend is being covered by cash flow but we think to right the ship the dividend needs to be cut again. After today's debacle, the stock will yield 27% if the dividend is maintained. We predict that it will be cut once again. Management commentary raises a red flag:
"We remain committed to enhancing the customer experience, further reducing churn, generating cash flow, and improving the balance sheet to further stabilize the business and grow longer term."
While this appears to be rather upbeat, in order to improve the balance sheet, you need to stop losing customers to fix the bottom line. If not, you have to cut expenses, which is currently happening. The company is paying out nearly $200 million a year in dividends on common stock and over $200 million on the preferreds. To open up capex money, we would not be surprised if the dividend is cut again. Analysts pressed management on the conference call, and they avoided and dodged each question.
At this point, the stock has fallen from $125 to $9.00 on a split adjusted basis. If you have been holding, there is no since in selling now. If you are on the sidelines, stay there.
Take home? We see an investment here as indefensible. Maybe this time we will be wrong.
WANT TO SUBMIT AN ARTICLE?  SEND YOUR PIECE TO EDITORS@QUAD7CAPITAL.COM
—
Please Like And Share Our Content!