Should you by Verizon (VZ) stock here? Competitive pressures have become fiercer throughout 2017. However, Verizon stock should be able to grow over the long-term, because the company has the top-quality network in the wireless industry. New technologies will help Verizon retain its competitive advantage over low-cost providers. For example, Verizon is active in the Internet of Things, which will power connectivity outside of just smartphones and tablets.
Verizon has made multiple acquisitions to boost its IoT business, including the $2.5 billion acquisition of Fleetmatics, and the $900 million acquisition of Telogis. Telematics revenue was over $220 million last quarter, including Fleetmatics and Telogis. Verizon exceeded $1 billion in IoT revenue in 2016, and has continued to grow this year. Total IoT revenue on an organic basis increased 13% last quarter. In addition, as the largest wireless carrier in the U.S., 5G is a major growth catalyst for Verizon, and Verizon stock. The company conducted 5G trials last year, and plans to initiate a pilot program in 11 U.S. cities this year. The trials are ongoing, and Verizon stated on the third-quarter analyst call, that it will provide updates on the trial results in the fourth quarter.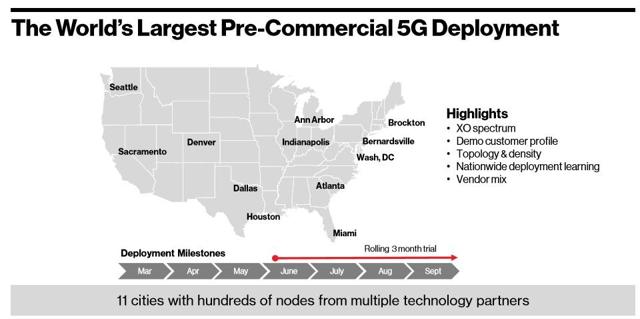 5G could be a game-changer. Verizon stated in its 2016 annual report that 5G speeds are 100 times faster than current wireless technology. It estimates the total market opportunity for 5G at $12.3 trillion, by 2035.
Verizon's $3.1 billion acquisition of Straight Path Communications (STRP) will help the company gain more spectrum, and further its lead in 5G.
Valuation & Expected Returns
Because of the 15% year-to-date decline in Verizon's share price, the stock now has a price-to-earnings ratio of 11.5. This is a low multiple, especially in relation to the S&P 500 Index, which has an average price-to-earnings ratio of 25.8.
And, Verizon is also undervalued when compared to its own average valuation. Over the past 10 years, the stock held an average price-to-earnings ratio of 14.5. There is some room for the valuation multiple to rise, since Verizon is still growing. Verizon has increased its earnings-per-share by 5% per year over the past 10 years. It could continue to increase earnings in the low-to-mid single digit rate going forward.
If the price-to-earnings ratio rose to its 10-year average of 14.5, the stock would return approximately 26%.
In addition, future returns will be generated by earnings growth and dividends. A potential breakdown of earnings growth is below:
1%-2% revenue growth
0.25%-0.50% margin expansion
5.3% dividend yield
Even with low earnings growth, total returns could reach 6%-8% per year. Not surprisingly, Verizon's dividends will be the biggest contributor to future returns. Importantly, the dividend appears to be secure.
Going forward, we like Verizon stock here.
Please Like And Share Our Content!