Despite what you may have heard about the so called "retail apocalypse" Realty Income (O) remains largely immune to the worst of the retail industry's troubles, with less than 1% of its rent coming from distressed retailers.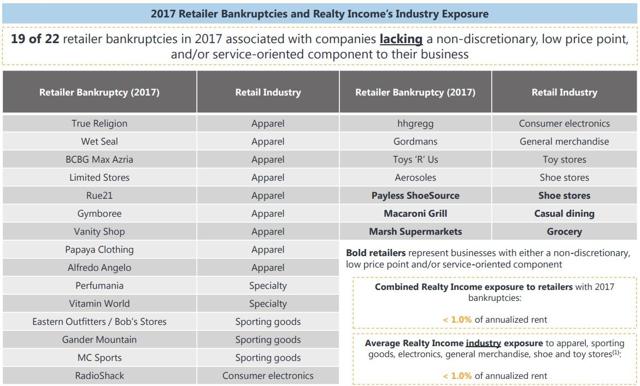 (Source: Realty Income investor presentation)
In fact, the REIT is thriving, with accelerating top and bottom line growth, despite numerous theoretical growth headwinds, including increasing interest rates, rise of e-commerce, and a declining share price. In fact, over the first nine months of the year, Realty Income has raised $1.3 billion in equity capital at an weighted average price of $59.99 a share, including $444 million in the last quarter alone.
However, while this has indeed been highly dilutionary in terms of share count, what matters is that management continues to be skilled at capital allocation, utilizing a good mix of retained AFFO (REIT equivalent of free cash flow and what funds the dividend), debt, and equity to profitably fund the expansion of its property portfolio.
| | | |
| --- | --- | --- |
| Source Of Capital | Capital Weighting (2017) | Cost Of Capital |
| Retained AFFO | 16.7% | 0% |
| Debt | 35.8% | 4.0% |
| New Equity | 47.5% | 5.4% |
| Weighted Average Cost Of Capital | 100% | 4.0% |
| Cash Yield On New Investments | NA | 6.5% |
Basically this means that Realty Income, despite all the apparent challenges facing its industry, continues to be able to grow profitably, meaning that AFFO/share is rising with each new property purchased.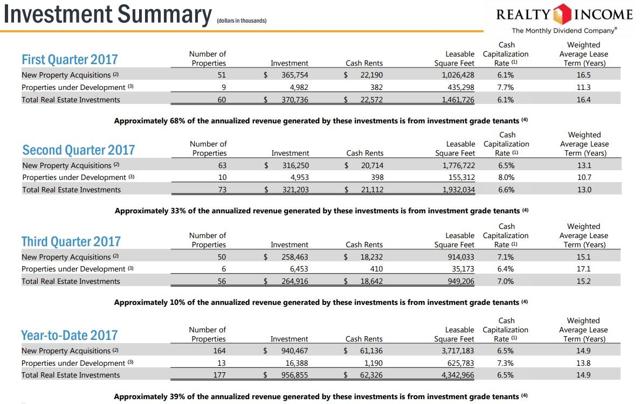 For example in the first nine months of 2017, management has grown its property count by 131, with net investment (including properties that were sold) of $887.4 million. Best of all? These properties were all 100% leased, with average remaining leases of 14.9 years and initial cash yields of 6.5%.
And based on management's guidance of $1.5 billion in new investments for 2017, the REIT is likely to buy over $500 million in new properties in Q4, which will make this already strong-growth year even better.
In other words, despite maintaining very high standards for what it purchases, Realty Income has still been able to achieve remarkable growth this year, including very impressive AFFO/share and dividend growth that is likely to continue for the foreseeable future.
That's because it has one of the most stable business models in the industry, which, combined with an exceptionally strong growth runway, means that "the monthly dividend company" is likely to keep enriching dividend lovers for years and decades to come.
—
Please Like And Share Our Content!