Switch (NYSE:SWCH) stock is rising here today. We have not discussed Switch stock much, but the name is intriguing. It was also highlighted by us here at Quad 7 Capital as a key stock to watch this week. For those unfamiliar, here is a brief synopsis of the name:
To provide a brief summary of the company, Switch describes themselves as:
… a technology infrastructure company powering the sustainable growth of the connected world and the Internet of Everything. Our mission is to enable the advancement of humanity be creating smart, resilient and sustainable infrastructure solutions that support the most innovative technology ecosystems.
Said in a more mundane fashion, Switch is the owner of mega-scale data centers where it provides services to over 800 customers through its four data center campuses (or primes).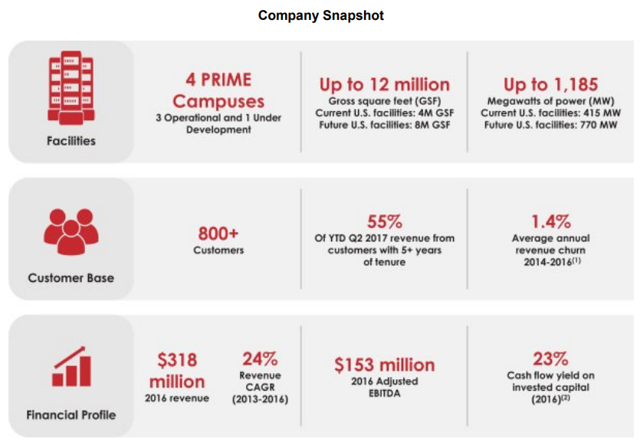 Source: SEC S-1/A
So as you can see, Switch describes itself as a technology infrastructure company which supports the connected world and IoE (internet of everything) secular theme. The company aims to create smart, resilient and sustainable infrastructure to support the excepted (continued) boom in the usage of this infrastructure in the future.
The company describes itself as a pioneer of the most reliable, secure, resilient and sustainable data centres. The company services over 800 customers as Switch differentiates itself with data centres which have a higher power density, thanks to its Switch Modularly Optimized Design. This design is protected by hundreds of pending patent claims. These patents are focused on allowing data centres to be re-designed with great ease and at low costs. The brain behind the smart design is CEO, founder and Chairman Rob Roy, being critical to the overall business.
The company operates three data centres in Las Vegas, Reno and Grand Rapids, while it has acquired land to open a fourth location. It should be said that the Vegas operations is the main centre, as the other two existing centres are very small on a relative basis. The company claims that it can outgrow the wider industry as its innovative design distinguishes the company from ¨traditional¨ data centre businesses. The company focuses high business information which is critical and requires even higher security, not focusing much on traditional business or consumer-facing data.
So why is the stock rising today? The name is rising because of speculation heading into earnings after the bell.
As this is the first big report after the IPO, estimates are volatile. We see Switch stock rising after earnings, because we expect a beat. Going forward, our price target is $22. Other analysis have made their opinions clear:
One of the highest price targets comes from BMO, which has started the data-center company at Outperform with a $23 target (22% upside from current price). It's joined in an Overweight rating by JPMorgan, which says the company deserves a premium valuation due to an industry-topping growth rate and the prospect of long-term margin expansion.
Credit Suisse and William Blair also initiated at Outperform.
Among the more cautious firms are Goldman Sachs, with a Neutral start and the low price target at $18. The premium's accounted for in the gains already, the firm says, but Switch will continue to benefit from secular demand trends along with rivals.
Also at Neutral: Citigroup (which set a $20 price target and says the company might see an extended ramp and lower returns than it's tracking for), Jefferies ($20 target) and Wells Fargo ($19 target).
—
—
Please Like And Share Our Content!