As you know we have been covering "the Meet Group" (NASDAQ:MEET) since it was simply MeetMe. Well the stock has imploded for a second time following earnings. While it sold off hard after Q2, and we felt this was justified to a degree, we contend the present implosion is a gross overreaction to the facts and the projections for the company. In this article, we will offer commentary on what happened relative to our expectations, and provide our projections going forward:
Earnings summation
Here's the deal – the earnings themselves this quarter were pretty decent. However, it really was the guidance that disappointed. We have maintained that shares were a buy as the name fell under the $5 mark and approached $4. We believe shares are undervalued and that MEET is one of the most undervalued social media plays out there, now more than ever. For a great valuation analysis (prior to today's implosion), please see this recent piece by our colleague Philaretos. For now, we will discuss the trends and our projections.
Revenue rises again
As shares approach $2, almost to the levels where we first ever recommended the name, we have to question what is going on. You likely remember that we bought in at the $2 mark, and made it our top pick back in 2016. In the summer of 2016, the stock surpassed $7, at which point we recommended that investors should take profits. We started getting bullish again as we approached $4, but what we find bizarre is this selloff comes as revenues shoot higher:
Figure 1. Meet Group's Third Quarter Revenues Over The Last Three Years.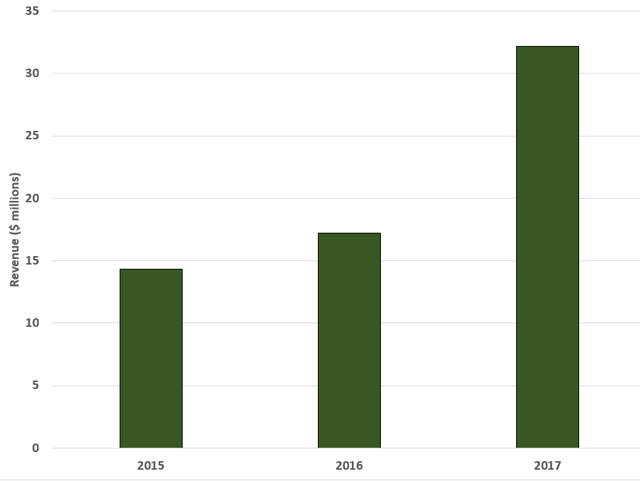 Source: SEC Filings
Historically the name has been volatile, but the company has always organically grown sales. The very recent jump comes with the realization that acquisition related activity has pushed up sales, but the growth was impressive nonetheless. The revenue number came in at $32.25 million, up a strong 87% year-over-year (please keep in mind…..READ FULL COLUMN NOW
Please Like And Share Our Content!