Since going public in 2014, Alibaba (BABA) has put out three 20-F forms (Annual Reports). In these reports they highlight a category: Recent Investments, Acquisition, and Strategic Alliance Activities. Basically it tells you what the company invested in, and this is key. Under Logistics investments, only a handful of companies have earned the honor of becoming Alibaba partners, and to have been invested in. One of these is Best Inc (BSTI), which is rallying today ahead of earnings due to be reported tomorrow,
In the following chart, we have highlighted these investments: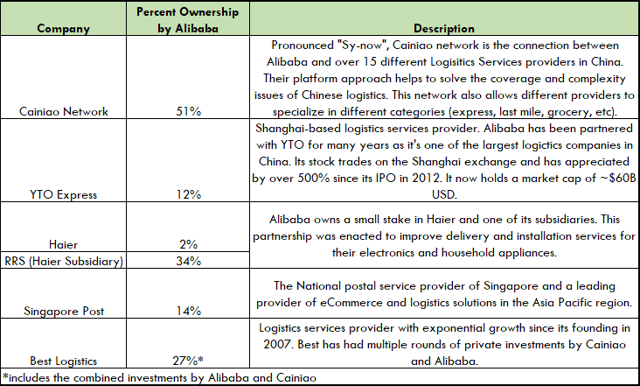 At current valuations, this investment is a drop in the bucket for Alibaba, but considering it's one of the few logistics bets they've made shows confidence in Best's platform. In the long-term, Alibaba may be looking to acquire some of its top performing logistics providers. On the Cainiao Network, the top six logistics providers handled a majority of the shipments in 2016. We believe top performers such as Best will slowly take market share on the Cainiao Network at which point Alibaba will likely add to its stake to become a majority owner.
Charles Sizemore from Sizemore Capital put it nicely in his interview with CNBC regarding Chinese logistics companies.
"The driving force [behind logistics growth in China] is eCommerce. If you're Amazon or Alibaba, you really have no choice but to build out your own infrastructure because depending on third parties is a big risk."
Alibaba now has a majority stake in Cainiao Network, but in order to have full control of its supply chain and logistics, it will need to make further investments into the top 3-4 logistics providers. Only time will tell who those providers will be.
—
—
Please Like And Share Our Content!