Foot Locker (NYSE:FL) has just reported on its most anticipated earnings reports in company history. The sentiment on the name and the sector has been extremely negative. There is a palpable belief that retail is dead, and very few retailer stocks have done well this year given the fears over Amazon (AMZN) taking over the world. All footwear and sporting goods related stocks have perhaps been hit the absolute hardest. That said, Foot Locker shares are rallying.
What a reversal from the travesty that was the second quarter. In this column, we will discuss where weaknesses persist that have impacted our long thesis, while also highlighting where the company has notable strengths within those perceived weaknesses. In addition, we discuss a very bullish new partnership with (NKE) that investors absolutely must be aware of.
Weakness-Comparable Sales
Let's talk about everything you need to know starting with one of the key weaknesses for the company right now. One of the issues that crushed the stock was declining comparable sales, which began back in Q1: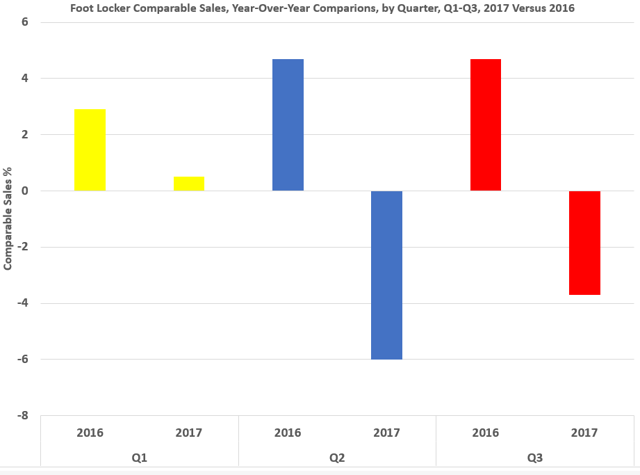 As we look into the Q3 results, we see that comparable sales once again declined 3.7%. This is a fundamental weakness for the company. Our general rule is that negative comparable sales are a red flag and usually we will avoid the stock when the company is experiencing such weakness. In fact, we see the largest issue with Foot Locker being its decline in same-store sales. This is a key indicator, and had been great for many quarters up until the last few months. What is going on here?
SUBSCRIBERS AND FOLLOWERS GOT A FIRST LOOK AT THIS
-No more costly delays in waiting for material
-Dozens of publications per week, including news coverage, earnings commentary, analysis, politics, and more
-Access to special guest contributions, including from WSJ, CNBC, and prolific SA authors
–Ability to comment on articles
–Access to our weekly newsletter
-Publish your own opinion/analysis
…..and FREE access to our upcoming paid content for life
Thank you for your readership, and for your loyalty.
Regards,
Quad7Capital
——
Not interested? We understand. However, you will miss out on the insights we have provided over the years, that helped drive us to the NUMBER ONE AUTHOR on long ideas on the Seeking Alpha Platform,

—
Please Like And Share Our Content!