By Charles Bucket:
Smart beta ETFs focusing on equities are popular these days – that is a fact. Smart beta ETFs are equity indices and are based on factor investing. They simply use factors like momentum, value, low-risk, volatility, etc. to choose the correct stocks to fit in the index. Some of these factors could not only be used in the selection of equities, but also for other assets, like bonds.
A lot of my friends ask me what ETFs they should use to buy bonds and if there are some "smart" bond ETFs. So I have decided to write a short text about smart beta ETFs:
According to ETFGI, assets invested in smart beta ETFs listed globally have increased by 21.9 % in the first nine months of the year, to reach a new record high of $644 billion at the end of September. On the same date, there were 1 284 smart beta equity ETFs from 161 providers listed on 40 exchanges in 33 countries. In the U.S. alone, there are hundreds of such types of ETFs. However, speaking about smart beta bond ETFs, there were only several tens listed in the U.S. or worldwide, with assets under management of just a few billion dollars (or low tens of billions), according to XTF data. (2)
Exact numbers might vary because there are one or two big ETFs that may or may not be seen as smart beta bond ETFs. However, it is safe to say that smart beta bond ETFs count as only a low few percent of the whole smart beta ETF universe and also a low percent of bond ETFs.
There are a few reasons for this: First of all, smart beta ETFs investing is historically connected to equity investing, not fixed income investing. In addition, there are some problems associated with smart beta bond ETFs. Given the history, there is simply a lack of data.
You will find many studies on smart beta or factor equity investing, but only a few studies on smart beta bond investing. If you do find such a study, it will probably be a fairly new one, so you could hardly compare earlier findings with the new findings. Given the low AUM, there is also a purely practical problem – low liquidity.
Although you could find few smart beta bond ETFs with AUM in hundreds of millions of dollars or even more than one billion, most such ETFs are still too small, so the trading volume is low.
I personally think (and you might disagree) that the biggest problem for smart beta bond ETFs is their complexity. The bond market in combination with the smart beta is just too complicated. When I discuss equities with my friends, or equity ETFs and even smart beta equity ETFs, it is mostly not so difficult to explain how they work. But when I start speaking about bonds, yield curve (flattening or steepening), credit spreads, duration, modified duration, etc., they always lose interest very quickly. It could be difficult for "average" investors to understand how such ETFs work and so they simply don't buy them. Is that a mistake?
It is important to know that not all the factors that are widely used in equity investing can also be used for selecting bonds. For instance, the low volatility factor is very popular among smart beta equity ETFs (who wouldn't like to have low volatility?), but this factor does not function much in bonds. It is because a new emission of bonds logically does not have a history and of course, as the maturity of a bond approaches, the volatility changes. So, if you are looking for a low-risk factor in bonds, you should instead watch modified duration or credit risk, etc. Either way, that is enough theory. Let's take a look at some smart beta bond ETFs.
One of the simplest examples of smart beta bond ETF could be the PowerShares Fundamental High Yield Corporate Bond Portfolio (PHB). This ETF has over $1.2 billion AUM, so there is no liquidity issue. PHB tracks RAFI Bonds U.S. High Yield 1-10 Index. This index is rebalanced on a monthly basis, and the whole point is in fundamental weighting. Instead of given the weight in a portfolio of a particular bond simply based on the amount of debt that a company is willing to issue, RAFI Bonds U.S. High Yield 1-10 Index uses "weights according to four fundamental measures of company size — sales, cash flow, dividends and book value." TER of PHB is 0.5 %, and the main question is: is it worth it?
Well, let's compare PHB with two very popular and the biggest "normal" bond ETFs that are also focusing on the high yield bond market. I am speaking about the SPDR Bloomberg Barclays High Yield Bond ETF (JNK) and iShares iBoxx $ High Yield Corporate Bond ETF(HYG). Both these ETFs are much bigger ($12 billion and $20 billion, respectively), but TER is almost similar. JNK tracks the Bloomberg Barclays High Yield Very Liquid Index and HYG tracks the Markit iBoxx USD Liquid High Yield Index, common high yield indices (yes, both indices use liquidity screens, but you could hardly consider them as smart beta)
PHB was originally launched in 2007, but changed the underlying index from Wells Fargo High Yield Bond Index to the current index on 10/2/2010, so the Chart also starts at 10/2/2010. As you can see from Chart 1, from 2010 to the present date, PHB has a slightly lower return, but also lower volatility. However, in the 3-year period (Chart 2), PHB has not only lower volatility but also a slightly bigger total return. So, should you swap from "normal" bond ETFs to smart beta fond ETFs? Well, based only on these two charts, the answer would probably be yes, especially if you are looking for a "smarter solution" (less volatile with an almost similar total return). But not so fast.
Chart1: Total return and volatility of PHB, JNK, and HYG; source: ETFreplay.com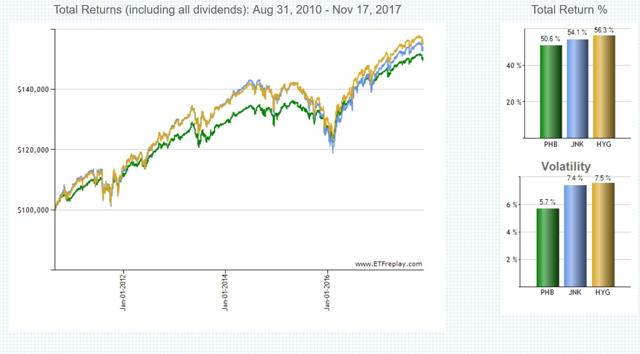 Chart2: Total return (3y) and volatility of PHB, HYG, and JNK; source: ETFreplay.com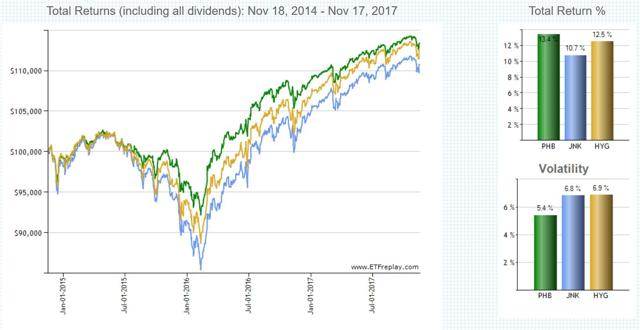 PHB is for sure not the only smart beta ETF in high yield that exists. The VanEck Vectors Fallen Angel High Yield Bond ETF (ANGL) (6) is also very popular. ANGL seeks to replicate the ICE BofA Merrill Lynch U.S. Fallen Angel High Yield Index. The idea of so-called "fallen angels" is based on the thesis that choosing a bond that was originally issued as an investment grade corporate bond, but has since been downgraded to high-yield bond status, could bring substantial gains.
Although we can debate whether ANGL is, therefore, a "true" high yield bond ETF or not, the fact is that for the "average" investor, it would be, if for nothing else but for the "High Yield" in the name. (And also the majority of ANGL portfolio is in BB and lower bonds). As you can see from Charts 3 and 4, in the 3-year period as well as in the slightly longer period, ANGL can bring much bigger gains, but also a slightly bigger volatility. (ANGL was originally launched in April 2012, but all charts showed some strange movement in price at the turn of July and August 2013, that resulted in nonsensical volatility numbers, so I have decided to move the start of the Chart to August 2013, but this has zero effect on the conclusions.)
Chart3: Total return and volatility of PHB and ANGL; source: ETFreplay.com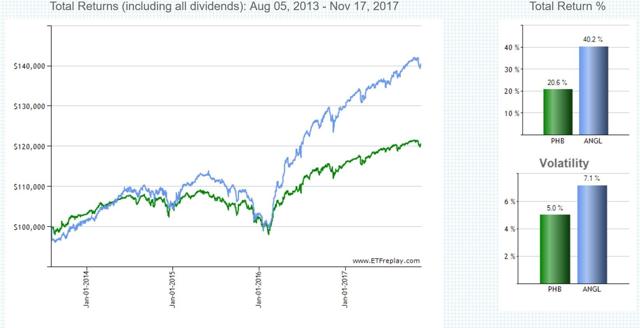 Chart4: Total return (3y) and volatility of PHB and ANGL; source: ETFreplay.com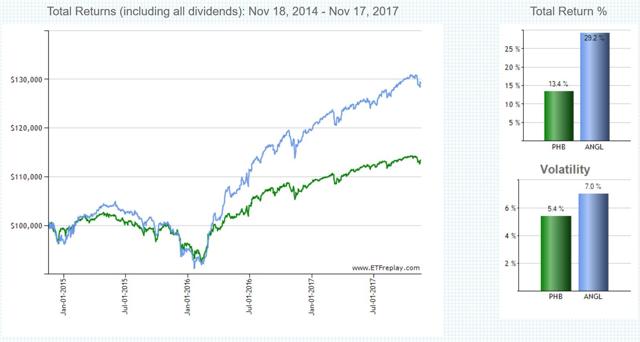 Does this mean that you should pick ANGL instead of PHB and instead of "normal" bond (high yield) ETFs? Well, yes and no. You know, if you are not very interested in bond investing, normal broad ETFs will probably be better for you. Why? As you can see from Chart 1, it does not matter if you choose HYG or JNK in a longer period. Although they are not tracking the same high yield index, the total return, as well as the volatility, are almost the same. So, you could simply pick the one with the lowest TER or so…
The "problem" with a smart beta bond (well not only bond) ETFs is that, although they seek to replicate their underlying index (so you could say that they are passive investment vehicles), the underlying indices are rebalanced on a regular (mostly monthly) basis and are "actively managed." They choose the correct bonds based on criteria that could be similar to an actively managed bond mutual fund. So, these types of ETFs are rather "semi-active" than "passive." Therefore, it is much more difficult to choose the "best" one, especially for an inexperienced investor. There is also the problem that history does not repeat itself and does not guarantee anything for the future.
A strategy (factor) that worked well in recent years could have a problem in subsequent years, perhaps simply because it becomes very common. Smart beta strategies could also result in a portfolio that is "too" concerted in only a few sectors. For example, the three biggest sectors in HYG now represent about 52 % of the whole portfolio, but it is about 66 % in ANGL. This could be potentially dangerous, and so you must be sufficiently experienced to evaluate these risks.
To sum up, yes, I think that smart beta ETFs are worth a look and that the AUM in these types of ETFs will grow in the future. However, if you want to use them, it is essential to do a proper DD. And if you don't want to or are not able to do your DD, you should avoid them.
We want you to join our community, for FREE.
-No more costly delays in waiting for material
-Dozens of publications per week, including news coverage, earnings commentary, analysis, politics, and more
-Access to special guest contributions, including from WSJ, CNBC, and prolific SA authors
–Ability to comment on articles
–Access to our weekly newsletter
-Publish your own opinion/analysis
…..and FREE access to our upcoming paid content for life
Thank you for your readership, and for your loyalty.
Regards,
Quad7Capital
——
Not interested? We understand. However, you will miss out on the insights we have provided over the years, that helped drive us to the NUMBER ONE AUTHOR on long ideas on the Seeking Alpha Platform,

—
Please Like And Share Our Content!