Natural gas is a hot button issue and a favoriate of traders. The VelocityShares 3X Long Natural Gas ETN (UGAZ) is off 13% today and many traders are positioning to catch a long-term bounce. This move remains to be seen. In this column we present the most recent EIA findings, as well as things to keep in mind regarding how to value natural gas:
Valuing Natural Gas
Natural gas is an exceptionally volatile commodity. And it is never entirely clear what time horizons are most relevant to the market. For example, during the injection season (April-October), the target is to pump natural gas into the underground storage to reach an adequate supply level before winter arrives.
Therefore, the market may ignore short-term fluctuations in fundamentals and focus on the long-term (end-of-injection season storage target).
In other words, even during cool summers, with lack of cooling demand, price can still remain relatively high to discourage consumption in the Electric Power sector and encourage supply so as to ensure that injections stay robust and natural gas storage gets filled before the cold season.
During the winter, the situation is often the reverse. Short-term changes in heating-degree days have a disproportionately stronger effect on consumption and can lead to violent price action.
Summary
Working gas in storage was 3,693 Bcf as of Friday, November 24, 2017, according to EIA estimates. This represents a net decrease of 33 Bcf from the previous week. Stocks were 309 Bcf less than last year at this time and 107 Bcf below the five-year average of 3,800 Bcf. At 3,693 Bcf, total working gas is within the five-year historical range.
For information on sampling error in this report, see Estimated Measures of Sampling Variability table below.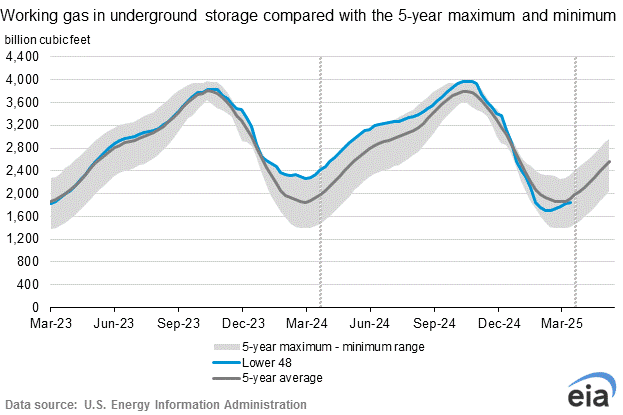 Estimated measures of sampling variability Download History (April 2015 to Present)
Coefficient of Variation for Stocks
% of working gas
Standard Error for Net Change 
billion cubic feet (Bcf)
Region
11/24/17
11/17/17
net change
East
1.5
1.5
0.3
Midwest
1.6
1.7
1.2
Mountain
1.7
1.8
0.2
Pacific
2.3
2.4
1.3
South Central
1.7
1.7
0.8
   Salt
3.6
3.5
0.7
   Nonsalt
1.9
1.9
0.4
Total
0.8
0.8
1.9
***
We want you to join our community
-No more costly delays in waiting for material
-Dozens of publications per week, including news coverage, earnings commentary, analysis, politics, and more
-Access to special guest contributions, including from WSJ, CNBC, and prolific SA authors
–Ability to comment on articles
–Access to our weekly newsletter
-Publish your own opinion/analysis
…..and FREE access to our upcoming paid content for life
Thank you for your readership, and for your loyalty.
Regards,
Quad7Capital
——
Not interested? We understand. However, you will miss out on the insights we have provided over the years, that helped drive us to the NUMBER ONE AUTHOR on long ideas on the Seeking Alpha Platform,

Please Like And Share Our Content!