Kroger (NYSE:KR) has been getting pounded all year over the fear of an Amazon (NYSE:AMZN) takeover. We have been bearish on the name since late spring 2017, but now are starting to see signs that we should consider being long. What is going on?
Well Kroger earnings were recently announced and they blew away our moderately bearish expectations.
RESULT COMMENTARY
Total sales increased 4.5% to $27.7 billion in the third quarter compared to $26.6 billion for the same period last year. Total sales, excluding fuel, increased 3.0% in the third quarter compared to the same period last year.
What we thought was even more important to note was that gross margin was 22.4% of sales for the third quarter. Excluding fuel, ModernHEALTH and the LIFO charge, gross margin increased 30 basis points from the same period last year. Lower cost of goods and sales mix more than offset continued price investments.
We have to keep in mind LIFO and FIFO charges. Kroger recorded a $3 million LIFO charge in the third quarter of 2017, compared to an $8 million LIFO credit in the same period last year.  FIFO operating margin dollars for the third quarter of 2017 increased $38 million, or 5.5%. As a whole, Operating, General & Administrative costs as a rate of sales – excluding fuel, ModernHEALTH, and a $111 million contribution to the UFCW Consolidated Pension Plan – increased 18 basis points. Rent and depreciation with the same exclusions remained consistent.
Net earnings were $397 million, or $0.44 per diluted share, and identical supermarket sales growth, without fuel, was 1.1% in the third quarter of 2017. This includes strong core business results and strong fuel results, as well as an incremental $111 million contribution to the UFCW Consolidated Pension Plan in the third quarter. Kroger's net earnings for the third quarter last year were $391 million, or $0.41 per diluted share.
A few additional thoughts that we have related to market share and the dividend:
THE DIVIDEND
Kroger should consider ceasing its repurchasing shares and double its dividend. This suggestion has merit. While a buyback helps protect some downside by increasing earnings per share and supporting share prices on the open market, a lot of cash is being burnt. Billions in fact. The concept of shifting into a dividend growth stock and away from a growth stock, could lead to investors returning to the name to pick up a 4-5% plus dividend yield. In addition, it would open up a lot of cash flow to improve the balance sheet. Last quarter it spent almost $900 million between the buy backs and dividends. But just over $100 million went to dividends. If more cash went to the dividend, buyers would be inclined to return to the stock more so than they are now. In addition, excess cash flow could be used for a number of purposes, including to protect its grocery market share.
AMAZON WILL TAKE MARKET SHARE
Amazon started picking up a bit of market share with things like Prime Pantry and Amazon Fresh, but in 2016 it only controlled a tiny portion of market share, while Kroger was second in the country at about 7% of market share: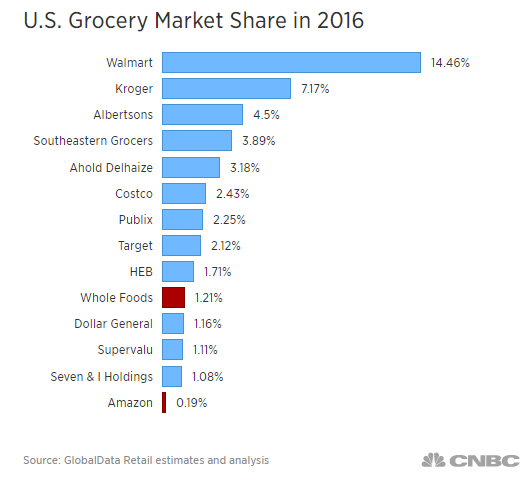 However, the Whole Foods deal, which sent grocers into a tailspin, is set to lead Amazon into making incredible gains in market share.
Obviously, Amazon is gaining the 1.21% of market share held by Whole Foods, so that puts them close to 1.5% of domestic market share. However, the newly combined company along with Amazon's aggressive pricing tactics is expected to have a major impact to market shares of all companies, with Amazon picking up the most steam. In fact, some have estimated Amazon could become a top 5 grocer, joining the ranks of Wal-Mart (WMT) and Kroger. In addition, Morgan Stanley has just out with estimates that Whole Foods could attract 25.2 million customers by 2020. Contrast that with 2016 data, which showed 12.5 million customers. That effective doubling could bring market share closer to the 4% range. That means Kroger, Wal-Mart and other competitors need to fight back.
OUR VIEW
Hold and collect the dividend while the company executes its strategy. Watch for both changes in margins and same store sales. Be aware of the risks of a price war with Amazon, and other grocers. Be prepared for hits to market share. On the bullish side, watch for clues the dividend might get a major boost. Continue to watch the volumes of repurchases.
We want you to join our community
-No more costly delays in waiting for material
-Dozens of publications per week, including news coverage, earnings commentary, analysis, politics, and more
-Access to special guest contributions, including from WSJ, CNBC, and prolific SA authors
–Ability to comment on articles
–Access to our weekly newsletter
-Publish your own opinion/analysis
…..and FREE access to our upcoming paid content for life
Thank you for your readership, and for your loyalty.
Regards,
Quad7Capital
——
Not interested? We understand. However, you will miss out on the insights we have provided over the years, that helped drive us to the NUMBER ONE AUTHOR on long ideas on the Seeking Alpha Platform,

Please Like And Share Our Content!