Our subscribers got an early look at this article—The Campbell Soup Co. (NYSE:CPB) has reported earnings, and it was another subpar quarter. Shares are reeling now, and once again hovering above a 52 week low. This decline seems to be enough to bring the yield over 3% again. While we once saw promise in this name, we have turned sour on the soup giant here in 2017, and shares have dwindled. As the name is approaching its magic 3% yield mark, the name is once again our in-focus stock of the day. In this article, we will discuss why this is not a growth name in our opinion, but rather a value dividend play going forward. Further, we highlight risks in the name even considering it as a dividend stock.
Why Campbell's is Not A Growth Stock
When considering Campbell Soup as an investment for growth, one simply can pull a recent chart. The stock simply doesn't have amazing returns in the last year few years. In fact, it has had significant losses in the past year, at a time where the general markets are up about 20%: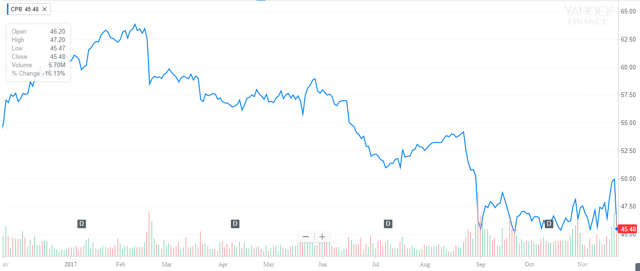 Source: Yahoo Finance
That said, even looking at a longer period, the returns are pretty minimal during this bull market. Over the last four years shares are up 11%: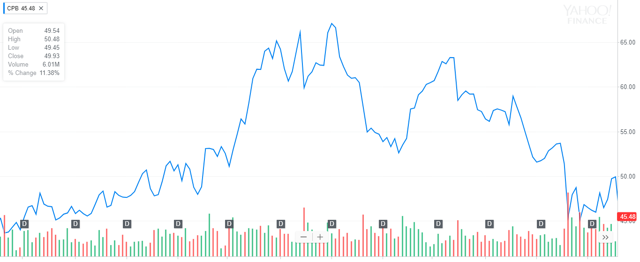 Source: Yahoo Finance
If we factor in the dividend, then returns are closer to 20%. That is not awful, but in a market that has doubled during this time frame, it is indeed a bit disappointing. Of course, in the grand scheme of things, looking at a several decade window, Campbell Soup has been an acceptable investment. The strength comes from the dividend, not the growth. In fact, sales flat to declining, while earnings per share are barely moving higher in recent years.
Sales weakness
Performance does not justify the present level of pricing, and that is why we called for profit taking at $60. Sales have been rather weak over the last few years: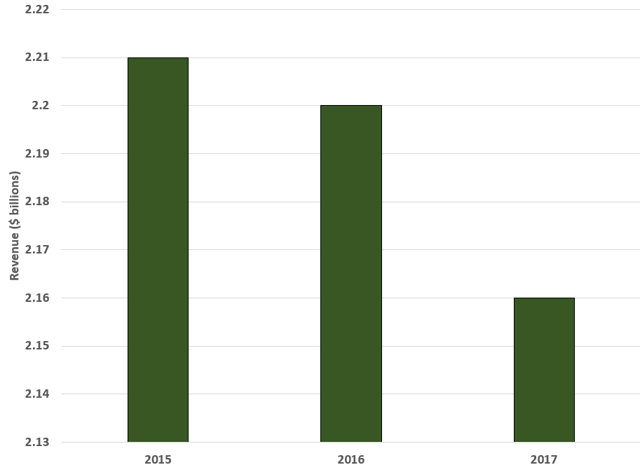 Source: SEC filings
Just looking at sales, we see the lack of growth is apparent. At best, this is a very slow grower and at worst the name has seen contraction.
Our Analysis on Falling Sales
While in our opinion management has been effective at selling itself, it has not done enough to sell the actual products. Current strategic plans are inefficient, and the chart above on sales clearly shows that their plans have not been enough to offset the pressure from competition and to grow sales. This has led to a contraction in the company, with less sales and earnings power. While there is an ability to control pricing, we have strong concerns over organic growth. We believe organic growth is seeing pressure (down 2% this quarter) stems from the fact that many store brands now offer similar products at a reduced rate. This was evidenced by the fact that U.S. soup sales were down 9%.
Sales pressures are mounting not only from other food companies, but from grocers themselves offering store brands. That said, the name is not going away anytime soon. It has staying power. Just about every store you walk into carries at least one of Campbell's offerings. There are strengths, and we believe that Campbell's needs to reinforce what is working, such as its global snacks (think Pepperidge farms, Goldfish snacks etc). These are working, because they are unique. Simultaneously, for the core product, which is soup, the company needs to design and develop unique products, something it has strong lacked in, despite higher operational expenses, weighing on margins and earnings.
Earnings
Right away we were unpleasantly surprised to see that earnings before interest and taxes dropped 10% to $412 million from last year. Now if we do make some adjustments, earnings before interest and taxes dropped even farther, down 14% to $417 million. This is a major problem. It led to earnings per share to show year-over-year weakness once again, coming in down 5% from last year at $0.95: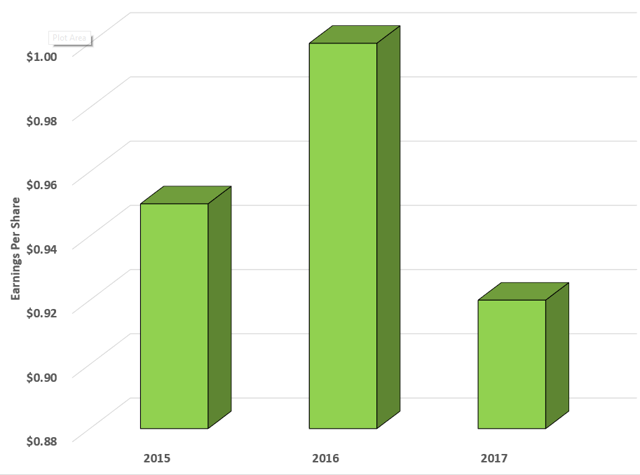 Source: SEC Filings
This type of performance does not justify the present valuation of 16 times earnings in our opinion. What is going on here?
Our Analysis On Earnings
The pressure on earnings stems of course from a weak top line, but expenses were high. Much of the expense increased were administrative in nature, while promotional and advertising expenses were lower. So, this means that the company spent less money to advertise and sell its products, but coupled with the cost of ingredients (which were up 1.9%) and higher administrative expenses, adjusted gross margin was pressured. Margins compressed to 36.5 percent from 38.6% last year, and we attribute this in many ways to management's approach. It has got to get more aggressive in our opinion. We would have expected a hit to margins had promotional spending ticked higher in order to benefit sales. That did not happen, and as such is a red flag operationally.
Campbell's Is A Dividend Play
Campbell continues to deliver stable results, but there is simply no growth. The company is on the decline in many areas. Make no mistake, with all of the sales pressures, this quarter was a dud. It is compounded by the fact that the company isn't fighting for market share. Therefore, we accept the fact that growth isn't a priority. So, from an investment standpoint, we look at the name for the dividend. At $0.35 quarterly, or $1.40 annually, the stock yields 3.07% at present levels. The question for a dividend name is whether cash flow is sufficient to pay the dividend.
Our Analysis Of The Dividend
One measure of dividend safety that we like to look at is the ratio of the dividends paid to free cash flow generated. This is most important metric of the present column: the change in the dividend payout ratio, comparing dividends paid to free cash flow. If this measure is on the rise, it means the dividend could come under pressure going forward, because more and more free cash flow is being utilized to pay the dividend. This is especially problematic if we want to see a dividend hike. Here is the dividend to free cash flow ratio over the last 5 quarters: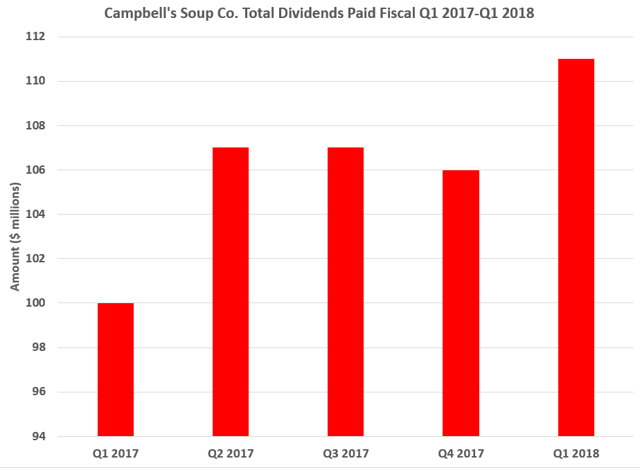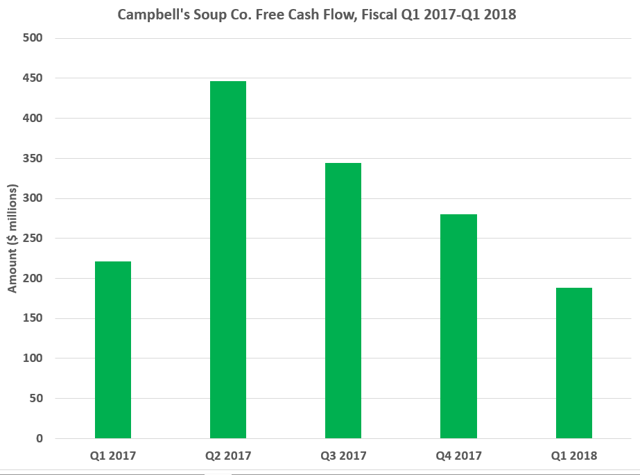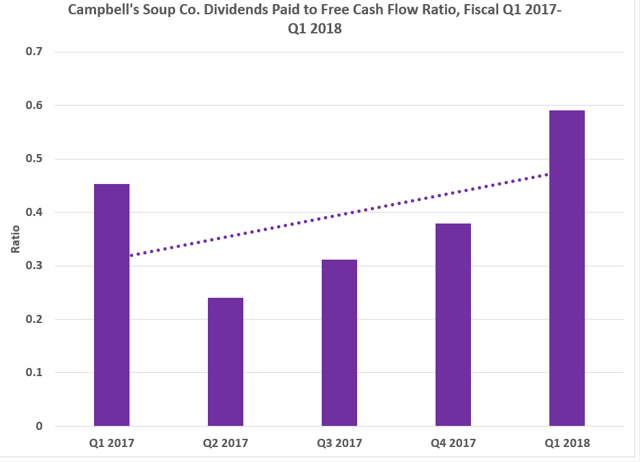 Source SEC Filings, Author Calculations
As you can see, the amount of dividends paid has been on the rise, while in general, free cash flow has faced pressure. This has led to an increasing dividend payout ratio over time. What does this tell us? First, the dividend by this metric is indeed safe. However, investors must keep an eye on this ratio, as just because it is comfortably less than 1.0, does not guarantee dividend safety, although it strongly suggests it is safe. As you can see in the charts, fiscal Q1 stands out as the 'worst' quarter for these metrics. Looking ahead, you need to see how the ratio performs relative to these other quarters.
 Our Take on The Stock
Coming into the quarter guidance only called for flat sales or sales falling as much as 2% in fiscal 2018 with earnings before taxes to hover around a flat year-over-year while adjusted earnings would also be flat to at best, up just 2%. These numbers are weak, but now it's looking worse thanks to this fiscal Q1. Now earnings look set to contract 1 to 3%, meaning fiscal 2018 earnings will be $2.95 to $3.02. From what we expect, we are projecting the lower end of this guidance. At $3.00, this puts the stock trading at 15 times forward earnings. That is a hefty price for a non-growing stock and one with a dividend payout ratio that is on the rise. While the name is a dividend play, and generally rebounds off the $45 mark, we think shares should not be considered until they hit $40. Let the stock the low $40's if not $40 before taking a chance. At $40, shares will be priced at a more reasonable 13.3 times forward earnings and offer a more bountiful 3.5% yield.
***
We want you to join our community!
-No more costly delays in waiting for material
-Dozens of publications per week, including news coverage, earnings commentary, analysis, politics, and more
-Access to special guest contributions, including from WSJ, CNBC, and prolific SA authors
–Ability to comment on articles
–Access to our weekly newsletter
-Publish your own opinion/analysis
…..and FREE access to our upcoming paid content for life
Thank you for your readership, and for your loyalty.
Regards,
Quad7Capital
——
Not interested? We understand. However, you will miss out on the insights we have provided over the years, that helped drive us to the NUMBER ONE AUTHOR on long ideas on the Seeking Alpha Platform,

Please Like And Share Our Content!