The cash and stock deal promises to shake up the health care industry by combining a major insurer with a large pharmacy player. It values Aetna (NYSE:AET) at about $207 per share, with owners to receive $145 per share in cash and 0.8378 shares of CVS Health (NYSE:CVS) for each share of Aetna they hold
Aetna closed Friday at $181.31.
Low-to mid-single digit accretion is seen in the second full year after the close, including $750M in synergies. The deal is expected to close in H2 of next year.
Quad 7 Capital Rates CVS a buy on its own right.
One-stop-shop
We won't go into immense detail here but one of the reasons we like the company long-term is that CVS is becoming a one-stop-shop powerhouse health sector play. It now has well over 1,000 walk-in medical clinics offering check-ups, screenings and immunizations, among other services. CVS Health is also a leading pharmacy benefits manager and now has over 70 million members in its pharmacy benefit plan. With the addition of Aetna, which could substantially increase pharmacy volume, CVS looks very compelling once again as it seeks to implement this unprecedented vertical integration of a major insurer. We like the move and believe it is a significant step toward the future of health care. The deal could close as soon as December. However, we operate under the assumption this deal will not go through, and as such, does our buy call hold water with CVS Health's current operations? Let us turn to performance and discuss our expectations moving forward.
Top line growth
Now, the just reported earnings show an interesting trend in sales. The name is performing rather close to in line with our expectations for overall sales, though the pace of growth is slowing:
Figure 1. CVS Health Third Quarter Revenues Over The Last Three Years.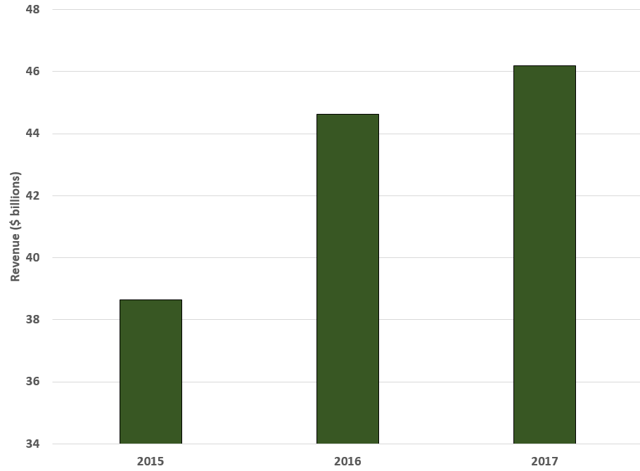 Source: SEC Filings
Revenues this quarter came in at $46.18 billion, essentially in line (but slightly below) what we were expecting at $46.3 billion. This figure is good enough for 4% growth year-over-year. It is important to note that we predicted a bit of a slowing in sales which may be preventing share prices from moving higher, however there is a growing dichotomy between Pharmacy Services, and retail.
Revenues in context
We saw reduced sales given the impacts of competition, and U.S. hurricanes, hitting retail hard. Much of the competition hits the retail portion of the business. Revenues in this segment fell 2.7% year-over-year, to $19.6 billion in Q3 2017. What drove this? Where there was some weakness in the same-store sales, which decreased 3.2% year-over-year, pharmacy same-store sales decreased 3.4%. They were hit by more generics, as the generic dispensing rate rose. Further, and this is common to all pharmacy plays, there have been reimbursement issues.
While the reimbursement and generics issue weighs on CVS Health and the competition, there are other issues to consider here. Prescription volume is problematic, and growth has been anemic. On a 30-day basis, prescription volume was up just 0.3%. Further, front store same-store sales were flat year-over-year and dropped 2.8%, continuing a string of recent quarterly declines:
Figure 2. CVS Health Front-End Same-Store Sales Over The Last Four Quarters.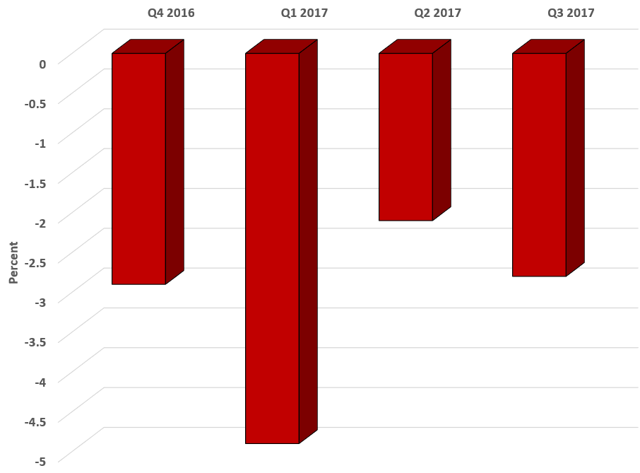 Source: SEC Filings
This trend is troubling but reflects the intense competitive nature of retail, and likely has a little bit to do with the increase of retail sales (across all retail) being online. Further, front end same-store sales were negatively affected by softer customer traffic, but this was partially offset by an increase in basket size. Regardless, this trend must be broken, or the stock will continue to suffer.
CVS pharmacy services revenue jumped 8.1%, to $32.9 billion in Q3 2017. Much of this came from higher pharmacy network claims as well as some growth in specialty pharmacy. The generics issue weighed as did some associated pricing compression, but overall this was a solid result. Further, network claims increased 8.3% to 374 million compared to 345 million a year ago. This growth was primarily due to new customers. Mail choice claims processed also rose year-over-year in Q3 2017. Volume increased a strong 6.1% to 66.9 million, compared to 63 million in Q3 2016, mostly due to specialty claim volume and continued adoption of CVS' Maintenance Choice offerings.
Earnings picture
Taking into account the slight rise in sales to $46.18 billion, and the pressures associated with Medicare Part D timings, the U.S. hurricane impacts, and integration expenses, operating profit fell 11.5% to $2.5 billion. Factoring in all expenses, net income fell 16.6% to $1.3 billion compared to last year. This translates to $1.26 in earnings per share, down from the $1.43 last year. Factoring in adjustments to the GAAP net income, adjusted earnings were $1.50, down $0.14 year-over-year from the 1.64 in earnings last year:
Figure 3. CVS Health Third Quarter Earnings Per Share Over The Last Three Years.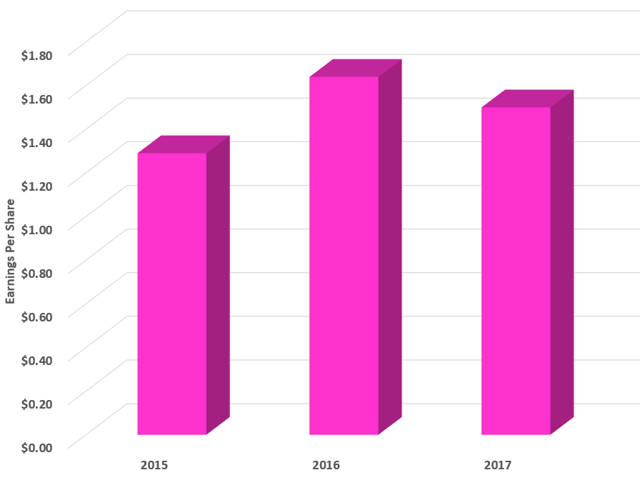 Source: SEC Filings
The decline in earnings is certainly troubling. These earnings missed our expectations by $0.03, mostly due to lower than expected sales, as well as higher than expected expenses. As such, these results have negatively impacted our prior bullish outlook.
Our projections for 2017 and early 2018 view
Taking everything into consideration, there is continued fear in retail sales, and the reimbursement issue will continue to weigh. Based on the year-to-date results, and the results this quarter, management narrowed and revised higher its earnings per share guidance at the midpoint. While this is good news, we were more bullish. Our expectations were for $5.89 to $6.00 for the year 2017 in adjusted earnings. It seems that if management can deliver on its expectations of $5.87 to $5.91, our low end of guidance may be hit. However, with the miss this quarter versus our bullish expectations, we are revising expectations lower on the upper range. While we still see a strong Q4 ahead, we see adjusted earnings coming in at $5.89 to $5.95 for 2017.
Factoring in dividends and share repurchases, the company has returned significant value to shareholders in the last few years. As we consider where the earnings trend is heading to close the year, we have our initial expectations for 2018 laid out. Mind you, this excludes any possible mergers. Our preliminary expectations for 2018 assume low single digit top-line growth, with continued sales strength in Pharmacy Services, and weakness in retail. We anticipate revenues of $188.25 billion, to $196.5 billion. On the bottom line, we are looking for earnings of $6.25 to $6.42.
We want you to join our community
-No more costly delays in waiting for material
-Dozens of publications per week, including news coverage, earnings commentary, analysis, politics, and more
-Access to special guest contributions, including from WSJ, CNBC, and prolific SA authors
–Ability to comment on articles
–Access to our weekly newsletter
-Publish your own opinion/analysis
…..and FREE access to our upcoming paid content for life
Thank you for your readership, and for your loyalty.
Regards,
Quad7Capital
——
Not interested? We understand. However, you will miss out on the insights we have provided over the years, that helped drive us to the NUMBER ONE AUTHOR on long ideas on the Seeking Alpha Platform,

Please Like And Share Our Content!