Bank of America (NYSE:BAC) has made some major moves as a stock on the back of recent tax related news out of Washington. What we find to be quite interesting however, is that the company has now decided to really ramp up its buybacks. The Bank announced plans to repurchase an additional $5 billion in common stock by June 30, 2018. This is a major step up from when the company previously announced plans on June 28 to repurchase $12 billion in common stock from July 1, 2017 through June 30, 2018, plus repurchases to offset shares awarded under equity-based compensation plans during the same period, estimated to be approximately $0.9 billion. Is this a reason to buy here? Let us examine the performance of the name:
Performance
Bank of ecently reported earnings that were solid, yet seemingly have failed to impress the Street. Upon release of the earnings report, the stock ticked lower, but slowly rallied throughout the day on Friday to bring the stock back to flirting with the $26 level. Overall, the reaction was simply unremarkable. No volatility, no major moves in the stock. Even here at Seeking Alpha there is usually a swarm of articles. But, by comparison, there is next to nothing. But does this complacency mean the stock is stuck? Let us be clear. The stock seems to have some legs over the last few weeks. All year it has been trading in a 5-6% range since we called it one of our top blue-chip top picks for 2017. While there is still time for that call to come to fruition, the ultimate question for longs is "has the bull case changed?"
In this article, we will discuss key metrics that support the bull case. While rising rates will be a huge benefit to the name in the long run, we believe that the reasons for owning this stock extend beyond just rising interest rates and into many other fundamental improvements, of which we will highlight several. To understand if our buy call holds water, it comes down to performance.
What To Look For
When we talk about performance, we do not necessarily mean just on the top and bottom lines. For those who follow our work in the financials, you already are familiar with the key metrics that we are most concerned with. For those unfamiliar, key metrics that we look for include a growing loan and deposit record, a decent efficiency ratio, as well as of course revenues and earnings. In addition, we also need to be aware of toxic or non-performing assets. These metrics can give us an indication of where the bank is heading, and can help us separate the strong from the weak in the sector. As for the top and bottom lines, we are not looking for a ton of growth, but moderate growth in the low single digits is what we anticipate. While it is true that Bank of America will benefit from rising rates, slow and steady growth is most desirable from a bank of this size. That is what we believe you should look for when investing in a blue-chip bank.
Top And Bottom Line Growth
The quarter was strong overall, and both the top and bottom lines continue to demonstrate growth. Revenue was $22.8 billion, up 1% year-over-year. While this revenue growth was below the usual growth from the company, it was positive growth within our defined range for single digit growth. It also continues a run of growth in Q3 revenues over the last several years:
Figure 1. Bank of America Third Quarter Revenues Over The Last Four Years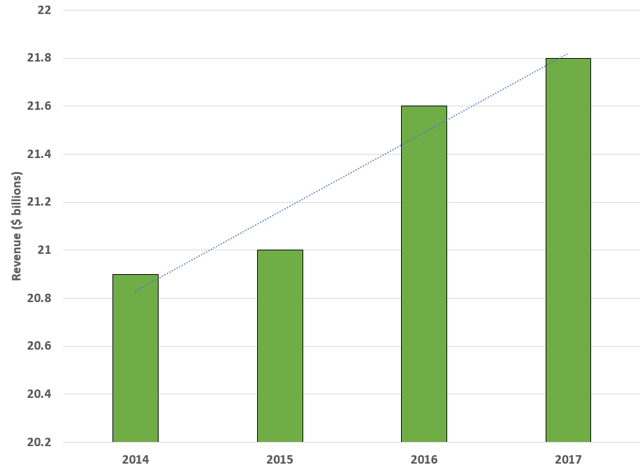 Source: SEC Filings, Chart made by Quad 7 Capital in excel
Although revenue continues to rise, with the present $21.8 billion in revenues, the company missed consensus analyst estimates by $140 million. That caught us a bit by surprise, as this is the first third quarter revenue miss against estimates in years. The hurricanes may have impacted business slightly, although this impact is minimal with the global presence of the bank. That said, expenses were well managed and as such the company also saw a bump in earnings, which continue to rise:
Figure 2. Bank of America Third Quarter Adjusted Earnings Per Share Over The Last Four Years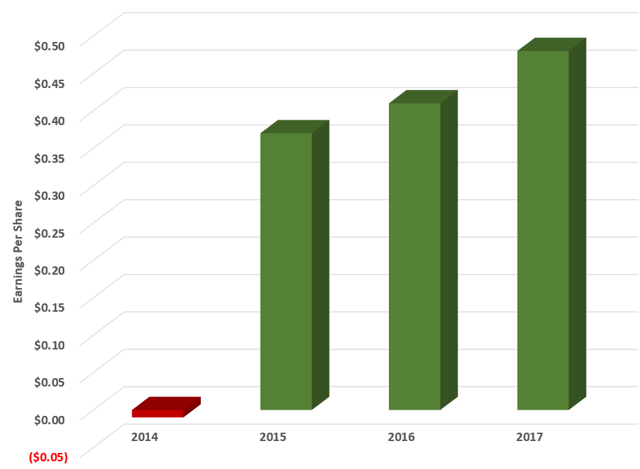 Source: SEC filings, Chart made by Quad 7 Capital in excel
Last year, the company saw earnings per share of $0.41 per share, or $4.8 billion. Here in the present quarter net income jumped to $5.6 billion and earnings per share increased 17% to $0.48. We should point out that this was a nice beat versus expectations of $0.03. The bank has consistently surpassed expectations. Of course, the headline numbers only tell part of the story, so what drove these results?
Net Interest And Non-Interest Income
The bank's net interest income and non-interest income are two of the biggest sources of cash for the company, and these metrics continue to show sustained improvement:
Figure 3. Bank of America Third Quarter Net Interest and Non-Interest Income Over The Last Four Years.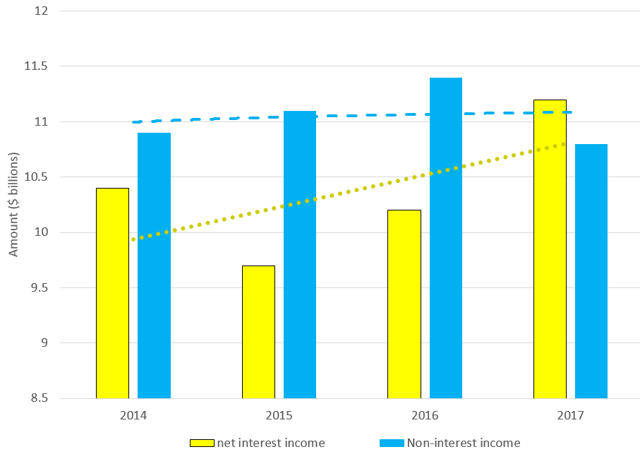 Source: SEC Filings, Chart made by Quad 7 Capital in excel
While there has been volatility in both net interest income and non-interest income over the years, the trend is higher. In the present quarter, non-interest income did fall 7% to $10.7 billion, compared to last year's comparable quarter which saw $11.4 billion on this metric. Why the fall? Non-interest income fell because there was lower mortgage banking income as well as lower trading revenue. Sales and trading revenue were down 15%. However, what no one is acknowledging is that the Q3 2016 trading revenues were substantially above the norm and wildly above expectations. In figure 3 you can see a spike in non-interest income in Q3 2016, which was a result of these trading revenues. So, the present decline is really a mean reversion. This is critical to note.
As for net interest income, it continues to grow substantially. In fact, net interest income spiked $960 million over last year, rising 9%, to $11.2 billion. This is a direct result of higher interest rates, which has been one of the central themes of our bull thesis. Further, another 1.3 million credit cards were issued, which bodes well for future potential interest income, as well as fees generated from use of the card. It is also important to note that spending on credit cards was up 7%. We will be closely watching consumer credit spending as rates rise.
The Efficiency Ratio
You must keep an eye on the efficiency ratio, and the trend in the efficiency ratio is another reason we remain bullish. So many analysts and bloggers alike simply breeze over this all-important metric. It may be a simple indicator, but it is significant. This metric measures the costs expended to generate a dollar of revenue. What is important to note is that the efficiency ratios in most of the business segments improved year-over-year for Bank of America, with the exception of the Global Markets segment. The decreased efficiency in the Global Markets segment was once again a result of the decline in trading revenues. As a whole, Bank of America has seen a consistently improving efficiency ratio:
Figure 4. Bank of America Third Quarter Efficiency Ratio Over The Last Four Years.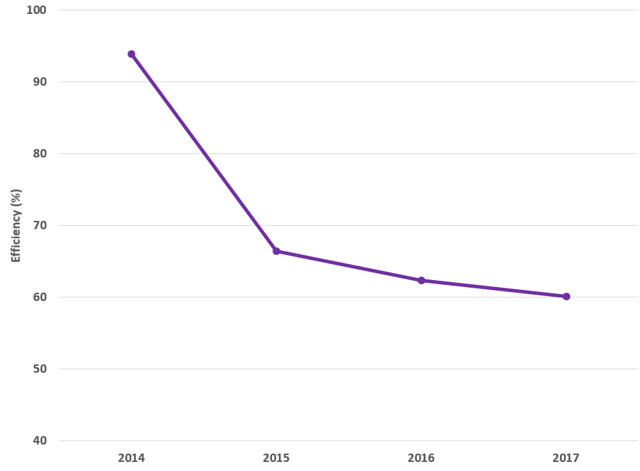 Source: SEC Filings, Chart made by Quad 7 Capital in excel
Overall there was a solid 60% efficiency ratio for the bank. The highest efficiency was in Global Banking, where the ratio was 43%. The worst ratio was in Global Wealth and Investment Management, where it was 73%. Still, the metrics are improving in nearly every segment. This 60% overall efficiency ratio is stellar in my opinion. Just about every quarter efficiency improves. While there is still work to be done, this is the strongest Q2 we have seen in years on this metric. We predict that by 2018, overall efficiency will be in the 50% range consistently, on the back of controlled expenses, growing revenues, and improving yields. This is a major reason to own the bank.
Loans And Deposits
The best banks continue to grow loans and deposits. This is the so-called bread and butter of any bank as we have said many times. On these fronts, the bank is doing well:
Figure 5. Bank of America Third Quarter Loan And Deposit Totals Over The Last Four Years.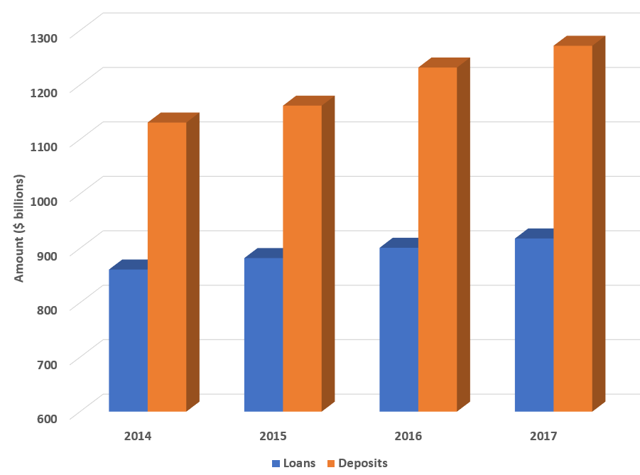 Source: SEC Filings, Chart made by Quad 7 Capital in excel
Loans were up in most categories and came in at $918 billion in the quarter, up from $901 billion last year. Turning to deposits, total average deposits were up year-over-year. They rose to $1.272 trillion in Q3 2017, from $1.232 trillion last year.
Based on the present trajectory of the bank and expectations for steadily rising interest rates, we project that loans and deposits will surpass $930 billion and $1.3 trillion, respectively, by this time in 2018.
Non-Performing Assets
With all of the growth we are seeing, we should also be aware of non-performing assets. Well once again Bank of America has improved on these key metrics as well. Over the last few years the company has significantly cut into its toxic asset load:
Figure 6. Bank Of America Non-Performing Asset Load Over The Last Eight Quarters.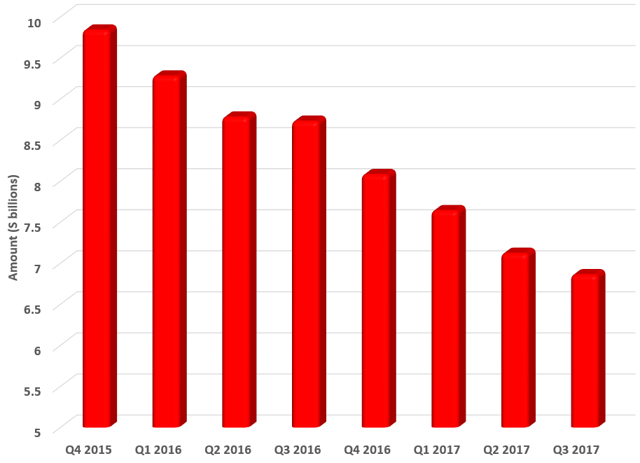 Source: SEC Filings, Chart made by Quad 7 Capital in excel
We were very pleased to see that non-performing loans decreased once again to $6.87 billion. This is down from the $7.12 billion last quarter. In addition, this is down from the $8.74 billion last year. In five years the bank has cut its toxic asset load in half. That is significant and underappreciated progress. Based on the goals of the company and the present trajectory, we project that the toxic asset load will approximate $5.3-$5.6 billion by this time next year.
—
We want you to join our community
—
-No more costly delays in waiting for material
-Dozens of publications per week, including news coverage, earnings commentary, analysis, politics, and more
-Access to special guest contributions, including from WSJ, CNBC, and prolific SA authors
–Ability to comment on articles
–Access to our weekly newsletter
-Publish your own opinion/analysis
Thank you for your readership, and for your loyalty.
Regards,
Quad7Capital
——
Not interested? We understand. However, you will miss out on the insights we have provided over the years, that helped drive us to the NUMBER ONE AUTHOR on long ideas on the Seeking Alpha Platform,

Please Like And Share Our Content!