Right now there is a prevalent fear in the market that autoparts stores are going to be cannabilized by both Amazon (AMZN), and even by Tesla (TSLA). We have argued that this is unlikely, and we highlighted the name as an extreme bargain back in July when it hit the $500 mark following a warning from competitor O'Reilly (ORLY). Make no mistake, some of the fear and selling pressure is warranted. Amazon is going after everyone. AutoZone is pretty much the top retailer and a leading distributor of automotive parts in the U.S., so it stands to lose a lot if Amazon is successful in taking this market. In this article we recap the most recent earnings and discuss key issues to be aware of
Q4 EARNINGS RECAP
The Q1 earnings were heavily anticipated following a weak Q3 and Q4. In the company's just reported fiscal Q4, the company delivered sales of $2.59 billion, which was a small 4.9% year-over-year increase. This  surpassed estimates by $50 million. What we think is a stronger indicator is same-store sales. We will discuss this more in detail below, but since all of retail is being hammered, this is a key indicator. AutoZone saw a 2.3% increase in same store sales. This is positive, though below what we see historically.
How about actual earnings? Registering 5% growth in sales is certainly respectable, but net income per share for the quarter was up 6.8% versus last year's comparable quarter. Still, this is slightly below what we would like to see given the multiple on the name. Net income came in at $433.9 million. This was up just 1.7% from last year. Earnings per share however came in at $10.00, versus $9.36 last year. On an adjusted basis, earnings came in at $9.96, beating estimates by $0.15. Digging a bit deeper, we see that gross profit was 52.80% of sales, up from 52.7%, effectively flat. Further operating expenses as a percentage of sales rose to 34.6%, versus 34.1%, mostly on the back of higher wages and occupancy costs. Clearly, this is well below the growth we are accustomed to seeing out of this name historically, but the interesting thing is that this was above the performance of the last two quarters.
Let us now discuss the pending role of weather, and same store sales.
EXPLORING THE ROLE OF WEATHER
This commentary brings us into the deeper analysis portion of the column. Does our buy call still make sense based on the trends we are seeing and expectations for the future? This is the question you should always ask yourself when revisiting your investments. Speaking about the results, Bill Rhodes, Chairman, President and Chief Executive Officer said something that really stands out:
"We attribute this shortfall primarily to the continuing headwinds resulting from two consecutive mild winters."
There is some truth here. Mild winters are more gentle on vehicles. Cars simply break down more in the bitter cold, going from freezing to warm, freezing to warm etc. Thus, projecting for the future, we should consider the impact of another mild winter. Should winter be mild once again, that means that fiscal Q1 and fiscal Q2 could be impacted. Therefore, we decided to investigate predicted weather patterns. Simply put, will it be a warm winter again? One of the best and historically accurate think tanks for weather prediction is the Farmer's Almanac, and their predictions are shown in figure 1.
Figure 1. November 2017-October 2018 Farmer's Almanac Weather Outlook.

Source: Farmer's Almanac
Taken as a whole, it appears this winter will be slightly milder than average overall, but nothing like the last two years. Precipitation is predicted to be up substantially. Both cold and the snow lead to wear and tear on vehicles, and increase the likelihood of broken parts. Overall, we can expect this winter to be slightly more favorable than average when considering the impact to vehicles and the subsequent impact on AutoZone's business. For reference, we have included in figure 2 a regional outlook, which shows the northeast in for a bitter winter, while other areas will fare better.
Figure 2. Farmer's Almanac Winter 2017-2018 Outlook, By Region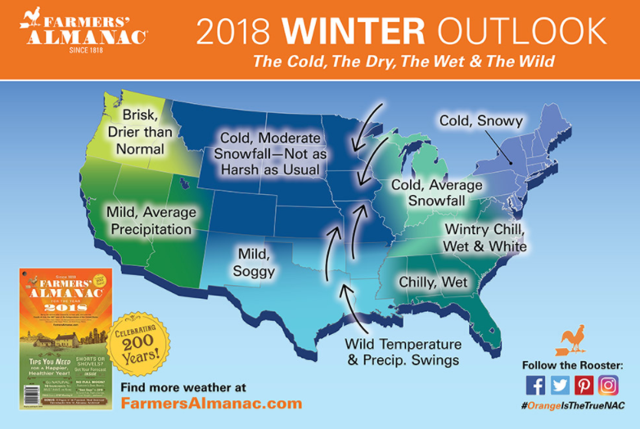 Source: Farmer's Almanac
While a regional level sales analysis is beyond the scope of this piece, it would make for an interesting investigative analysis following fiscal Q2 once winter has passed. According to the regional predictions, the Northeast and Great Lakes areas will be hit hardest, with some milder conditions out west. We take the above projections as bullish. One of the issues weather impacts are same store sales. That said, we cannot just blame the winter as reduced same store sales have been an ongoing issue as stated by the CEO:
"Our 2.3%…same store sales were still moderately below our recent historical experience"
Of course, some of this is from the weather. But the fiscal year same store sale trends are interesting (figure 4).
Figure 3. Same Store Sales Results For Autozone Over the Last Four Years.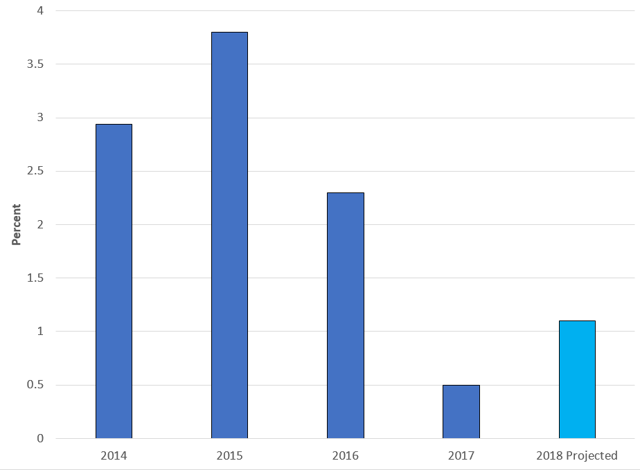 As you can clearly see in the figure, annual same store sales have been trending lower over the last four years. Utilizing the weather related issues as a partial explanation, we believe that same store sales should rise in 2018, all things being equal. We have set the benchmark at 1.1% for our expectations going forward. This factors in sales trends, growing competition and the expectation of a winter that should be better than the last two for the company.
Taken as a whole, we feel the selloff was overdone in the name and our buy call in late summer was well timed. The stock is now well over $700, and at this point our thesis has been playing out. Right now we remain mildly bullish, but the big moves have been made.
We want you to join our community
-No more costly delays in waiting for material
-Dozens of publications per week, including news coverage, earnings commentary, analysis, politics, and more
-Access to special guest contributions, including from WSJ, CNBC, and prolific SA authors
–Ability to comment on articles
–Access to our weekly newsletter
-Publish your own opinion/analysis
…..and FREE access to our upcoming paid content for life
Thank you for your readership, and for your loyalty.
Regards,
Quad7Capital
——
Not interested? We understand. However, you will miss out on the insights we have provided over the years, that helped drive us to the NUMBER ONE AUTHOR on long ideas on the Seeking Alpha Platform,

Please Like And Share Our Content!