Boeing has so much upside potential in our opinion.
We have been closely watching the stock as this blue chip happens to be a strong measure for the health of the defense and aeronautics sectors. In addition, order activity provides a read on the future of the airline industry, as well as global spending. Finally, it was one of our top picks for 2017, so the question is what now?
In this article, we will review key trends in performance relative to our projections and discuss our 2017 and 2018 targets.
Revenue Trends
The just reported quarter saw another impressive top line, despite volatility the last three years:
Figure 1. Boeing Third Quarter Earnings Over The Last Three Years.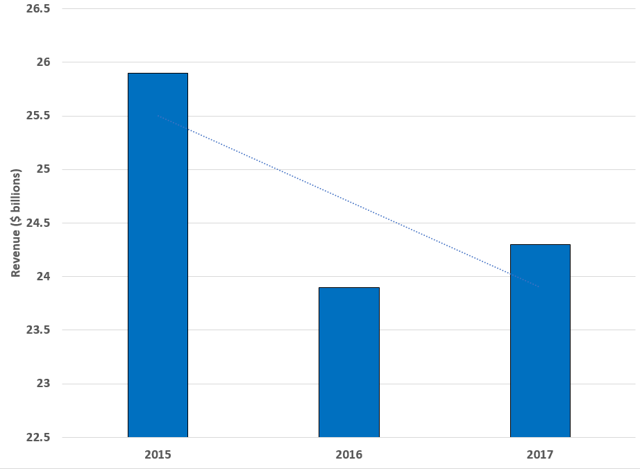 Source: SEC Filings
Revenues were strong in the quarter and did rise as a whole in 2017 versus 2016. They came in at $24.3 billion, a rise of 2% over last year. This actually surpassed our expectations on the top line. Although we were certainly factoring in less growth thanks to deferred production in some segments, our projections were more upbeat than the Street's consensus. We were looking for $24.2 billion. Boeing squeezed out a beat versus our projections by $100 million. Segment performance can clue us in on how the company is performing.
Segment performance
Looking into segment-specific performance can help us understand and extrapolate where the company brings in most of its sales:
Figure 2. Boeing Third Quarter Segment Specific Revenues Over The Last Two Years.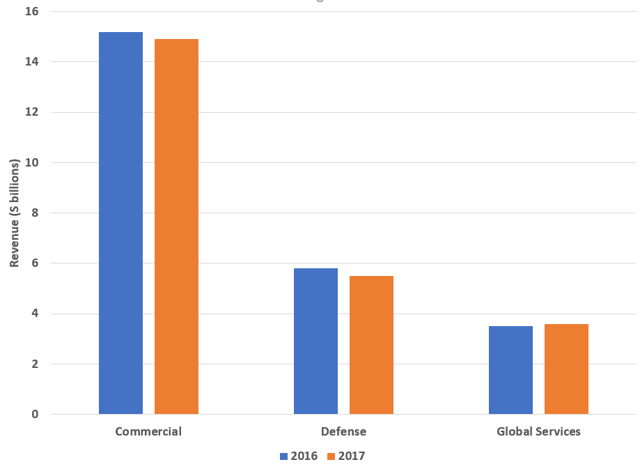 Source: SEC Filings
Please note that segments were realigned so prior segment specific data 2016 and earlier cannot be directly compared. Factoring in these adjustments, the Commercial Airplanes segment saw first quarter revenue fall 1% to $15.0 billion despite higher delivery volume. What impacted revenue was the delivery mix, with 24 737 MAX 8 air planes being delivered, and a record 202 airplanes being delivered. However, services growth did improve. Operating margin was 9.9%, vastly improving from 8.5% last year. Commercial Airplanes booked another 117 orders this quarter. Backlog remains strong with nearly 5,700 planes valued at $412 billion.
The company's Defense, Space and Security saw revenue weakness. Sales were $5.5 billion, falling 5% last year from $5.8 billion. This result was slightly below our expectations of $5.6 billion. However, operating margin was 10.2%, and improved from 9.8% last year. We were expecting a slight revenue decline thanks to lower planned deliveries, although the actual delivery mix resulted in the miss versus our projections. Still, backlog is strong at $46 billion.
Finally the Global Services division (formerly the Global Services & Support Division) saw revenue rise 2% to $3.6 billion, surpassing our estimates and helping to deliver an overall revenue beat for the quarter against our projections. The increase was due mostly to better commercial part sales, although with the mix of sales, operating margin dipped to 14.2%.
What we expect going forward
Each segment continues to perform well, with a slight drag in Defense, Space and Security. Looking ahead, we project that the company will step up production, and we had some confirmation of this in the Commercial segment, as management confirmed it will boost 787 production to 14 per month in 2019. We further expect production to be boosted in Defense, Space and Security to help offset the $46 billion backlog. Keep in mind, there are major international purchases, as backlog is now 35% international, among the highest it has been since we began covering the company. For the Global Services division, we will be watching for new customer signups as we predict several new offerings will hit the market in 2018 and beyond, most notably on the data monitoring and analysis front, as this is a growing trend in many sectors, with specific demand from airplane customers.
Earnings in context
While expenses have been cut considerably in the last three years on a year-to-date comparison, Boeing is still churning out relatively strong production and this continued strong production comes in the face of declining expenses. This is a major sign of strength:
Figure 3. Boeing Year-To-Date Total Costs and Expenses Over The Last Three Years.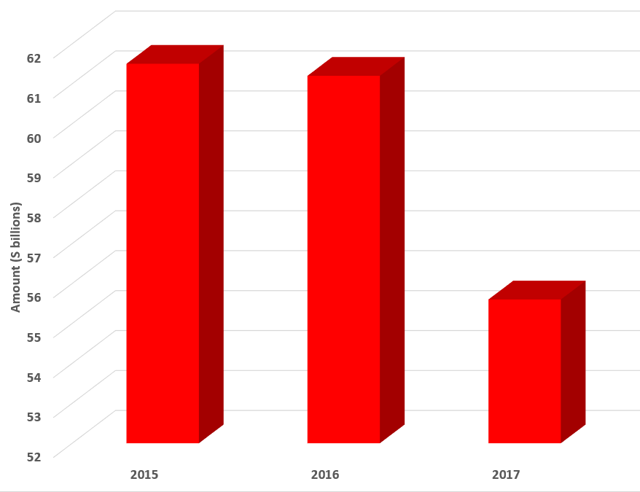 Source: SEC Filings
It is worth noting that expenses are of course dependent on sales and overall demand. They also depend on the cost of input commodities, labor, etc. A complete breakdown of these costs is beyond the scope of this article, but the key here is that as revenues have climbed, expenses have declined, helping drive earnings higher:
Figure 4. Boeing Third Quarter Earnings Over The Last Three Years.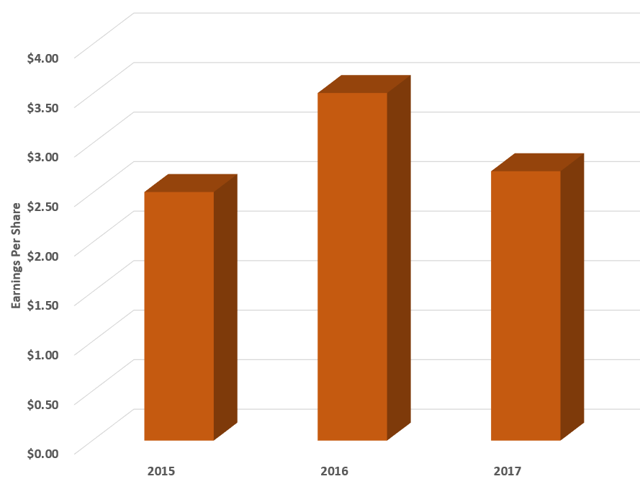 Source: SEC Filings
For three years, the company has been controlling expenses to help maintain the bottom line (which has also benefited on a per share basis from share repurchases). Compared to last year the company's core earnings were substantially lower, but this was more than expected as the prior year saw a benefit of $0.98 per share in tax items. This is critical to factor in. If we back this out, then core earnings per share would have been $2.53 per share a year ago. The present earnings per share surpassed our expectations for the quarter by $0.03, as we were more bullish than consensus. With our estimates surpassed, we now expect the entire year to see a boost, barring Q4 catastrophe.
Raising our expectations
Factoring in the year-to-date performance and the better than expected results versus our estimates, we believe revenue will now approximate $91.25 billion to $93.0 billion. This is up from our prior expectations of $91.0 to $92.75 billion. In addition, thanks to improving margins and bottom line outperformance, we are raising estimates for the bottom line for 2017. We see earnings coming in at $10.10 to $10.15 per share. While we feel confident about these 2017 numbers, we feel strongly about 2018 being substantially better. While this is subject to change based on contracts, new data, etc., our expectation for 2018 revenue is $93 billion to $96 billion. We further see earnings approximating $10.85 to $11.50.
Recent Key Interview
Passenger traffic in the travel sector is growing at 7 percent a year — outpacing the United States' near-2 percent GDP growth — and Boeing is at the center of the trend, Dennis Muilenburg, its chairman, president and CEO told CNBC on Thursday.
"The nature of the business has changed. Global traffic has become very networked, very connected," Muilenburg told "Mad Money"  host Jim Cramer in an exclusive interview. "We've got millions of new people traveling every year. And so our business has turned from being a cyclical, commercial business to a long-term sustained growth business."
As a company that focuses on long-term prospects (and one of the few public companies with a 20-year plan), Boeing is ramping up production to meet the pace of growth, the CEO said.
Not too long ago, Boeing was producing up to 20 airplanes a month at its Renton, Washington factory. Now, the facility churns out 47 aircraft a month, with production expected to grow to 57 planes a month by 2019, Muilenburg told Cramer.
"I think we're a big growth engine for the economy, and it's really, again, driven by what we're seeing [in] commercial traffic growth around the world," the CEO said. "Less than 20 percent of the world's population has ever taken a single flight, believe it or not. This year alone, 100 million people in Asia will fly for the first time."
Autonomous systems bring with them a big opportunity.
"There's a tremendous wave of energy going into autonomous systems. Now, we've developed autonomous airplanes and vehicles for our defense customers for some time, all the way from space, like the X-37, to drones that operate for the military to underwater unmanned submarines," Muilenburg said. "The energy that's going into autonomous vehicles is very significant, and we expect to continue to invest there. Aurora is an example of our next-step investment."
Boeing's much-anticipated 787 Dreamliner aircraft also represents innovation in the way of passenger comfort on commercial flights, the CEO said.
Our view on Boeing stock
The company exceeded our expectations in Q3, which were more bullish than most analysts. Based on our 2017 and 2018 expectations and the present trends in the data, we like the stock here. With the potential market of 80% of travellers never being on a Boeing plane, we like what we see here.
—
We want you to join our community
—
-No more costly delays in waiting for material
-Dozens of publications per week, including news coverage, earnings commentary, analysis, politics, and more
-Access to special guest contributions, including from WSJ, CNBC, and prolific SA authors
–Ability to comment on articles
–Access to our weekly newsletter
-Publish your own opinion/analysis
Thank you for your readership, and for your loyalty.
Regards,
Quad7Capital
——
Not interested? We understand. However, you will miss out on the insights we have provided over the years, that helped drive us to the NUMBER ONE AUTHOR on long ideas on the Seeking Alpha Platform,

Please Like And Share Our Content!