Silver and gold? Surely you mean Litecoin/Ether and bitcoin?!?  This is a major week fro cyrptos as bitcoin is giving its smaller cousins a hand. The action has been unstoppable:
Ether and litecoin, the second and fourth biggest cryptocurrencies, are surging to all-time highs on optimism that bitcoin futures will attract institutions to the fledgling market. The rallies come as speculators flock to Coinbase.com Inc., whose app last week climbed to the top of Apple Inc.'s download rankings. Known mainly as one of the easiest ways to trade bitcoin, the site also provides access to trading litecoin, ether and bitcoin cash.
Litecoin has more than doubled to as high as $401 since Dec. 10, before bitcoin derivatives started trading on Cboe Global Markets Inc., while ether has soared about 40 percent in that time to $633, according to CryptoCompare, a website tracking digital currency prices:
The crush to trade ether as it rallied Tuesday disrupted Coinbase's system, forcing the exchange to issue a notice saying "buys, sells temporarily disabled." The incident persisted for over an hour.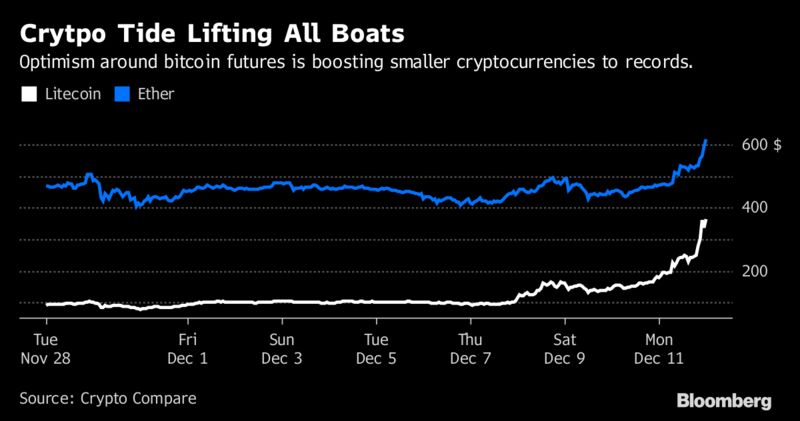 The gains are even beating bitcoin's advance as some traders move into digital assets that have lagged bitcoin's 17-fold rally this year, and as others speculate there is more room to gain because of their smaller market capitalizations. All 20 of the biggest cryptocurrencies are rising today, according to CoinMarketCap, with litecoin advancing the most.
"It's both, people are trading out of bitcoin, and new money coming to the space, and they'll be thinking very simply, 'how do I get more of these extraordinary returns?"' said Charles Hayer, co-founder of CryptoCompare. "It's herd-like mentality that takes off, which is very dangerous."
Even litecoin's creator Charlie Lee is warning that the run up in prices may be overdone.
"Every crypto bull run I've seen has been followed by a bear cycle," Lee tweeted Monday. "The market needs time to consolidate. That's just my experience from seven years of watching this space."
—
We want you to join our community
—
-No more costly delays in waiting for material
-Dozens of publications per week, including news coverage, earnings commentary, analysis, politics, and more
-Access to special guest contributions, including from WSJ, CNBC, and prolific SA authors
–Ability to comment on articles
–Access to our weekly newsletter
-Publish your own opinion/analysis
Thank you for your readership, and for your loyalty.
Regards,
Quad7Capital
——
Not interested? We understand. However, you will miss out on the insights we have provided over the years, that helped drive us to the NUMBER ONE AUTHOR on long ideas on the Seeking Alpha Platform,

Please Like And Share Our Content!