Looking for a social media stock? Well we have identified a once beat up social media stock which is on fire now. As you know we have been covering "the Meet Group" (NASDAQ:MEET) since it was simply MeetMe. Well the stock has imploded for a second time following earnings. While it sold off hard after Q2, and we felt this was justified to a degree, we contend the present implosion is a gross overreaction to the facts and the projections for the company. While everyone loves Facebook (NASDAQ:FB) as a social media stock, more money can be made trading smaller ones. In this article, we will offer commentary on what happened relative to our expectations, and provide our projections going forward.
Earnings summation
Here's the deal – the earnings themselves this quarter were pretty decent for MEET last quarter when the social media stock reported. However, it really was the guidance that disappointed. We have maintained that shares were a buy as the name fell under the $5 mark and approached $4. We believe shares are undervalued and that MEET is one of the most undervalued social media plays out there, now more than ever. For a great valuation analysis (prior to today's implosion), please see this recent piece by our colleague Philaretos. For now, we will discuss the trends and our projections.
Revenue rises again
As shares approach $2, almost to the levels where we first ever recommended the name, we have to question what is going on. You likely remember that we bought in at the $2 mark, and made it our top pick back in 2016. In the summer of 2016, the stock surpassed $7, at which point we recommended that investors should take profits. We started getting bullish again as we approached $4, but what we find bizarre is this selloff comes as revenues shoot higher:
Figure 1. Meet Group's Third Quarter Revenues Over The Last Three Years.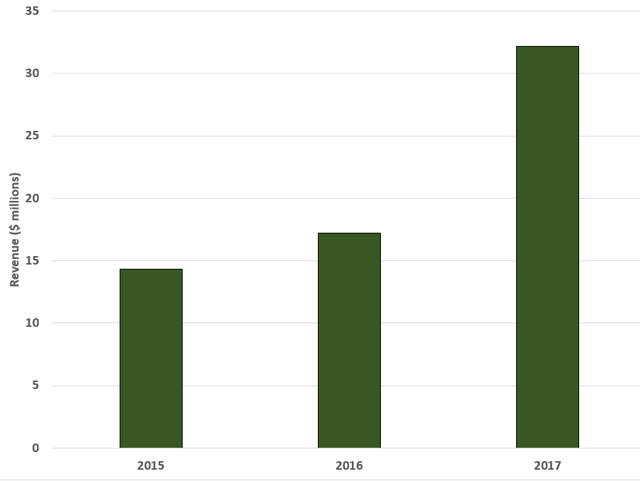 Source: SEC Filings
Historically the name has been volatile, but the company has always organically grown sales. The very recent jump comes with the realization that acquisition related activity has pushed up sales, but the growth was impressive nonetheless. The revenue number came in at $32.25 million, up a strong 87% year-over-year (please keep in mind how the company reports revenues as outlined in our prior work). This was a beat of $0.25 million versus our prior projections, and are pleased with the result. Earnings were also strong.
Earnings power
On the bottom line the company delivered once again, surpassing our expectations and continuing a path of growth:
Figure 2. Meet Group's Third Quarter Earnings Over The Last Three Years.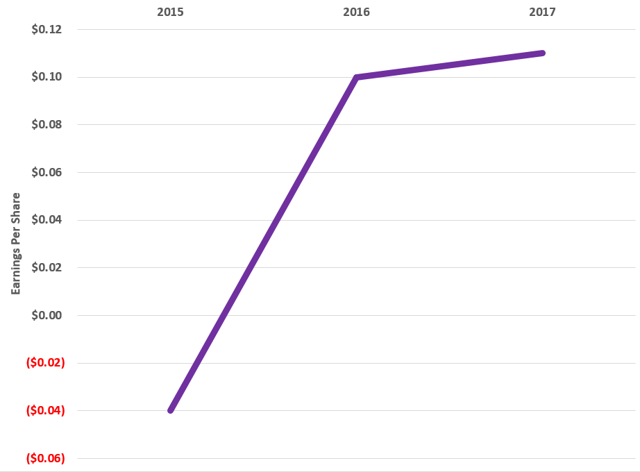 Source: SEC Filings
We remember covering this name long before there were any profits, as was the case in 2014, and somewhat in 2015. The bottom line here is that the company consistently makes money now, and is growing earnings. The selloff is overdone based on earnings per share growth alone, especially when we consider our forward projections. And now the company is delivering another quarter of record EBITDA for Q3. Adjusted EBITDA came in at $8.9 million, up 30% from last year. Margins were strong at 28%. Overall earnings per share hit $0.11 and our expectations by a $0.01. Now that we have a sense of the sales and earnings metrics, lets dig deeper into the user base.
Mobile push
MEET has been successful at promoting and boosting its mobile side. While revenues and users are still be generated from the desktop side, the focus of the company has shifted to mobile. Revenues have steadily grown: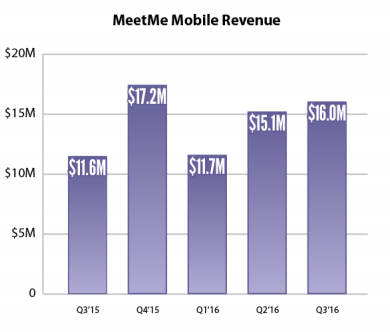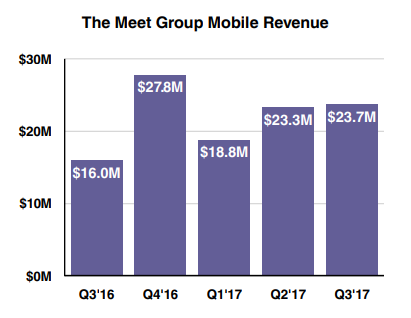 Source: Q3 investor presentations, 2016, 2017
The key here is that MEET has successfully begun to transform its share of mobile revenue away from just advertising. All companies that sell advertising are facing incredible competition, and the general payouts per advertising click have declined over time industry wide. However, Meet has shifted its focus somewhat into upping organic sales. It is focused on generating subscription sales, in app sales, and other purchases, all of which require limited overhead and expenditures relative to advertising sales. The focus looking forward for the company will be on how it manages to keep this content fresh. That said, in part due to advertising revenue pressure, but more due to this organic focus, MEET has successfully shifted its revenue mix, and we anticipate this trend will continue: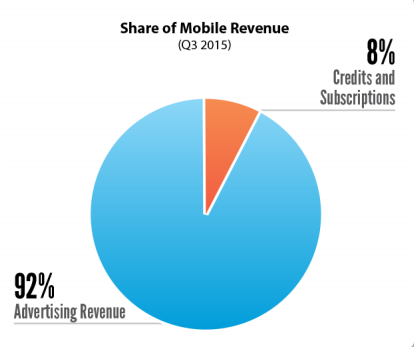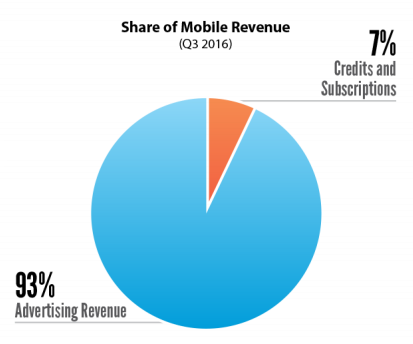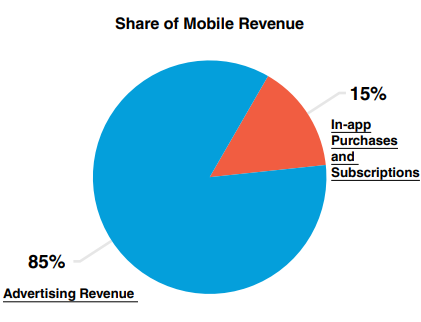 Source: Meet Group Q3 earnings presentations, 2015-2017
User engagement
As with any social media site, user engagement and retention is key. While these metrics can be volatile month-to-month, looking at daily average users and monthly average users is key. Over the last few quarters these numbers continue to trend higher. While the bump in the following charts reflect recent purchases, organic use is trending higher:
Daily users
Monthly users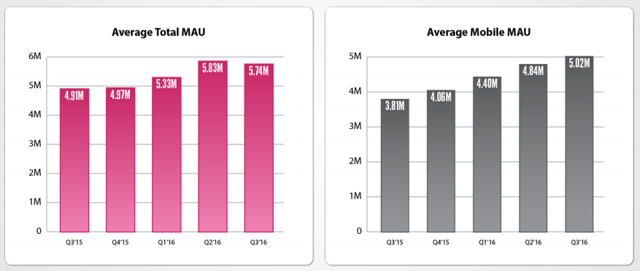 Source: Meet Group SEC filings
This trend is favorable. The growth in users is clearly higher over time. Too be clear the daily active users reflect Skout and if[we] purchases as of the acquisition dates of October 3, 2016 and April 3, 2017, respectively. Mobile users reflect the Meet Group's mobile apps and the MeetMe and Skout mobile web sites, both of which are growing. Factoring in that revenues are also growing along with demonstrated user growth, shares appeared to be far undervalued.
This is especially true when we consider THE JUST ANNOUNCED PRELIMINARY QUARTERLY RESULTS. Here is what the company just reported:
Preliminary Financial Results for the fourth quarter 2017. The Company expects:
Revenue to be at or above the high end of its prior outlook of $36.5 million to $38 million; and
Adjusted EBITDA to be near or above the high end of its prior outlook of $7.5 million to $9.5 million.
Preliminary Financial Results for the full year 2017. The Company expects:
Revenue to be at or above the high end of its prior outlook of $120.1 million to $121.6 million; and
Adjusted EBITDA to be near or above the high end of prior guidance of $28.6 million to $30.6 million.
"We are pleased to deliver strong preliminary results for the fourth quarter," said Geoff Cook, Chief Executive Officer of The Meet Group. "Our recent close of the Lovoo acquisition and the continued rollout of our video platform demonstrate our commitment to diversifying our revenue mix and delivering on the promise of livestreaming video.
"While still a small component of total revenue, monetization of our video product has been accelerating. In the past five weeks, average revenue per daily active user for MeetMe Live users, or vARPDAU, in the United States doubled to approximately 20 cents, up from approximately 10 cents just five weeks ago. We believe this has been largely driven by the initial success of our new video gifting product on our MeetMe app. In addition to driving monetization, we believe the gifting feature also incentivizes streamers to produce higher-quality content and spend more time engaging with their audience. In fact, we saw time spent in video increase following the launch of monetization.
"Building on our early success in video, we recently expanded our mobile product offerings in Skout with the launch of Skout Live. Skout Live gives users the ability to broadcast and view livestreaming video, invite other guest broadcasters into their live-streams, and earn virtual gifts."
Early results show increasing user engagement with the product:
* On average, 24% of Skout's daily active users currently watch live-streams
* 10% of all Skout live-streamers are already receiving gifts
The Company has also commenced deployment of the cashout process on Skout Live, where streamers can exchange a portion of the gift value they receive for real money. The gifting and cash out features are expected to be available on Tagged Live in the first quarter of 2018.
The Company has not yet closed and not yet finalized its financial statement review process for the fourth quarter and full year 2017. As a result, the information in this release is preliminary and based upon information available to the Company as of the date of this release, and thus remains subject to the completion of the normal year-end accounting procedures and adjustments. During the course of the Company's review process, items may be identified that would require the Company to make adjustments, which could result in changes to our preliminary selected financial information above. As a result, the preliminary selected financial information above is forward-looking information and subject to risks and uncertainties, including possible adjustments to such information. The Company expects to report its fourth quarter and full year 2017 results in March of 2018.
—
We want you to join our community
—
-No more costly delays in waiting for material
-Dozens of publications per week, including news coverage, earnings commentary, analysis, politics, and more
-Access to special guest contributions, including from WSJ, CNBC, and prolific SA authors
–Ability to comment on articles
–Access to our weekly newsletter
-Publish your own opinion/analysis
Thank you for your readership, and for your loyalty.
Regards,
Quad7Capital
——
Not interested? We understand. However, you will miss out on the insights we have provided over the years, that helped drive us to the NUMBER ONE AUTHOR on long ideas on the Seeking Alpha Platform,

Please Like And Share Our Content!