Foot Locker (NYSE:FL) is still cheap. With virtually no debt, and trading at both a trailing-twelve month, and future-twelve month price-to-earnings ratio below 13 and an enterprise value-to-EBITDA ratio of just over 5, those seeking a quality name at a value price have been eyeing Foot Locker. In addition, the stock is attractive to dividend growth investors as the company has consistently raised its dividend, while currently sporting a near 3% yield. We remain in the camp that sees value in the shares at present levels. Of course, the stock has rallied off of the five year lows in the low $30 range, but we believe there is room to run higher as the Street begins to realize that the company is actively addressing its headwinds.
While there are numerous challenges that must be addressed, we believe the company is well positioned to do take on these headwinds and is actively attempting to tackles these issues. In this article we discuss several challenges and what the company is doing to address them. While future earnings reports will ultimately dictate whether this has been successful, this article provides the key data points one should watch moving forward when deciding whether to invest in the name further or abandon ship.
GENERAL RETAIL WOES
Investors must realize that 2017 (and really 2016 as well) was a year in where most anything and everything retail was hit hard. It took a little extra time for the competitive pressures to catch-up to Foot Locker as weakness didn't really kick in until spring 2017. Since then, the sentiment on the name and the sector has been extremely negative. This is much like all other retailers, especially those that rely on a heavy physical store presence, many of which are anchored to malls.
There is a profound belief among many investors that traditional retail is at worst dead and at best on life support. Very few retailer stocks have done well in recent years given the fears over Amazon (AMZN) taking over the world. All footwear and sporting goods related stocks have perhaps been hit the absolute hardest. In addition, Foot Locker has been especially vulnerable as fears of its top selling products being sold directly to consumers from the manufacturer have weighed. Namely, this applies to Nike (NKE) products. However, many of these fears are indeed overblown, as Nike has stated on several occasions that Foot Locker is a key channel, a key partner, and that any selling with Amazon (NASDAQ:AMZN) is still in beta. In short, should 'the middleman' be cut, Foot Locker is the last on the list to go, but we do not see this as a possibility.
DIRECT-TO-CONSUMER
One of the main fears investors have surrounding Foot Locker is not just that Nike will sell its products without 'a middle man', but that Foot Locker cannot afford to sell its products online. What we mean by this is that it is well known that online sales are immensely competitive for the same product, and usually those retailers with the best price for the consumer get the business. While Foot Locker does have brand loyalty, and a strong rewards program, it is especially difficult to compete with Amazon because the company has famously sold products loss in order to gain market share, and build its own brand. Now it may have to contend with Nike itself, among all other competitors. However, footwear as a whole is somewhat insulated from direct-to-consumer sales threats.
We believe that footwear remains one area where physical stores still work. Sure, many know "their size" and will routinely order shoes like that. This type of consumer doesn't shop at Foot Locker anyway in our opinion. One real threat is the 'Best Buy' (NYSE:BBY) effect where consumers could go to the store, find the shoes they like, and buy them on Amazon. That remains an issue. One option that Foot Locker has is to undercut itself to compete with online sales. Yet, Foot Locker has not suffered from such pain. In fact, the margins remain strong from direct-to-consumer sales, and as Kenra Investors noted, direct-to-consumer margins "have consistently been above store margins" until recently. That said, the margins for Foot Locker remained at decade highs last year. While we believe this perceived weakness (the threat of online sales) is actually a hidden strength, the fact is that comparable sales declines must be addressed.
COMPARABLE SALES
Declining comparable sales are a key weakness for the company right now. One of the issues that crushed the stock was declining comparable sales, which began back in Q1: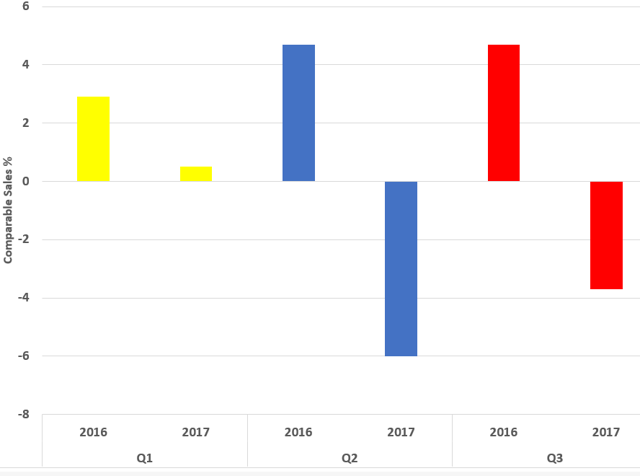 Examining the recently reported Q3 results, we see that comparable sales once again declined 3.7%, after a devastating 6% decline in Q2. This is a probably the greatest weakness for the company. This is a key indicator, and it had been strong, and very positive, for many quarters up until the last few months. Is there any way to put a positive on this?
Well, despite a negative 3.7% comparable sales figure in the most recent quarter, we were pleased with the result as we were projecting comparable sales of negative 4.5%. So, it came in far better than we expected, and better than the Street was looking for. Looking ahead to Q4, we expect a continued drag on comparable sales, but this will be in large part due to heavy promotional activity to move merchandise as the company transitions into 2018 and beyond. What we believe 2017 provided is an opportunity for the company to really plan for the longer-term.
What we believe needs to happen going forward longer-term is a true effort to bring people back into the stores. Negative foot traffic in the Foot Locker U.S. stores, Foot Locker Europe stores, as well as in Foot Locker Kid shop will lead to continues to pressure comparable sales. However, traffic weakness should be offset somewhat by strong performance of several Nike products, a new partnership with Nike, and expectations for ongoing strength in apparel. What we like is that the company isn't wasting time. It realizes the declines in comparable sales necessitate change. Therefore, expect another or two of weakness. We are already looking out to Q3 and Q4 of 2018 as key data points. What we will be looking for in Q4 2017, Q1 2018 and Q2 2018, is for signs that the comparable sales pattern is reversing and trending more positive.
Such negative comparable sales (even if they trend more positive in the next two quarters) have led, and will lead, to flat or declining total sales. Of course, with better than expected comparable sales last quarter our sales estimate in Q3 of $1.855 billion was surpassed handily, by $150 million. This is a positive. While we see comparable sales suffering for a few quarters we do see sales ramping up once again, despite our expectations for heavy promotional activity going forward. Foot Locker is going to step up advertising, including pushing its new partnership with Nike, but it is likely margins will continue to see pressure (both in store and online) even if total sales rise.
MARGINS
As we know a key indicator is margins as we touched upon above under direct-to-consumer and online sales. Given the promotional activity, that we needed you to be aware of what is happening on gross profit margin. We are anticipating a number of transitional quarters, which is why we are looking for a change in the trend in coming quarters as a positive indicator.
Below is the last four quarters of gross margins: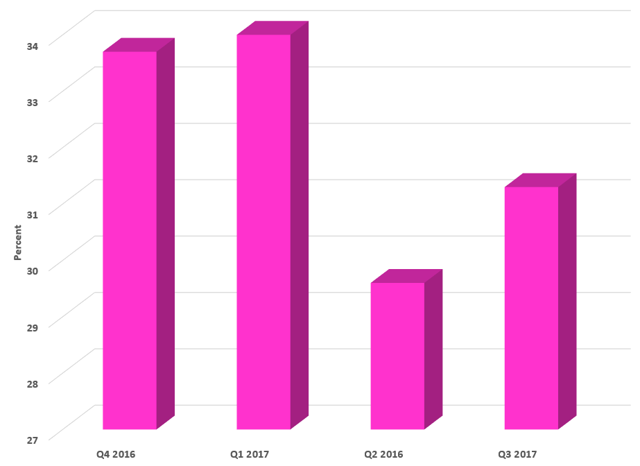 Overall in Q3, the cost of sales rose 3% to $1.29 billion, while average selling prices remained rather flat. As a result, gross margins decreased to 31.0% from 33.9% from a year ago. As you can see the trend is alarming, and while there is quarter-to-quarter variability, the trend is lower. Declining margins are a red flag in many cases but much of this hit to gross margins was expected as the company indicated it would be stepping up promotional activity to move merchandise, bring traffic into stores, and to protect market share.
To drive sales higher, and protect its market share, the company sacrificed these margins to bring customers in (think of how Amazon keeps its customer loyalty by sacrificing its profitability). Now, we do not believe that margin compression will be a lasting result of the transition. As the company transitions and streamlines operations, we think that this pressure will continue for several quarters, but will boost sales. We believe this was effective as evidenced by the better than expected comparable sales results.
THE TRANSITION
We keep mentioning how the company is transitioning. This transition is a multiple front battle in our opinion. First, it will shutter losing operations. Second, it will streamline its online sales. Third, it will shift its product mix. Finally, its reorganizing and restructuring its management. Last quarter Foot Locker recorded a pre-tax charge of $13 million or $0.06 per diluted share. Most of this was for severance and related transitional costs. The disruption in retail necessitates a change of strategy and we believe that Foot Locker is being aggressive and that it is a positive for shareholders. In the coming months, we anticipate new strategies and ongoing investments to be made in Foot Locker's sales approach, while adjusting its physical presence accordingly.
We want the company to be aggressive on this front. We will be closely monitoring trends in store count. The company only opened 12 new stores in the last quarter while it remodeled or relocated 41 stores and closed 22 stores.
Here is a look at company operated store count in the last four quarters: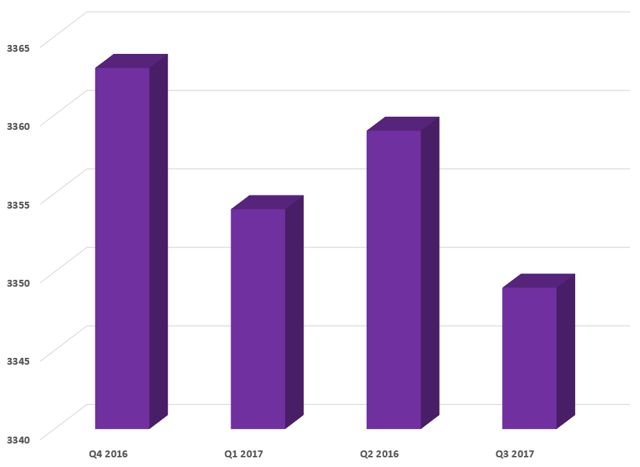 At the end of Q3, the company operated 3,349 stores in 23 countries in North America, Europe, Australia, and New Zealand. In addition, 83 franchised Foot Locker stores were operating in the Middle East and South Korea (up from 68 last quarter), as well as 14 franchised Runners Point stores in Germany. We predict you will see a ramp up in store closures/relocations in 2018. The trend is currently to the downside, and we would expect this to continue.
TAKE HOME AND OUR VIEW
While we believe the stock is cheap on a valuation basis, the multiple compression we have seen on the stock is a result of both sales and earnings pressure, as well as uncertainty for the future. Investors in Foot Locker need to be cognizant that the Street, while having bid the name up off of the multi-year lows, have unanswered questions. We have identified several core areas in which you absolutely must focus on. Namely, direct-to-consumer sales, comparable sales, margins, strategic partnerships, and the ongoing transition of the company. While Q4 2017-Q2 2018 will give us an indication of progress, we should be most focused on seeing real results in the second half of 2018.
—
We want you to join our community
—
-No more costly delays in waiting for material
-Dozens of publications per week, including news coverage, earnings commentary, analysis, politics, and more
-Access to special guest contributions, including from WSJ, CNBC, and prolific SA authors
–Ability to comment on articles
–Access to our weekly newsletter
-Publish your own opinion/analysis
Thank you for your readership, and for your loyalty.
Regards,
Quad7Capital
——
Not interested? We understand. However, you will miss out on the insights we have provided over the years, that helped drive us to the NUMBER ONE AUTHOR on long ideas on the Seeking Alpha Platform,

Please Like And Share Our Content!