The WD-40 Company (NASDAQ:WDFC) remains one of our absolute favorite household names and it has just reported another round of earnings that have caught our attention. As a stock, we have called it a buy-and-hold success story, and one that may be exactly what you are looking for when it comes to a long-term holding.
We predicted substantial upside for the company, and here we are, looking at all-time highs. And these all-time highs appear like they are going higher, because the quarter was strong. However, while we were pleased to see this reality, we know that coming into this quarter sales had been weaker than expected for months. We stood by the name because the products have staying power, and we trusted in management to work out the weaknesses.
In the present column, we discuss the trajectory of the company, our projections for 2018, and what we think you should do with the stock. Well, as long as things require maintenance and lubrication, the company will always have a market for its flagship multi-purpose maintenance products under the WD-40 brand. Has this patience paid off?
Q1 SUMMARY
The first quarter was incredibly strong for the company and surpassed our expectations on multiple fronts. We were impressed with the outperformance and believe many of the challenges facing the company are being well managed. Let us discuss.
SALES
One of the challenges in recent quarters were stagnant sales, particularly in late 2016 to early 2017. However, we viewed this as temporary. The stock looks to move higher as the fiscal Q1 numbers showed a strong performance earnings wise, but this was mostly driven by very strong revenue numbers that were much better than we projected, while demonstrating moderate, sustained growth. Here are the last few first quarters of sales: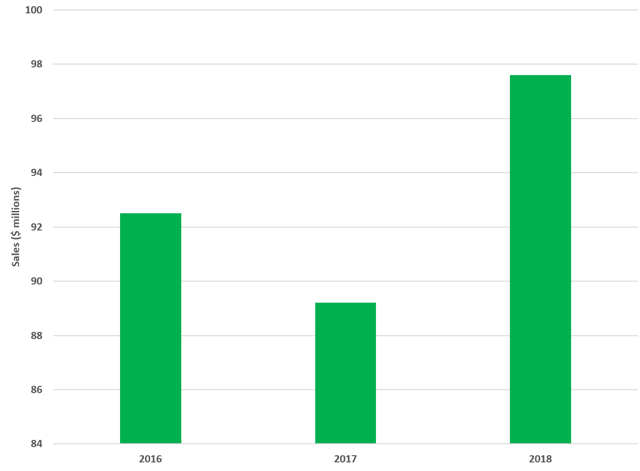 Source: SEC Filings
As you can see, growth had slipped a year ago, breaking the long-time consistency, but it has returned with sales that are incredibly strong. This return to strength and record sales is exactly what we want to see out of a long-term buy and hold recommendation like WD-40. Now, sales for the quarter were impacted by currency issues. On an absolute basis, sales for the third quarter were $97.6 million, which was actually up 9% year-over-year. This surpassed our expectations for the quarter of $95 million by $2.7 million. Our expectations were loftier than analyst consensus, and consensus estimates were beat by a strong $4.6 million.
With the international lines of business, the company is exposed to currency issues. Currency issues have weighed on overall sales, so we want to point out that if we look at the sales on a constant-dollar basis, net sales for the quarter would were a touch lower. Controlling for currency, sales were $96.2 million overall, which was still a strong 8% rise.
SALES BY REGION
One of the key strengths of the company is international growth. That said, the international exposure has also led to some pressures from currency issues as we noted above. Still, as you can see, the growth over the last three years has been strong looking back at the last three first quarters: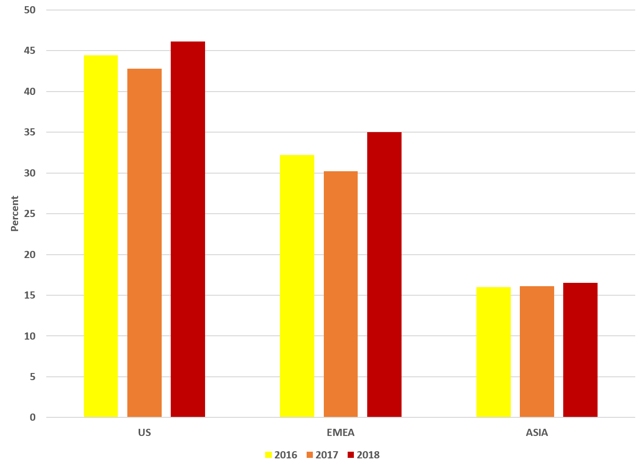 Source: SEC Filings
Net sales by segment for the quarter were 47% in the Americas, 36% in EMEA and 17% in the Asia-Pacific region. Net sales in the Americas were up 8% due to strong maintenance product sales in the United States, Latin America and Canada. Net sales in EMEA increased 16% in the quarter on the back of solid maintenance product sales in both the European direct and distributor markets. Sales in Asia-Pacific increased 2%, but one negative here is that a higher level of promotional activities were necessary to achieve these sales. Still, expenses were surprisingly well managed to drive these sales as whole, and as such earnings were propelled higher.
EARNINGS
How about the earnings picture? Here things have generally looked strong as earnings have generally met or beat our estimates historically, although the last couple quarters have a couple misses against our projections. In particular late 2016 to early 2017 was difficult. Here in this quarter we were back to crushing our estimates, which is impressive because our earnings projections reflect our strong projections on sales. Well, on the back of stronger than anticipated sales, and due to strong fiscal discipline earnings were strong. Take a look at the last few first quarters: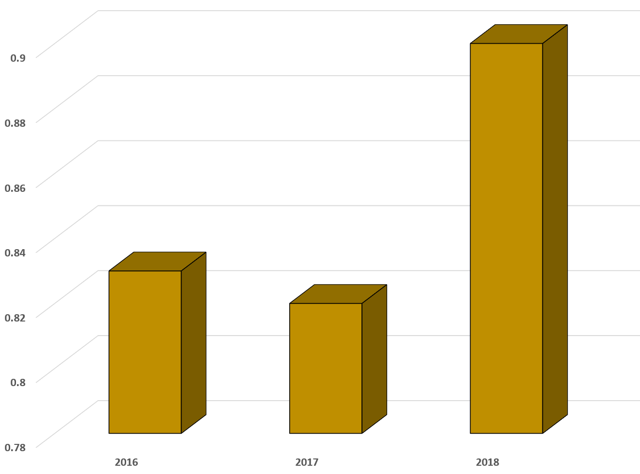 Source: SEC Filings
Net income was $12.6 million, up 7% compared to last year's quarter and earnings per share came in at $0.90. This more than surpassed our projections by a solid $0.03 margin. This is a strong year-over-year increase as last year earnings were $0.82 per share. While overall expenses were well managed, helping drive earnings up, the heavy promotional activities did weigh a bit on margins, as they fell to 55.5% from 57.2% last year. This is one concern we have moving forward.
2018 PROJECTIONS AND OUR TAKE ON THE STOCK
As the dollar relative to foreign currencies has normalized in recent quarters we anticipate less fluctuation in foreign currency exchange rates. As such, we expect that sales results on a constant dollar basis will more closely approximate absolute sales. That said, this quarter saw some real positive indicators that have us bullish moving forward. CEO Garry Ridge stated:
"for the first time in a long-time, foreign currency exchange rates are not diluting our reported net sales results."
That is a very bullish sign. Aside from that, we were more than encouraged that the WD-40 Multi-Use Product line, a key long-standing product, grew 10% in the first quarter. It was worth noting specialty products continue to grow. One key example was that the WD-40 Specialist Product line grew 29% year-over-year. Further, management suspects that this growth will continue, particularly thanks to international penetration. As such, our 2018 numbers are bullish, and likely more so than others. Thus far our bullish outlooks have been surpassed.
For the year, we see net sales growth of 5%-7%. We see net sales coming in between $398 million and $405 million. While margins contracted a bit this quarter, we see them remaining strong, approximating 56%-57%, assuming expense growth of 2-3%, with advertising and promotional spending representing 5-7% of sales. As for earnings, we are factoring in our bullish outlook for sales and our range for expenses. We see net income coming in at between $54.6 million and $56.0 million. This translates to roughly $3.92 and $4.00.
So what is our take? Well even with our bullish outlook, shares are somewhat expensive on a forward earnings basis (25 times earnings). Still, shares have been considered 'overvalued' for many years. While a better price would be preferred, we stand by our call that this is an ideal buy and hold over time. We would not buy here, but remain bullish. We want a better price. Why are we bullish? Well first our bullish outlooks have been surpassed, almost consistently. Sales are rising on a currency neutral basis. Earnings are rising. The company continues its slow and steady growth. This is still a dividend growth name, as we have previously discussed. Get rich slowly. Put some WD in your portfolio.
—
We want you to join our community
—
-No more costly delays in waiting for material
-Dozens of publications per week, including news coverage, earnings commentary, analysis, politics, and more
-Access to special guest contributions, including from WSJ, CNBC, and prolific SA authors
–Ability to comment on articles
–Access to our weekly newsletter
-Publish your own opinion/analysis
Thank you for your readership, and for your loyalty.
Regards,
Quad7Capital
——
Not interested? We understand. However, you will miss out on the insights we have provided over the years, that helped drive us to the NUMBER ONE AUTHOR on long ideas on the Seeking Alpha Platform,

Please Like And Share Our Content!
Please Like And Share Our Content!