JPMorgan Chase (NYSE:JPM) has just reported earnings which were quite strong, with a few notable exceptions. As the stock looks to break above the $120 level here in early 2018, we remain bullish, but more cautiously so than we have been in the past. This is because while growth in the name has supported the growth in price, the stock has had a major run, and with it, the multiples have expanded. Much of this expansion is predicated on future growth of the banking sector that will stem from increased global economic activity and rising interest rates. In this article, we will discuss key metrics that support the bull case. It is our thesis that while rising rates will certainly be a huge benefit to the name in the long run, we continue to believe that the reasons for owning JPMorgan Chase stock are numerous and include a multitude of fundamental strengths.
WHAT WE ARE LOOKING FOR
For a global behemoth like JPMorgan, we are looking for slow and steady growth which leads to improved performance not just on the top and bottom lines (the headline numbers) but also in several key metrics that we follow closely for all major banks. We must see a growing loan and deposit record (the bread and butter of any bank), a decent efficiency ratio, as well as of course improving revenues and earnings, which we expect to grow in the single digit range year over year. Further we like to assess the level of toxic assets on the books via the provision for credit losses. These are critical metrics which allow us compare bank-to-bank in the sector.
HEADLINE NUMBERS STRONG
To be clear, JPMorgan had strong quarter overall, and headline numbers demonstrate such strength. Managed revenue was $25.45 billion, up 4.6% year-over-year. This revenue growth was well within our expectations for single digit growth, and surpassed our expectations for $24.30 billion by $150 million. Further, it surpassed analyst consensus by $300 million, indicating a quarter of strength. It also continues a run of growth in Q4 revenues over the last several years: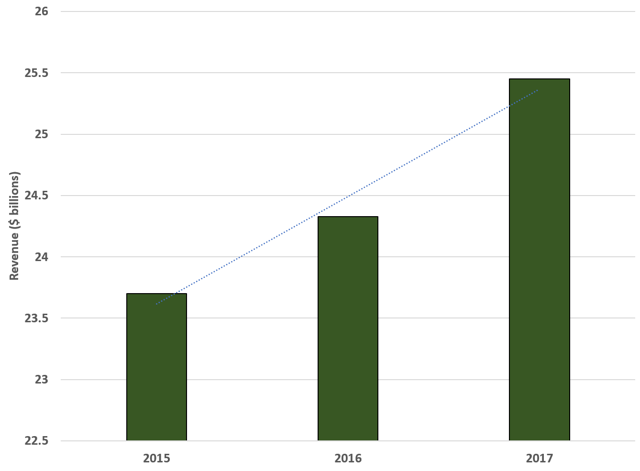 Source: SEC Filings
Revenue continues to rise steadily, and this is the third quarter in a row where JPMorgan has surpassed our projections for the top line. This fact supports the bull case. While revenues were strong, expenses were well managed and as a result the company registered continued growth in earnings: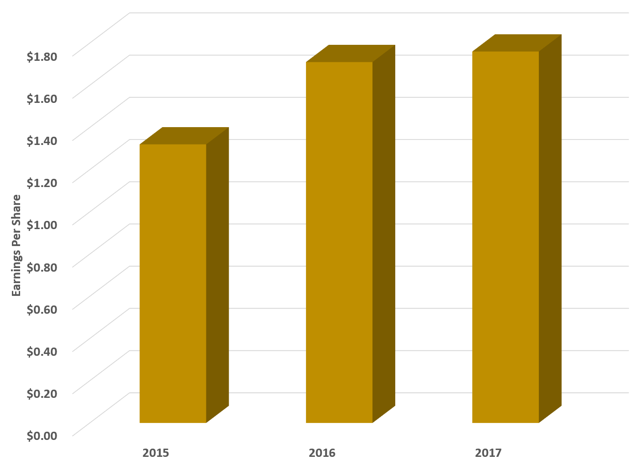 Source: SEC Filings
In last year's Q4, the company saw earnings per share of $1.71 per share, or $6.7 billion. The present quarter included an adjustment of $0.69 impact (decrease) from the Tax Cuts and Jobs Act. Overall, when we adjust for this, net income was flat from last year, although thanks to a reduced share count, earnings per share increased 3% to $1.76. We should point out that these earnings surpassed our expectations by $0.03 and also crushed the per share consensus expectations by $0.07, continuing JPMorgan's recent run of coming in above consensus expectations. While much of the growth over time is organic, we acknowledged the reduce share count boosting earnings per share. This is a direct result of share repurchases: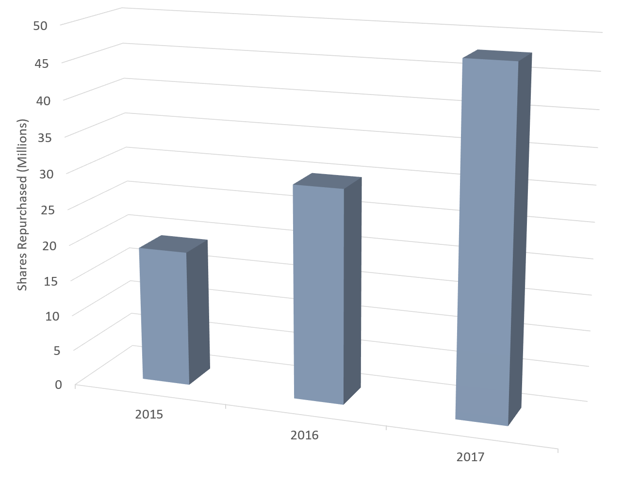 Source: SEC Filings
As you can see the bank has been buying back shares consistently in the fourth quarter. Further, bear in mind that you should further consider the effect of share buybacks that were happening in all other quarters. By reducing the share count, earnings per share is driven higher, in addition to gains seen organically. Of course, the headline numbers only tell part of the story, so what else drove the results we are seeing?
INTEREST AND NON-INTEREST INCOME
We are always on the lookout for several key statistics which impact the headline numbers which we are seeing. Two of these important statistics are the income derived from interest and non-interest sources. The bank's net interest income and non-interest income are critical to watch, and these metrics continue to demonstrate continued improvement: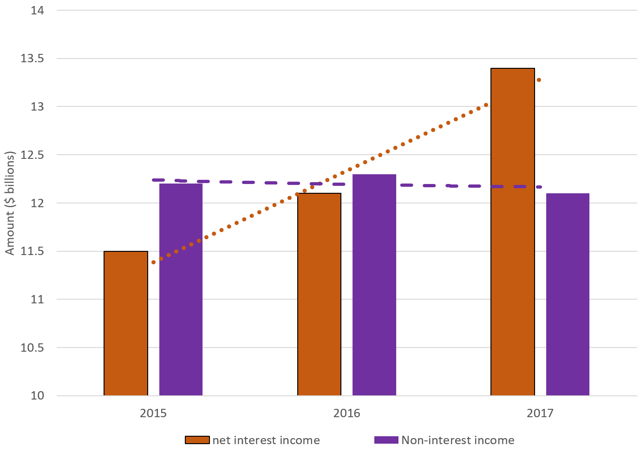 Source: SEC Filings
While net interest income continues to rise, non-interest income has seen a little volatility. However, over the years, the trend is higher for both measures over time. In the present quarter, non-interest income fell 1% to $12.1 billion, compared to last year's comparable quarter which saw $12.4 billion on this metric. There are several reasons for the decline. Non-interest income fell because there was decline in investment banking and markets revenue. There were fewer equity and debt underwriting fees, and lower trading fees. This weighed, but we attribute much of this to a stable stock market which continues to rise. We view these pressures as temporary and isolated, as there is much volatility in trading and investing services, as well as competition. It is worth noting that there was strong growth in auto leasing and wealth management fees offsetting some of this weakness.
Net interest income continues to grow substantially. This quarter, net interest income jumped by $1.3 billion over last year. It rose to $13.4 billion, from $12.1 billion last year. What you must realize is that this is where the positive impact of rising interest rates is being witnessed. As you are aware, we have been bullish on financials, especially the strongest banks, because of rising interest rates. As rates continue to rise in 2018, we project that this metric will surpass $14 billion per quarter this year by the end of the year. That said, as assets under management continue to grow, we must be cautious, and recognize any changes into the company's provision for credit losses.
CREDIT LOSS PROVISIONS SPIKE
Provisions for credit losses continue to rise. As these provisions expand we are cautious because it may mean the company is taking on risky debt. At the same time, it can also mean that more debt in general is being taken on, or some combination of the two. We note that the provisions for credit losses have risen sharply in recent years: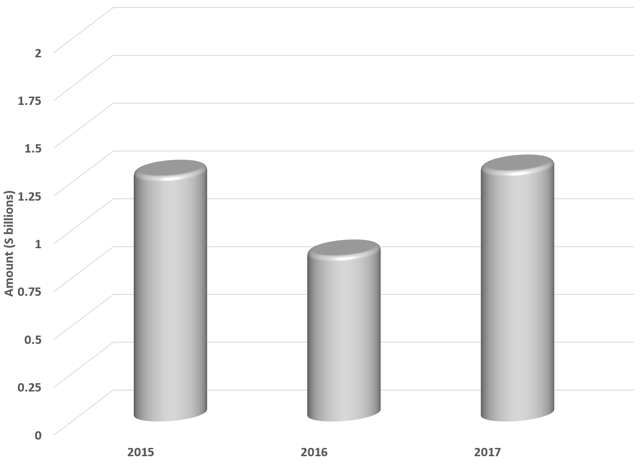 Source: SEC Filings
While the precise degree of toxic assets is unclear, the rising provisions for credit losses does have us cautious. As you know, reported credit losses are pretty clear. It indicated bad debt was issued, and generally results in net charge-offs. In the present quarter, the provision for credit losses rose because the company was positioning for its increased loan activity. As more loan are taken on, the company has expanded its reserve in case there are losses. It does not mean there will be losses. Much of the reserve build is in the Wholesale and Consumer portfolios, where much of the new loan activity is ongoing.
LOANS AND DEPOSITS SIGNIFY STRENGTH
As alluded to above, provisions for credit losses are mounting as a result of rising loan activity. Rising loan activity, in conjunction with rising deposits are critical metrics for us. We have been clear about this across dozens of articles in the banking sector in the past. Let us be clear: the best banks continue to grow loans and deposits, as this is traditionally how banking works. In and of itself, it is not a strength, but when combined with the fact that credit losses have improved over the years, it is a strength in our opinion. While investment banking can generate massive income, it is risky and the volatility was noted above in non-interest income. In light of this, loans and deposits are still the bread and butter of any bank's long-term growth. Both of these metrics continue to improve for the company: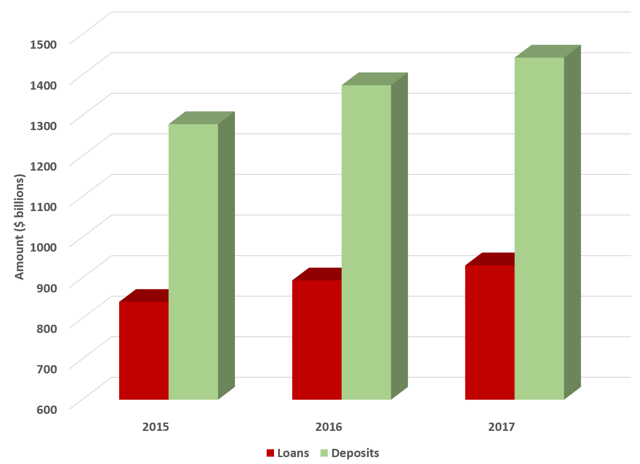 Source: SEC Filings
Loans were up and came in at $931 billion in the quarter, up from $894 billion last year. As for deposits, they continue to increase markedly. They rose to $1.443 trillion in Q4 2017, from $1.375 trillion last year. Given the current trend as well as our expectation for rates and the sector, we now project that loans and deposits will surpass $985 billion and $1.6 trillion, respectively, by this time in 2018. With the growth being realized by the bank, we have to question whether the bank is managing to remain efficient.
EFFICIENCY IS SOLID
One metric that has not seen improvement over the last few years in Q4 is the efficiency ratio. The trend in JPMorgan's efficiency ratio is flat. We would love to see improvement in this metric, but let us also recognize that this metric, although stagnant, remains impressive. Recall that this critical metric measures the costs expended to generate a dollar of revenue. As a whole, JPMorgan Chase has seen its efficiency ratio at 60%.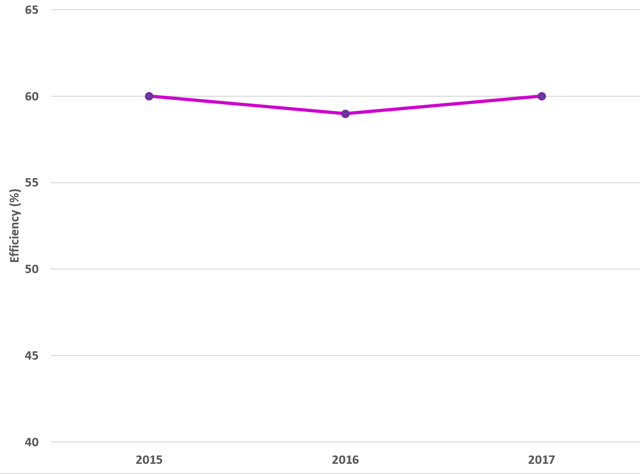 Source: SEC Filings
Overall there was a strong 60% operating efficiency ratio for the bank. While this is up from last quarter (Q3) which saw 55%, we prefer to take into account seasonality and compare to the year-ago quarter, which was 59%. So, this is one small blemish on the quarter, but this is an incredibly small issue in our opinion. While we have generally stuck with a textbook target of about 50% for this critical indicator, JPMorgan's 60% is very respectable and among the best of the large banks on this critical metric. There is still room for improvement, but we are grasping at straws to paint this as 'a negative.'
OUR TAKE
This was another strong report for the company and we remain cautiously bullish. The stock has made a monster run, and a bad quarter in 2018 could trigger a bear raid. However, it is clear that JPMorgan's fundamentals continue to improve, and there is no sign that this will slow down, at least at present. The only blemishes in this quarter were weaker than expected trading/markets revenue, which we attribute to a stable and calm stock market, in addition to a stagnant efficiency ratio. We view the increased provision for credit losses as a defensive move considering the immense growth in loan activity and does not imply future losses are imminent.
With interest rates rising into the future, it can only help net interest income, as well as the bottom line, longer-term. We continue to believe that the financial cycle upswing will continue as interest rates rise. As the name approaches $120, we remain cautiously bullish, but from we do think investors should wait for a pullback before initiating a new position or expanding current holdings.
—
We want you to join our community
—
-No more costly delays in waiting for material
-Dozens of publications per week, including news coverage, earnings commentary, analysis, politics, and more
-Access to special guest contributions, including from WSJ, CNBC, and prolific SA authors
–Ability to comment on articles
–Access to our weekly newsletter
-Publish your own opinion/analysis
Thank you for your readership, and for your loyalty.
Regards,
Quad7Capital
——
Not interested? We understand. However, you will miss out on the insights we have provided over the years, that helped drive us to the NUMBER ONE AUTHOR on long ideas on the Seeking Alpha Platform,

__
Please Like And Share Our Content!