If you have been a regular follower of our work then you know we recommend keeping about 20%-25% of your portfolio in high yielding investments, which we define as anything over 4%. That said, our top dividend stock recommendation, AT&T (NYSE:T), had a whirlwind 2017, trading substantially lower, only to rebound. While the name has pulled back and is still about 15% off its highs, with the unprecedented innovation coming out of the company we have maintained that this name will offer growth, but the stock is in a bit of a holding pattern while the Time Warner merger issues are debated in the courts.
The year 2017 was much more volatile than we had seen in years past. That said we are not completely done with 2017 just yet. The company is set to report year-end earnings next week on Wednesday, January 31, after the bell. The purpose of the present article is to preview what we are looking for and discuss expectations for the results. Further, we offer our initial 2018 projections ahead of the report. The stock's next move up or down will depend on the performance of the company, and we are eagerly awaiting this set of results. In fact, it is with great anticipation that we share our expectations for next week.
Earnings history
Briefly, the company has had a history of essentially meeting expectations long term. Some quarters it beats, some quarters it misses, but the name usually comes in right around expectations with very few surprises. That said several quarters in 2017 saw numbers that did surprise, and the stock moved more after earnings reports in 2017 than it had all decade. While we usually have a good read on the company, our numbers were both missed and surpassed at various points in 2017. This newfound volatility around earnings is why we think the stock is going to move heavily once again next week, and are anticipating these numbers greatly.
Our expectations on revenues
Revenues have begun to flatten if not dip for the company in recent quarters. However, Q4 revenues have trended higher in the last few years and we are projecting this to continue: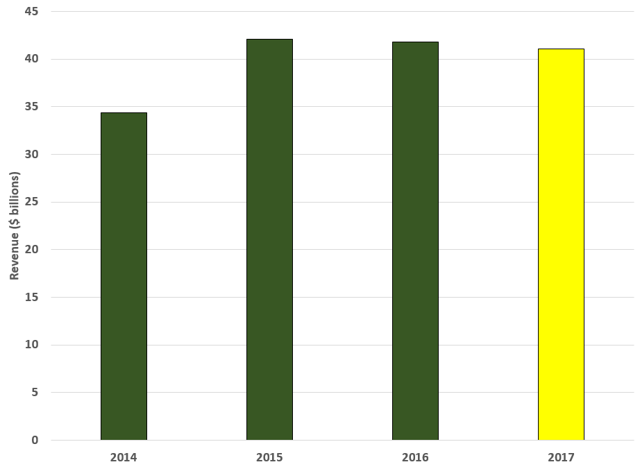 Source: SEC Filings, Quad 7 Capital projections (yellow)
As you can see revenues have been declining since Q4 2015. We are concerned with the topline as we believe that the California Wildfires definitely are going to weigh a bit. In addition, incredibly stiff competition in the consumer wireless space has led to declines. Further, we will be watching to see if the loss of video subscribers has slowed down.
All in all, our revenue expectations are slightly more conservative relative to the pack. Analysts covering the company are targeting a consensus $41.18 billion. We are targeting $41.05 billion. This of course reflects our expectations for continued impacts from the loss of video subscribers, the losses from wildfires, and factors in the immense competition we saw during the holiday season for new customer plans. If revenues take too much of a lump, earnings will suffer.
Earnings expectations
One of the frequent criticisms (justifiably so) is that the earnings of AT&T move like molasses. They simply are extremely slow growth. In recent quarters they have crawled to a halt, and for the most part, we project that trend to continue: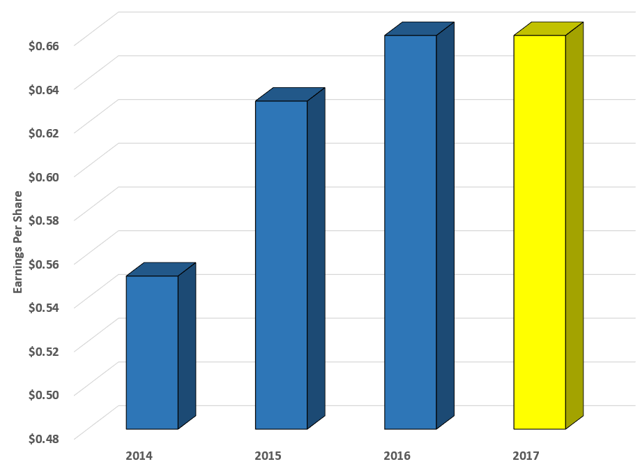 Source: SEC Filings, Quad 7 Capital projections (yellow)
Earnings per share are expected to be in the range of $0.62 to $0.68 from analysts, with consensus around $0.65, which is inline with our projections. We believe with changes in share count, and well managed expenses, despite our slightly more conservative revenue expectations that earnings will come in at $0.66, one penny ahead of consensus, and flat from last year. Our projections, if met, would be welcomed news but there are other metrics of interest to eye.
Operational cash
You saw our revenue projections above, but we need to not only care about the top line, but also the cash. We are projecting a slight uptick: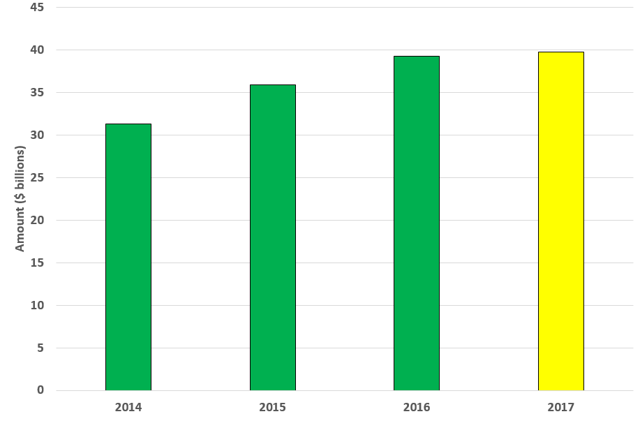 Source: SEC Filings, Quad7Capital projections (yellow)
As with revenue and net income, we expect cash from operations to level off a bit. Thanks to a stronger than expected Q3, we believe 2017 cash from operations should tick up slightly to about $39.7 billion. This impacts free cash flows, which are a vital metric for the dividend.
Free cash flow
We know that AT&T is aiming for $18 billion for the year in free cash flows. AT&T reiterated this target after Q3. We expect free cash flows to stay on pace year-to-date toward this target, but they will likely be lower this year versus last: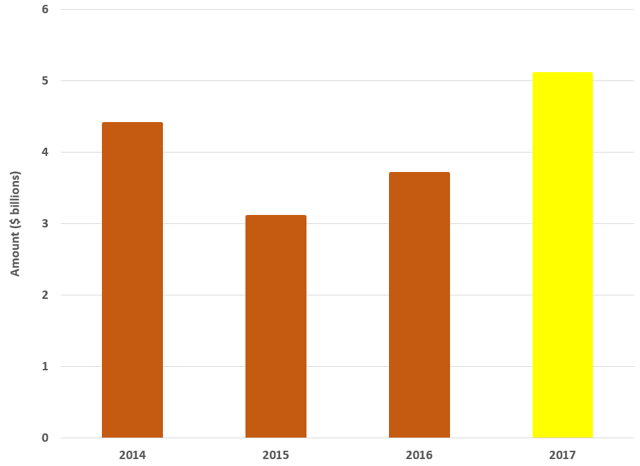 Source: SEC Filings, Quad7Capital projections (yellow)
We have consistently been more conservative than company management on this metric. However, $18 billion is within our expected range. For the year we expect cash flows will be just under $18 billion at the mid-point of our Q4 projection. We will be looking for a bare minimum of $4.9 billion in free cash flow, and up to $5.35 in free cash flow. The company needs just over $5.2 billion to hit the $18 billion target. We expect $5.1 billion. But even at our low end of projections, it bodes very well for the payout ratio, a critical measure of dividend safety.
A safe dividend, the dividend payout ratio
We want to stress that our most important indicator to watch for out of the company is the dividend payout ratio. As you may recall this is calculated by taking the dividends paid over free cash flow, times 100%. The payout ratios have been volatile in Q4 historically but are improving. That said, we are projecting a strong Q4 this year: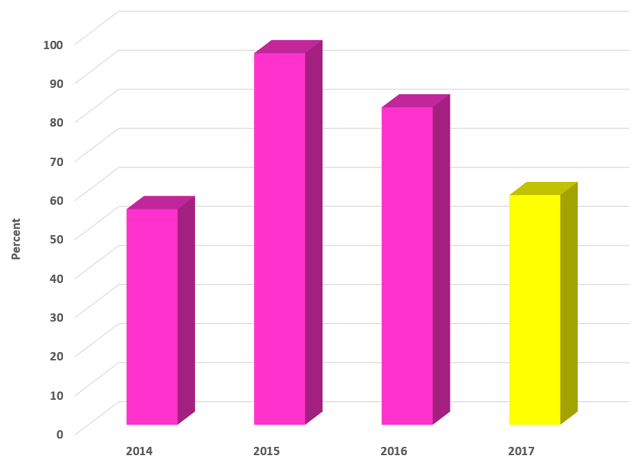 Source: SEC Filings, Quad 7 Capital projections (yellow)
As you can see, the dividend payout ratio will have risen for the last three years running based on our projections. We believe the payout ratio will approximate 58% this quarter, based on $3 billion in dividends paid and a target of $5.1 billion in free cash flow. Should AT&T only hit the low end $4.9 billion of our projections, the payout ratio would be 61%. This is quite strong.
Although we expect a more conservative figure (i.e. $5.1 billion), this would be a comfortable payout ratio for the quarter. What's great is that even if free cash flow came in at $17 billion for the year (or $4.2 billion in Q4), the dividend payout ratio for 2017 would be right at about 70%, based on $12 billion in dividends paid. This ratio has been the goal of management, and we think it will be crushed.
Although the dividend has been hiked again, the goals we are eyeing strongly suggest that the dividend is safe as it is more than covered by free cash flow. While the dividend hike has a negative impact to the payout ratio, if free cash flow remains flat, we also project the payout ratio will remain comfortably under 70% for all of 2018. We further see cash flows increasing, especially if the Time Warner deal closes. This brings us to our current thoughts for 2018.
Our current 2018 projections
We will update these numbers once we have clarity on Q4 performance, but assuming our estimates are about correct, and operating under the expectation there AT&T will not close the Time Warner deal (we think it will), we are expecting 2018 to be another flat year mostly.
We are projecting revenues that could decline, and are eyeing $158.5 to $164.0 billion. In either case this is very low single-digit movement versus last year. As for earnings, we expect the per share number to improve if revenues are flat thanks to repurchase activity, and are expecting earnings in the range of $2.89 to $3.15.
Take home
Regardless of what happens with Time Warner, this is a name that we buy for the dividend. Yes, there are better growth opportunities out there. Sure, we would like more growth in the stock. But this is an income name. Even better, it is nicely suited for a long-term investment in a tax favored account to build wealth. We are eagerly awaiting guidance for 2018 along with this release. We are in this one for the long term, planning to hold the name for 30 years. Collecting/reinvesting dividends, trading around the core position, and adding the holdings whenever the yield gets noticeably higher is our play. Expect continued dividend hikes. We will be looking for another one penny dividend hike at the end of 2018. AT&T is a serial dividend raiser. Going forward we must watch subscriber counts, cash from operations, and the all-important dividend payout ratio.
__
Have your own opinion? Then consider publishing your opinion by becoming a guest contributor
—
We want you to join our community
—
-No more costly delays in waiting for material
-Dozens of publications per week, including news coverage, earnings commentary, analysis, politics, and more
-Access to special guest contributions, including from WSJ, CNBC, and prolific SA authors
–Ability to comment on articles
–Access to our weekly newsletter
-Publish your own opinion/analysis
Thank you for your readership, and for your loyalty.
Regards,
Quad7Capital
——
Please Like And Share Our Content!