Halliburton (HAL) is a strong choice for an oil service stock, and is our second choice behind competitor Schlumberger (SLB) long-term. Halliburton, much like it competitors in the sector, had been battered up until 2017, when the oil market started turning. We had previously stood behind the name as a hold and upgraded the name to a strong buy in August. That said, the company just reported earnings and we are surprised at how sharply the market has turned back toward moving positive following the pain in the oil sector the last few years. Halliburton stock has rebounded nicely as oil prices have bounced off of the decade lows. Combine this with the fiscal discipline that was borne out of necessity the last three years and the company is better than ever. But can you buy here after this leg up? Let us discuss performance and our expectations for 2018.
Revenues return to growth
As we had alluded to in past pieces in 2017 looking at the oil sector, we expected a rebound in oil but not this quickly. We were eyeing 2020 as the target year when we would see a regression to the mean in oil prices. We are pleased to have been wrong on this front as the rebound is well ahead of our expectations. While we expected a future bounce to give rise to a turn in revenues the growth returned much sooner than anticipated. That said, revenues grew to $5.94 billion: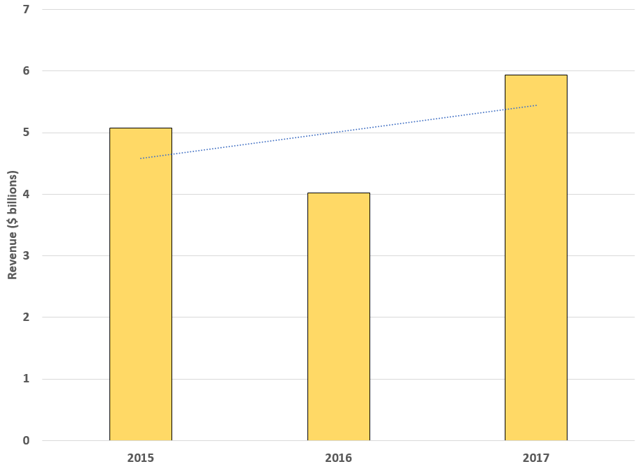 Source: SEC Filings
As you can see this represents an immense return to top line growth. It is a major testament to how vulnerable sales are to the price of oil. Now, as we watched oil prices climb in Q4, we of course were expecting some growth thanks to the move in oil prices. Our estimates were for $5.4 billion, and the company brought in an additional $540 million over our projections.
We should note that consensus estimates were surpassed by $310 million. We firmly believe that the overall risk continues to be to the upside from here as this bounce in oil is a long overdue reversion toward the mean. Prices ran up high, crashed, and are now finding equilibrium, in our opinion. With the rise in oil, we have to now turn to expenses.
Expenses
As oil prices declined from 2014 forward, Halliburton worked diligently to cut expenses. However, spending ticked up from last year as more operations were brought on line. Costs of revenues were up from last year: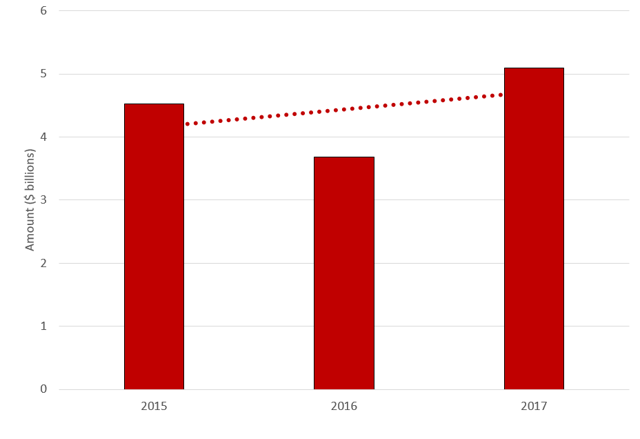 Source: SEC Filings
We were expecting a rise in costs but were looking for $4.8 billion, so the company spent nearly $300 million more than we anticipated at $5.09 billion to generate revenues in both completion/production and drilling/evaluation segments. The company did see lower interest and corporate related expenses. Overall, we were pleased with the metric, and we believe the reasons that costs were higher versus our expectations were completely a result of much higher than expected revenues being brought in as a result of growth across the company's portfolio.
Tax Cuts and Jobs Act
As we have done for other companies this earnings season, we find it prudent to assess and report on the impact of the Tax Cuts and Jobs Acts for Halliburton. Halliburton took a net $882 million of non-cash tax charges in the quarter. This was primarily due to the new provisions in the tax law, and the charges take into account the net impact of the tax law on the company. Future charges may be possible, along with other restructurings. Management has indicated that the company is "continuing its analysis of tax reform impact on the company, and this provisional amount is subject to change".
Earnings blow away our expectations
Revenues greatly surpassed our expectations while expenses were slightly higher as well. Still, the net impact led to earnings exceeding our expectations, and returning to growth: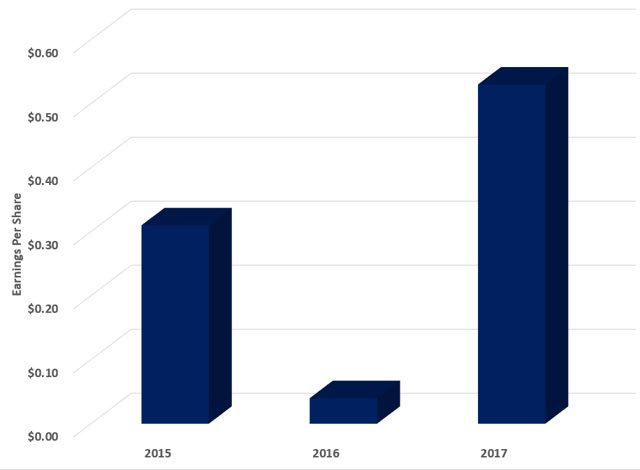 Source: SEC Filings
Adjusting for items such as the U.S. tax bill and ongoing issues in Venezuela, the company saw earnings per share of $0.53. This is strong growth from the $0.04 taken in during last year's Q4. Moreover, it surpassed our expectations for earnings by $0.10 per share. This is exceptional growth, but can you buy here? To answer this question, we have to assess 2018 expectations.
Our 2018 projections
We expect a strong 2018 from the company. When Schlumberger reported its results last week, Chairman and CEO Paal Kibsgaard stated " the oil market is now in balance." That was bullish. Halliburton President and CEO Jeff Miller added the following bullish outlook:
"I am optimistic about what I see in 2018. Commodity prices are supportive of increasing activity in North America and I am encouraged…we are well positioned to take advantage of opportunities presented by a growing North America market and improving international outlook. I continue to believe we are on the path to normalized margins in North America in 2018."
What this means is that we can expect margin expansion, because a normalization (or a mean reversion) means margins need to improve. This suggests expenses will continue to be well managed, while revenues grow, thereby expanding margins.
With this outlook and our expectations for the year we are bullish on the stock for 2018. On the top line, we are anticipating revenues of $23.0 billion to $24.75 billion under the assumption of oil remaining at present levels or higher. Assuming this growth and managed expenses that expand margins, we are targeting earnings per share of $2.25 to $2.60.
Our take on the stock
We remain bullish at rate Halliburton a buy at $50. While oil prices drive the momentum in this stock and the sector for the most part, with oil prices moving higher, the company and the stock will continue to do well. Despite past cost cutting to the bone and the pressure that we saw on revenues and margins, the company continued to pay its dividend and work to improve its operations. While the initial gains have been made since our buy call in July, we still see upside here.
__
Have your own opinion? Then consider publishing your opinion by becoming a guest contributor
—
We want you to join our community
—
-No more costly delays in waiting for material
-Dozens of publications per week, including news coverage, earnings commentary, analysis, politics, and more
-Access to special guest contributions, including from WSJ, CNBC, and prolific SA authors
–Ability to comment on articles
–Access to our weekly newsletter
-Publish your own opinion/analysis
Thank you for your readership, and for your loyalty.
Regards,
Quad7Capital
——
Please Like And Share Our Content!