Huntington Bancshares Incorporated (NASDAQ:HBAN) has just reported a another record quarterly report but the Street barely reacted to the news. The stock has rebounded from the summer when we said you could easily pick up some discounted shares in this powerful regional bank. In this article, we demonstrate how we are starting to see the impact of rising rates as it pertains to the earnings power of the bank. Overall the sector has been solid, but we think there will be another leg up for the stock soon. To elaborate on why we believe this company will continue to be a winner in the long run, we will assess and discuss a number of critical metrics for the bank, as well as describe why the trends in key metrics are bullish for the name.
Revenue strength
Just a cursory glance at share prices shows the name is doing quite well of late, no different than any other bank. That said, the operating environment has been on the mend for many quarters and banks are finally set to start reaping the rewards. Thanks to continued loan growth and improving asset quality, some key acquisitions, and of course rising interest rates, revenues have continued to grow for the company and are now at all-time highs. In Q4, the company reported a top line that just surpassed our estimates by $10 million, and continued a history of strong growth in this critical metric: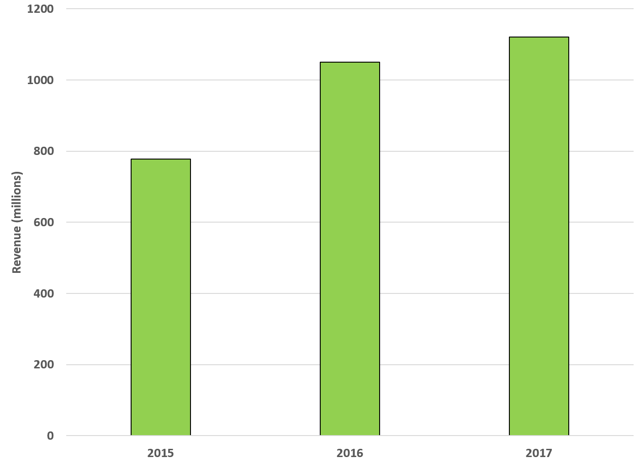 Source: SEC filings
Huntington reliably grew its top line, which seemingly happens quarter after quarter, but consistently has been growing year-over-year, even without the FirstMerit acquisition, which has only now been fully integrated. With the present quarter's revenues of $1.12 billion, the company registered a 4% growth in this metric year-over-year. This growth is on par with that of many other regional banks and even that of large multinationals. This growth is an incredible strength for the bank, and with the nearly consistent beats vs. our expectations we remain bullish. Thanks to well managed expenses, the company saw a strong earnings number.
Bottom line expansion
With this nice beat on revenues and year-over-year increase, earnings were in line with out expectations. Huntington reported net income of $432 million, a massive increase from last year before adjustments, at $0.37 per share. However, there was an $0.11 benefit from tax reform that needed to be adjusted for, and as such, earnings per share came in up 8% at $0.26 for Q4 2017, continuing growth: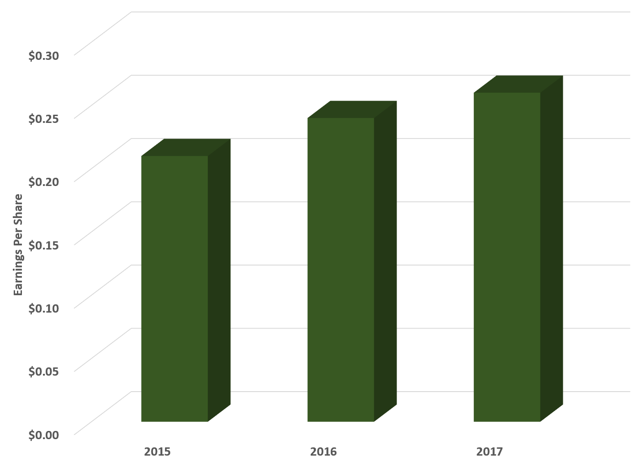 Source: SEC Filings
Book value growth
Earlier in 2017, the company had seen some year-over-year decline in tangible book value, However, the bank has returned to growth on this key metric here in 2017: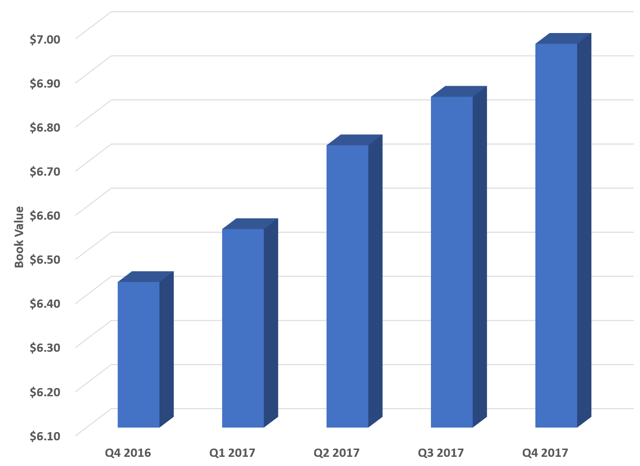 Source: SEC Filings
As you can see, there was a rise in 2017, and strong growth from last year's quarter. Much of this came from improvements in loan and deposits, as well as asset quality.
Loans and deposits grow
The First-Merit acquisition drove strong growth in loans and deposits, and now we are back to organic growth. That said, these metrics were mostly growing on their own anyway prior to this major acquisition. Regardless, we are pleased with the progress. The bank saw a $1.8 billion, or 3%, increase in average deposits year-over-year. In addition, this was up almost $400 million from the sequential quarter. Further, loans were up $2.5 billion versus Q4 2016, or up 4%.
Growth in loans and deposits is key for any bank, small or large. When we cover large banks, which have complicated balance sheets and are in all areas of banking, we always point out that traditional banking is what grows the business. The results for Huntington should be considered a strength. Further, not only are assets growing, but the quality of the assets is improving.
Asset quality impresses
A serious aspect to consider for all banks is the quality of the assets. Loan growth is a strength, but only if the loans are quality. Risky loans may offer a higher return but not if the debt cannot be repaid and turns to toxic debts. This is one reason we like Huntington. It is a relatively conservative lender and its asset quality continues to improve: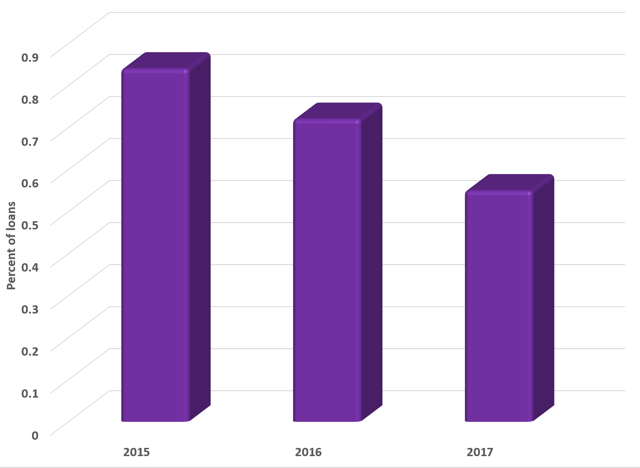 Source: SEC filings
Non-performing assets as a percentage of total assets keep improving. Non-performing assets fell by $98 million compared to the year-ago quarter, while quarterly net chargeoffs were 0.21% of average loans on an annualized basis, compared to 0.26% a year ago. This is a substantial improvement, and the efficiency ratio continues to impress us as well.
Improving efficiency
It should also be obvious to anyone reading our work on banks that we must always look for improvement in the efficiency ratio. The strongest banks have an efficiency ratio under 60%, with the ideal being around 50%. Well, this also a strength of the quarter. The efficiency ratio improved to 54.9% from 61.6% last year: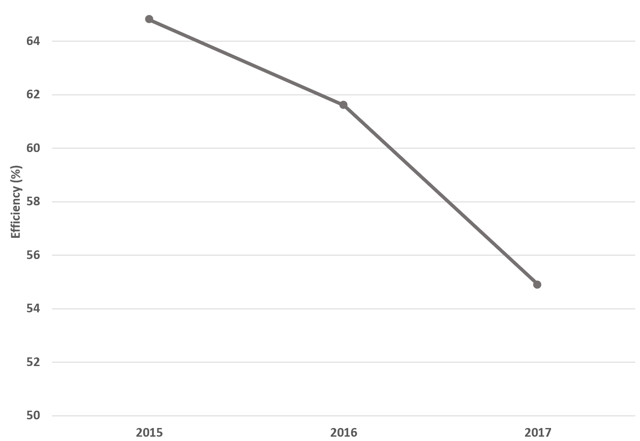 Source: SEC Filings
While the bank is of course still absorbing FirstMerit and it will take time to fully integrate, we will continue to be watching this metric closely in the future. We are pleased with what we see and anticipate this metric will dip under 60% in 2018. In fact, we project the efficiency ratio to approximate 54% to 56% for the year.
Bottom line
Huntington is improving on nearly every major asset quality indicator we examine. Continued solid revenue growth and focused expense controls combined to produce a great quarter. Tax reform will significantly boost 2018 performance and the bank is stronger than ever with the integration of FirstMerit. The bank still pays a solid dividend, with room for expansion. With shares still in the mid-teens ahead of a year that should see significant growth for financials, we think Huntington can be accumulated here.
—
__
Have your own opinion? Then consider publishing your opinion by becoming a guest contributor
—
We want you to join our community
—
-No more costly delays in waiting for material
-Dozens of publications per week, including news coverage, earnings commentary, analysis, politics, and more
-Access to special guest contributions, including from WSJ, CNBC, and prolific SA authors
–Ability to comment on articles
–Access to our weekly newsletter
-Publish your own opinion/analysis
Thank you for your readership, and for your loyalty.
Regards,
Quad7Capital
——
Please Like And Share Our Content!