AT&T (T) has had a tough year, yet AT&T debt is largely ignored. The stock is range bound and facing uncertainty over its merger with Time Warner (TWX). This uncertainty will keep a lid on share prices for some time, but longer-term, we need to keep a close watch on the AT&T debt. The AT&T debt load is the biggest risk to the company.
The debt needs to be taken seriously
We need to be clear. The debt is the biggest threat to the company and the stock long-term. Take a look at debt levels at the end of the last five years: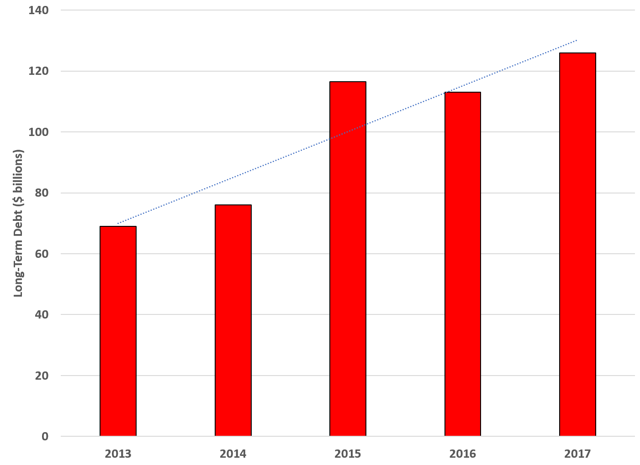 Source: SEC filings
There is no denying that this chart is scary, particularly when we build in our 2018 projections which account for debt added thanks to a successful merger. At the end of 2017 debt stood at $144 billion. Now consider this. The deal with Time Warner is going to run about $85 billion. It is critical that all future investments pay off because this debt load must be addressed.
We have some concerns for a credit rating downgrade given the massive new debt load. With flat growth, an increasing dividend payout ratio, and minimal cash flow growth taking on this mountain of new debt. It is risky and that is why Moody's has the name on watch for a credit downgrade. The major ratings agencies have us nervous, but as of now all debt is still investment grade. We expect that after this deal closes, the company is really going to ratchet up its debt payments in 2018 and beyond.
Addressing debt
The company pays it bills regularly, but interest expense is rising every quarter. Total debt is rising, and as such so are interest payments. We also know that there is a lot more debt coming due this year. For those unfamiliar, when debt matures, the final interest payment and the principal are due. Aside from using cash and portions of incoming cash, how can AT&T address this debt?
We believe fully that asset sales are going to ramp up. Through the first six months of 2017, the company sold off $2.9 billion in assets, and by year end this was closer to $4 billion. But there are other potential sales as well.
We learned today that AT&T is exploring an initial public offering of a minority interest in its Latin America entertainment services business, DirecTV Latin America, here in 2018. We did not get a lot of details on this in the release, but we do know that the company has confidentially filed a registration statement with U.S. regulators. Now, just because it is seeking this, does not mean it will occur, but we do know that proceeds will go to service debt. No assurance can be given that an IPO will be completed.
We also know that AT&T is looking to sell off its data center businesses. These bring in about $135 million in earnings before tax and other items. In terms of valuation, a price tag could be a multiple of high single digits, and perhaps around the $1 billion mark or more depending on quality. This billion may seem like a drop in the bucket, but it would be a nice step toward servicing debt.
In addition, assuming that the merger closes, AT&T should judiciously review all of Time Warner's assets and make open sales of underperforming or non-essential pieces of the business accordingly. Time Warner is a $75 billion company by market cap. While we will not speculate on which assets they may select to sell,but it stands to reason that there are likely billions in assets that could be put up for sale in the coming months following a merger which could go right to servicing debt.
We also believe asset sales will continue even if there is no merger. If there is no merger, then our focus comes back to the core business.
Please Like And Share Our Content!