Travelers Cos. Inc. (NYSE:TRV) stock is in rally mode following its just-reported earnings. What is interesting is that this rally comes despite our expectation of a massive hit from catastrophe losses stemming from the brutal California wildfires that raged on essentially the entire quarter. Natural disasters happen. Sometimes insurance companies are going to take some hits. This is the nature of the business, but Travelers is simply among the best in the sector and we continue to recommend a buy. This has long been a stock that we have held and is a nice dividend machine.
In this column, we discuss performance metrics that you need to be aware of, which we believe justify why we have recommended it several times and continue to do so. Further, we will offer our 2018 projections for the name and our present take on the stock.
Performance data is key
To justify our continued positive outlook, we need evidence in the form of performance data. This is key. Yes, there were impacts from the wildfires this quarter as well as isolated weather events, but let us discuss the performance. The quarter wasn't overly spectacular, but it was still solid even with the catastrophe losses. Nothing in the report is cause for concern, and the insurer continues to be incredibly profitable. We will look to net income, core income, the customer base and the underlying combined ratios. The latter two measures specifically help us gauge the health of an insurer. The name continues to be one we recommend for the long-term as the fundamentals remain intact.
Net and core income
Travelers reported net income of $551 million, or $1.98 per share in Q4. This is actually down from last year's $943 million or $3.28 per share: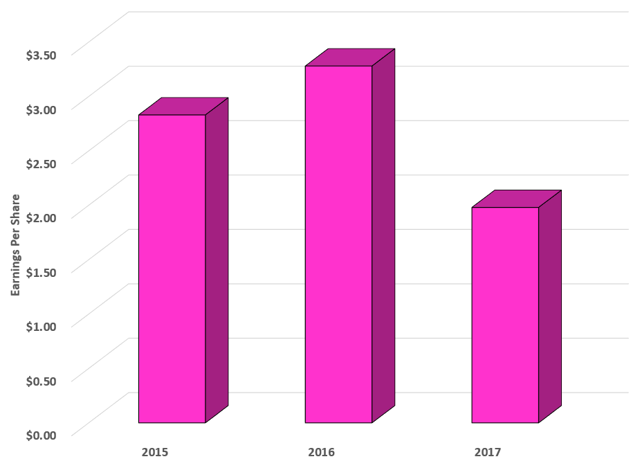 Source: SEC filings
In addition, core income took a lump. Core income, which is really an operating income metric, came in at $633 million, or $2.28 per share, also down from the $919 million or $3.20 last year: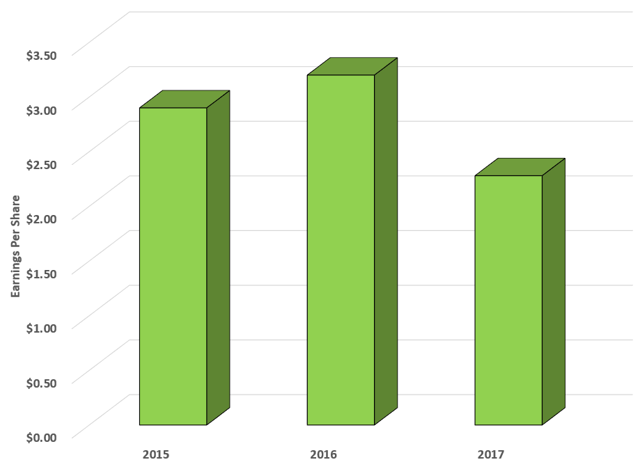 Source: SEC Filings
We were looking for earnings of $1.60, which factored in pain from wildfire losses, but this "beat" versus our estimates needs to be taken with a grain of salt, as there was a $126 million pre-tax ($82 million after-tax) from the settlement of a reinsurance dispute, which drove up earnings. Now the bigger issue here is the trend lower, which may seem scary, but points to the volatility and unpredictable nature of insurance.
So what is going on? Well, both net and core income were positively impacted by higher net favorable prior year reserve development. However, they were hit by higher catastrophe losses, and a lower underlying underwriting gain. We cannot stress enough that the California wildfires weighed. Catastrophe losses in the quarter were mostly driven by a $656 million pre-tax ($426 million after-tax) loss arising from the fires. This drove up some of the critical metrics that we watch, but overall the vitality of the business remains enviable.
Critical metrics
The quarter benefited from a strong underlying combined ratio, despite it ticking higher from last year. The combined ratio was down from the summer time when it was 96.7% to 95.5%. However, the 95.5% is higher than we would like, and is 5.5 points higher than we saw Q3 and higher than last year. Most of this increase was from catastrophe losses from the wildfires, which accounted for 5.3 of the 5.5 point increase.
The underlying combined ratio remains strong at 92.4%, though it did rise by 0.4 points. Still, this is among industry leaders. Great strength exists in the commercial business and the personal auto insurance business line seems to improve meaningfully every quarter. In both the commercial and personal insurance sides of the business net written premiums grew once again. The were up 5% and 8% respectively. As a whole, net written premiums grew 6% in the quarter. This continues a long history of growth in total net written premiums annually: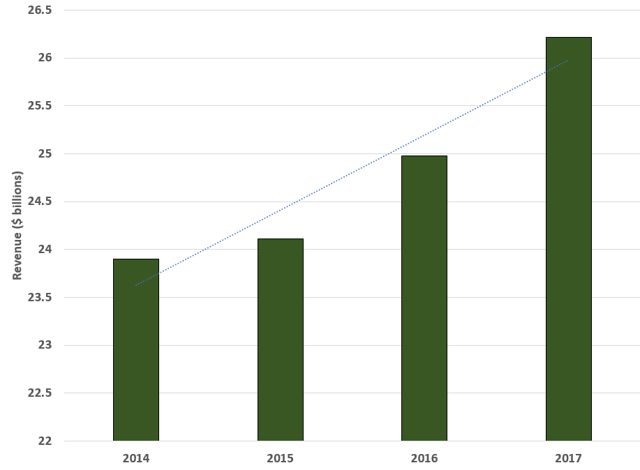 Source: SEC Filings
This is an exemplary pattern and is a testament to management's successful execution of pricing and underwriting initiatives that it has implemented in recent years. Going forward, you want to watch these metrics. Keep an eye on the volatility in this metric going forward along with other key indicators that you might look at when deciding on a potential investment (e.g. trading multiples, earnings figures, dividend yield, etc.). While there can be volatility in some of these metrics, our 2018 projections assume there will not be exorbitant catastrophe losses
2018 projections
We expect a strong 2018 from the company. CEO Alan Scnitzer stated:
From a position of strength, we continue to invest in our competitive advantages, focusing on extending our lead in risk expertise, improving the experience for customers, agents and brokers, and enhancing productivity and efficiency. We are encouraged by the pricing environment, the opportunities afforded by a more level playing field for domestic insurers as a result of corporate tax reform and the prospect of a strengthening economy.
This commentary has us bullish for 2018. Considering all of the losses suffered in 2017, the fact that the company continued to have strong earnings (despite a decline) is very bullish. We believe the company is well positioned to enhance shareholder value and drive the stock higher (barring unforeseen catastrophes)
With this outlook and our expectations for the year we are bullish on the stock for 2018. On the top line, we are anticipating net written premium revenues of $26.5 billion to $27.75 billion under the assumption of written premiums continuing to grow at its recent rates. Assuming this growth and managed well managed expenses, we are anticipating earnings per share of $10.40 to $11.00.
Our take on the stock
This stock is a long-term winner. You will not get rich overnight, but it is a long-term wealth builder in a competitive but profitable sector. We own this name for the dividend and slow capital appreciation. Earnings should rebound with authority in 2018, barring further exorbitant catastrophe losses. The company took a few lumps in 2017, but the underlying fundamentals are strong. We rate the stock a buy.
Please Like And Share Our Content!