We believe that Kellogg (NYSE:K) is a stock that you want to consider when the yield creeps up, ideally around 3.5% or higher. What we like about this stock is that the dividend continues to grow: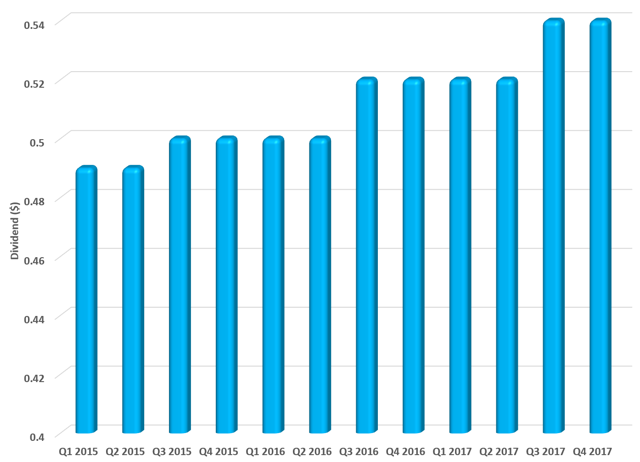 Source: SEC filings
As you can see the dividend has now been raised to $0.54 each quarter. Kellogg really is a dividend growth machine. At an annualized dividend of $2.16, the current yield on the stock is 3.21% based on the current share price of $67.33. To get to the 3.5% yield, we would need as share price of $61.71 to hit our target yield of 3.5%. That is our goal, but should you buy shares above this?
The premium valuation of 30 times trailing earnings assigned to the name stems somewhat from the expected dividend growth. We should also point out that the per share earnings are up in part to big share repurchases. In fact, the company spent $516 million in repurchases in 2017 which helped give a boost to per share earnings.
Generally speaking, we would not pay for such a valuation, given earnings growth of only low-to mid-single digits. However, our 2018 projections suggest growth that puts the stock at a slightly more attractive forward valuation. ndependent of tax reform we were targeting earnings growth of 5.5% to 7.5%. Factoring in a 5-6 point benefit from tax reform, we expect 2018 earnings per share could improve 10.5% to 13.5% in 2018. Therefore, currency neutral, comparable earnings could approximate a range of $4.48 to $4.61. This implies a forward earnings multiple of 14.6.
Please Like And Share Our Content!