In our opinion the sales performance of Campbell Soup (CPB) does not justify the present level of pricing, and that is why we called for profit taking at $60. Now that shares are down 25%, we think the time is right to upgrade to a hold. Still, sales have been rather weak over the last few years, as seen by the fourth quarter sales chart 2015-2017: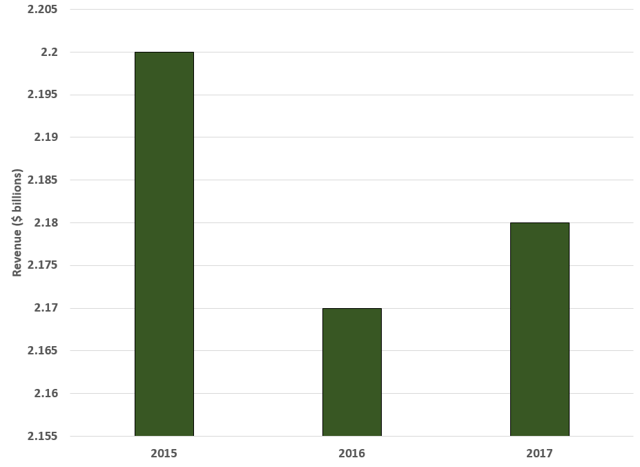 Source: SEC filings
Just looking at sales, we see the lack of growth is apparent. We contend that this is at best a very slow growth name.
We were pleasantly surprised to see sales come in at $2.18 billion. This surpassed our expectations of $2.10 billion by $80 million. We were of course more bearish than the Street consensus, but the Street consensus was for $2.16 billion, so it is a positive to see this target surpassed as well. What is more, growth of 0.5%, while stagnant, is still positive, and more than we expected. So, what is going on?
It seems management's strategy may, and we stress 'may,' be beginning to payoff. We have felt that strategic plans were insufficient as they were not going far enough to offset the pressure from competition and to grow sales. Coming into this quarter, we had seen contraction in the company, with less sales and earnings power. Pricing adjustments helped drive the slight revenue growth, but we do have concerns over organic growth.
Organic growth continues to face pressure. We believe organic growth pressure (down 2% this quarter once again) stems from the fact that many store brands now offer similar products at a reduced rate. The company simply has not done enough to address this pressing issue. Sales pressures are mounting not only from other food companies, but from grocers themselves offering these store brands. At the risk of sounding like a broken record, we are going to harp on this fact until we see a real change here. Our concerns are substantiated once again by the fact that U.S. soup sales were down 7%.
Although sales surpassed our expectations, please understand that we had set the bar pretty low. We continue to stress that Campbell's needs to reinforce what is working, such as its global snacks division. Sales are growing here and there are cost savings initiatives underway. While Campbell has had a particular issue moving product with key customers for soup, it is also having issues in its Campbell Fresh product lines as well. Until the company can get this under control, we are not buyers.
Please Like And Share Our Content!