Overview
Kroger stock has been tumultuous of late. Kroger (KR) is one of the largest North American grocery store retailers operating 2,790 retail food stores in 35 states. The company has a lot different names under its belt including Kroger, Food 4 Less, City Market, Dillons, Fred Meyer, Fry's, Harris Teeter, and Jay C. Kroger stock has been up and down, but operationally the company is rather solid. What we mean here is that also has over 2,000 pharmacies, 783 convenience stores, 219 health clinics, 306 jewelry stores, 1,480 supermarket fuel centers, and 38 food processing plants. Kroger's stores operate as food and drug stores, multi-department stores, marketplace stores, and warehouses.
Operations
Let us briefly describe what we see here operationally. The food and drug stores are largely comprised of food inventories ranging from perishables such as fresh seafood, produce, and other organic food items but also include general merchandise, pharmaceutical items, and pet centers. Multi-department stores stock a collection of general merchandise products ranging from electronics, apparel, toys, fine jewelry, home furnishings, and automotive products. Marketplace stores are an overarching element of the previous two types of stores: offering grocery, pharmacy departments, and general merchandise products ranging from outdoor living products, electronics, and home goods. Warehouses stock grocery, health, and beauty care items.
New directions
Make no mistake, the company has encountered numerous impediments to growth ranging from extreme worries about competitors like Amazon (AMZN), fluctuations in food prices, and competitive promotional environments. The company has also worked to improve its margins and manage inventory.
The company's initiatives to expand its store base, set up an online ordering platform, and proliferate digital coupons/other promotional material are all efforts to remain competitive. KR's various strategic initiatives are on going.
Impact of New Initiatives
In our opinion, Kroger is attempting to undergo an entire rebranding in an effort to change the grocery shopping trip from a chore, into an experience. Several new initiatives are underway that we believe will have minimal impacts on overall revenues on their own but will serve to bring traffic into the stores and increase the likelihood of additional purchases, which will drive same store sales higher in our estimation.
One such initiative is the in-store concept restaurant Kitchen 1883. Make no mistake, moving into another highly competitive, tight margin business is a risk, and the sole location has only been open about a month. The new restaurant is a full-service restaurant, unlike some of the other stop-and-go, takeout, counter style offerings seen in other grocery markets across the country.
The idea is not to make a lot of money from the restaurant. Sure, it wants to be profitable, but the goal is to help bring foot traffic into the store and to change the experience by offering this dining setting. If it works, then expect more of these restaurants.
Digital revenues are another area where the company needs to focus. In the present quarter, digital revenue was up 109%, driven by its ClickList offering. However, the real impact from Amazon's competition stems from the ability to shop from home. Kroger must continue to grow revenue from this source by investing in user friendly, seamless shopping experiences from home. Thus far, a doubling of revenue is a good start. The "Restock Kroger" plan is the comprehensive strategic plan for the rest of the decade to make targeted investments to redefine the customer experience. Below is a snippet from the October investor presentation, where we see digital as a strong component of investment in the next few years, in conjunction with smart pricing: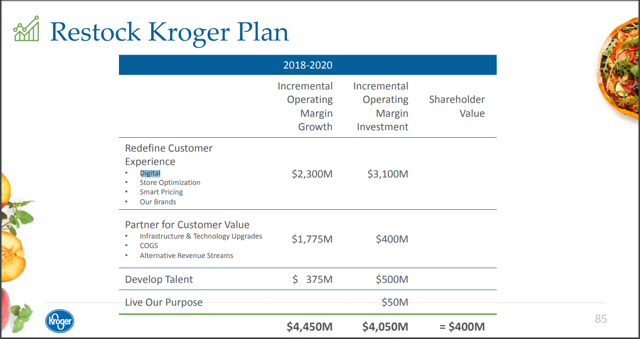 Source: October Investor Presentation
If successful, we expect growth of shareholder value and growth of same store sales. Kroger will now invest over $3.1 billion into this strategic plan this decade, up from $1.7 billion, while reducing its spending on building new stores: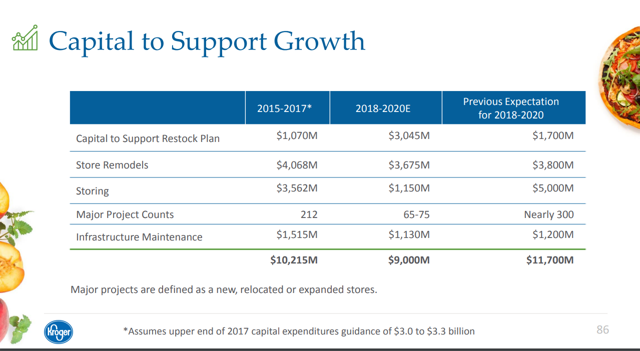 Source: October Investor Presentation
Let us be clear. We love this approach, as Kroger is correcting what it sees as needing improvement, before investing in continued expansion.
All things considered
Positive earnings data could keep the recent rally party going. Right now we missed the big rebound, but we are buyers long-term, simply because of the momentum and plans for the future. Still, be cautious, as shares could selloff if margins tighten or revenues are weak.
Your feedback is required
Did you find our analysis useful? This is what we do at Quad7Capital. We have over 25,000 followers and want you to join the community. You will get access to our exclusive newsletter, and more benefits:
We want you to join our community
-No more costly delays in waiting for material
-Dozens of publications per week, including news coverage, earnings commentary, analysis, politics, and more
-Access to special guest contributions, including from WSJ, CNBC, and prolific SA authors
–Ability to comment on articles
–Access to our weekly newsletter
-Publish your own opinion/analysis
…..and FREE access to our upcoming paid content for life
CLICK HERE: All you have to do is register, and join the community today. 
Thank you for your readership, and for your loyalty.
Regards,
Quad7Capital
——
Please Like And Share Our Content!