Gap Inc. (NYSE:GPS) will be reporting earnings soon, on feb 28th. We would like to share our play on the name and our thoughts on it. We last played the name this summer when shares took a hit. But we want to caution you not to get too bearish, although the quarter certainly was worse than expected on the surface. The question is what to do with shares here? In this column, we discuss recent performance and our take on the name. We believe shares have upside because the earnings miss was a result of investments being made for the future.
We called for a buy in August, about a point off the bottom. After a 57% rally in just a few months after the call the stock began to pull back. After the just reported earnings, shares pulled back to $28:

Source: BAD BEAT Investing
The rally, even at present share prices of $28, is still impressive from the $22.50 or so where we highlighted the name. Should you take profits here and move on, or let it ride? Well, we believe that the stock continues to offer a solid yield (3.5%) while the company continues its transition. We cannot blame you for taking a profit here, but our bias is to the long side. From a technical standpoint there is support at the $28 level, but the fundamental basis for the name is also solid.
Fundamental discussion
While the retailer did beat estimates on the top line, it missed slightly on the bottom line. Management acknowledged there is still much to be done in regard to its own performance and some of the critical metrics were troublesome, but there is reason to be positive.
That said, the report tells us that the Gap has begun to turn the quarter. Make no mistake, however, it is still a transitioning company. On a valuation basis, Gap is still cheap in our opinion. It trades at 13.4 times trailing earnings. Considering we are looking for full-year earnings of $2.65, the name at $28.00 is trading at just 10.5 times forward earnings. That is a massive difference compared to when shares were over $40 back in 2015 and with a stretched valuation. A compressed multiple can be a sign of trouble brewing, but in this case we see the name as emerging from the doldrums. In 2016-2017 Gap stock really took a massive hit with so many other retailers, but it survived, and it is improving.
Nine months after our buy call we would argue that the Gap is doing better than we thought it would. You see, much of the retail sector continues to struggle. While some in the sector have begun to rise from the ashes, others can't seem to find momentum. This is where management comes in. Gap faces issues that resemble both department stores and mall based shops. These include headwinds with foot traffic, leasing rates, online competition etc. However, management has diligently worked to put into play an approach that leverages apparel trends and promotes the strength of its brand portfolio, and this was touched upon in the annual report which we encourage you to read. That said, we believe expectations are rising, and so unlike when expectations were dismal a year ago, when the headline results beat expectations, it is a real win.
In Q1 2018, the company reported net income of $164 million, or $0.42 per share. This compares to net income of $143 million, or $0.36 per share, last year. This is certainly an eye-popping increase in profitability, but on a per share basis, results fell short of expectations. We still believe the trend reversal in earnings per share is worth noting in the recent Q1s: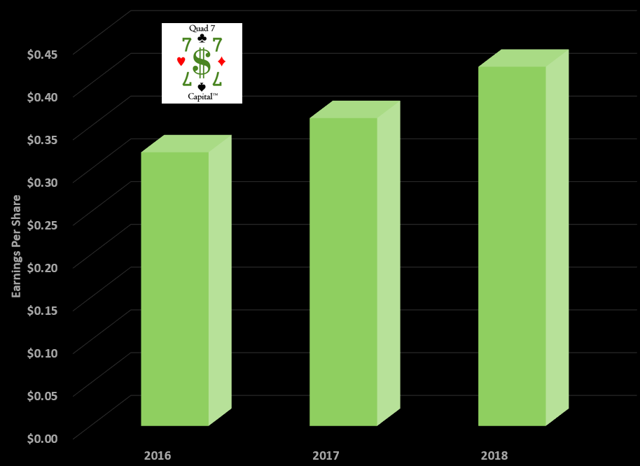 Source: SEC filings, graphics by BAD BEAT Investing
The larger issue here is the miss relative to expectations. What happened? Even with the year-over-year increase in revenues, which were more than expected, the company missed consensus estimates by a $0.04 margin. This left something to be desired. Let us discuss
Sales were better than expected and came in at $3.78 billion. This result surpassed estimates by $180 million. These sales were also up 9.9% from last year: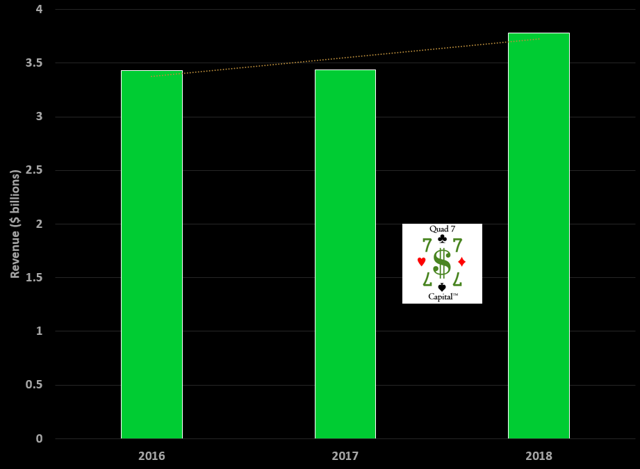 Source: SEC filings, graphics by BAD BEAT Investing
While this is a positive, the one indicator that we watch more than any other is same-store sales. Same-store sales were positive as well, rising 1.3%. This is important, because many other retailers are having difficulty with seeing positive comparable sales. This is also the 6th quarter in a row of positive same store sales. Despite these positives, problems persist in the Gap Global brand, and this weighed overall on sales and subsequent earnings. Overall, Old Navy Global saw 3% comp growth, while Gap Global was down 4% and Banana Republic was up 3%. The latter really helped the quarter, but we need to keep in mind that segments are still struggling and the company is still in transition.
Overall, we were pleased to see the headline numbers impress for sales, but a quick look under the hood reveals deeper issues with segment performance, and that is why this is still a name in transition. Expenses remain high, and this is the metric we will be watching more than any other in the coming months (except perhaps comparable sales). Higher expenses in occupancy and labor, as well as certain apparel input costs weighed. Gross margin was 37.7%, a decrease of 20 basis points compared with last year, while operating margin was down 110 basis points to 6.1%. Increased spending hitting margins was acknowledged on the conference call by Teri List-Stoll, executive vice president and chief financial officer, Gap Inc:
"During the quarter, we made some strategic decisions to aggressively clear inventory through sell-off. We also incurred some expense as we proactively cut CCs originally planned for the back half. While these actions negatively impacted margin rate in the quarter, it does set us up for cleaner stores in Q2 and better inventory positioning for the back half."
Art Peck, president and chief executive officer, Gap Inc added more color on the call:
"We've obviously indicated our appetite for both our CapEx and our OpEx. So let me use Fishkill as an example. We're in the final stages of standing up the rebuild of the Fishkill facility after the fire. That is significantly upped our game in terms of the automation of that facility. In terms of receding — stocking the inventory, picking the inventory and then shipping the inventory, and that's something that we've had and intend to do for a while. It improves our efficiency and our effectiveness through our fulfillment operations.

Another one is we're continuing to invest in bringing the relevant technology and putting it into the hands of our sales associates in our store. We've talked BOPIS, which is in Old Navy now, which we're going to continue to roll across the fleet. We have a really exciting on-shelf in-stock app that we've now deployed on iOS devices in our stores that is an exception based restock app, tied to — especially a redesign of our stock rooms. And we're seeing so far in the very early days a significant improvement in on-floor service levels and the reduction in payroll."
These comments are important as they give a reason for why earnings missed expectations. Sales were fine, but expenses were high. We believe management is making the right move here by heavily investing in moving out old inventory while focusing on its technology front. App development and mobile shopping are key elements to the future of retail and being out in front of this fast moving sector is a recipe for success.
Despite the higher spending, the positive comparable sales (along with expectations for a strong back half of the year) coupled with technical support for the chart suggest a buy is warranted at $28. We expect positive comparable sales growth to continue, and are targeting $2.65 in earnings this year. The stock took a big hit after reporting earnings, but we think the bias is to the upside from here. Gap is not dead, and neither is retail.
Our introductory pricing at 46% off the annual rate is only available to 3 more paying subscribers. After this the price will nearly double as the community continues to grow.
We find beaten-down stocks and profit from their reversals, just like this idea!
Swing trades are suggested almost daily, along with frequent deep value plays.
Dozens of investors are winning, thanks to ideas like this and our members profit daily.
We've generated thousands of profitable ideas, but our best ideas are reserved for our members.
Invest in your future by joining BAD BEAT Investing today!
Please Like And Share Our Content!