New Residential (NRZ) stock is down 4% after hours, creating another buying opportunity in one of our favorite mortgage real estate investment trust. So what is going on here?
NRZ is a high-yield income vehicle structured as a mortgage real estate investment trust with an equity value of $6.2 billion.
The REIT has considerable investments in mortgage servicing rights – which accounted for about half of New Residential Investment Corp.'s investment portfolio at the end of the December quarter – residential securities, call rights, residential and consumer loans.
Here's a portfolio snapshot as of the end of 2018.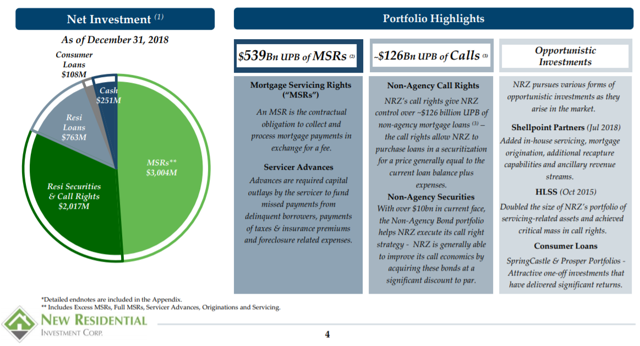 Although the stock rallied hard in the last two months, there is room to run on the back of an offering where we can get in long.
Well NRZ announced today the commencement of a public offering of 40,297,096 shares of its common stock, subject to market conditions. Of the total number of shares being offered, 40,000,000 shares are being offered by the Company and the remainder is being offered pursuant to an exercise of options by FIG LLC. The underwriters may offer the shares from time to time for sale in one or more transactions on the New York Stock Exchange, in the over-the-counter market, through negotiated transactions or otherwise at market prices prevailing at the time of sale, at prices relating to prevailing market prices or at negotiated prices. In connection with the offering, the Company expects to grant the underwriters an option for a period of 30 days to purchase up to an additional 6,000,000 shares of common stock.
The company intends to use its portion of the net proceeds from this offering for investments and general corporate purposes. The company will not receive any proceeds from the sale of the shares by the selling stock
What about basic metrics here?
New Residential Investment Corp. ended 2018 with a book value of $16.25/share, representing an increase of 6 percent year over year. New Residential Investment Corp. has been able to consistently grow its book value over time through a combination of capital raises and strong financial results.


The divvy is also well covered. New Residential Investment Corp.'s fourth quarter dividend coverage stats were fully convincing, again. The mortgage REIT earned $0.58/share in core earnings compared to a stable $0.50/share quarterly dividend. On average, New Residential Investment Corp. earned $0.61/share in core earnings in the last twelve quarters compared to an average dividend rate of $0.49/share.
New Residential Investment Corp.'s core earnings payout ratio (last twelve quarters) averaged just 82 percent, which is exceptional for a mortgage REIT with an almost 12 percent dividend yield.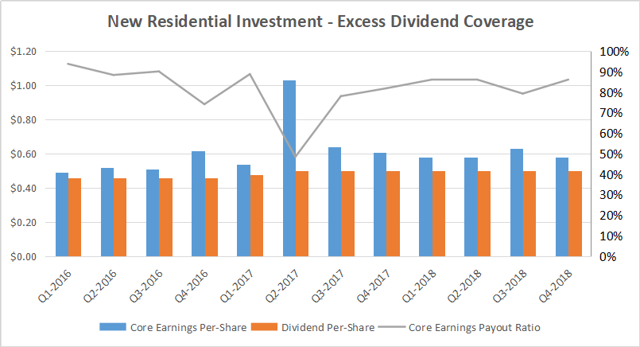 Please Like And Share Our Content!