NovoCure is seeing continued robust growth and adoption of TTFields in glioblastoma. Additionally, full mesothelioma treatment data was presented and NovoCure should begin to market TTFields for the indication here in 2019. This article discusses NovoCure's revolutionary treatment and project future revenues from glioblastoma and mesothelioma treatment. Mesothelioma litigation is a big business. Any mesothelioma treatment is vital to those in the mesothelioma litigation business.

TTFields, through Novocure's Optune device, is now FDA approved to treat both recurrent and newly-diagnosed glioblastoma. Just recently, NovoCure announced stellar data in mesothelioma and plans to market for this indication starting next year.
Glioblastoma
NovoCure is seeing powerful sequential growth for their device in glioblastoma: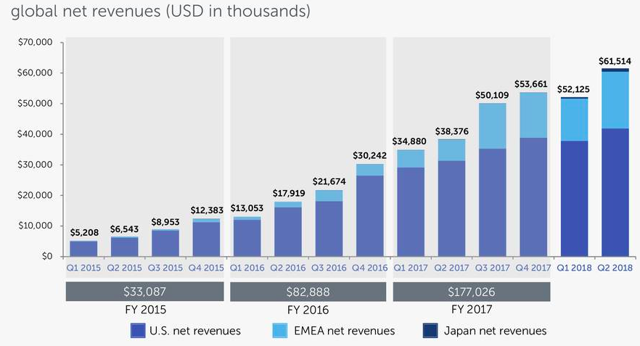 Figure 1: As projected by analysts, NovoCure should secure ~ $250M in FY 2018 revenue
Growing revenues have been associated with increasing users: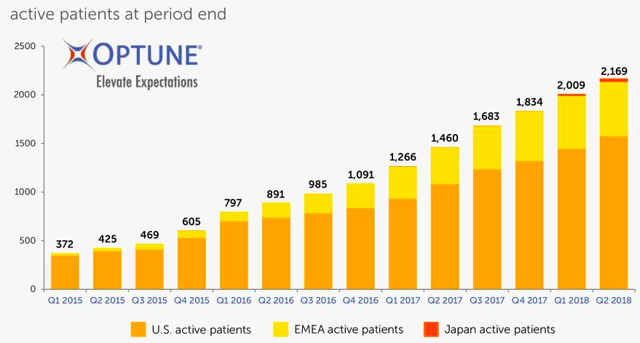 NovoCure estimates their penetration in key markets for glioblastoma remains low. Meaning, there is still plenty of untapped opportunity. NovoCure is purposely conservative when they cite specifics: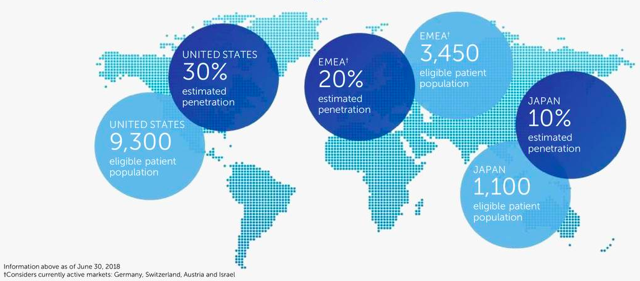 Of the 80,000 newly-diagnosed primary brain tumors just this year in the U.S., ~ 14.9% of them are expected to be GBM (American Brain Tumor Association). This translates to ~ 12,000 U.S. patients. Median survival of GBM is 14.6 months (that's a number before Optune augmentation). Assuming 10,000 U.S. patients, a MS of one year, and $20,000/month revenue from Optune use:
100% market penetration: $2.4B/year
50% market penetration: $1.2B/year
25% market penetration: $600M/year
The following table are loose projections and assume NovoCure meets its 100% perceived penetration in all of 2021.
Market
Quarterly/FY Revenues
Penetration
Est. FY Revenues (2021)
US
~ $44M/$176M
30%
$580M
EMEA
~ $15M/$60M
20%
$300M
Japan
~ $2M/$8M
10%
$80M
TOTAL
$960M
This is a reasonable estimate for 2021.
Last quarter, NovoCure saw 60% YOY growth. Applying a 50% YOY growth in the glioblastoma market makes yearly projections look like this:
2018: $250M
2019: $375M
2020: $562M
2021: $844M
Mesothelioma
Granted, mesothelioma treatment is a considerably smaller market than glioblastoma. However, it's certainly large enough to make an impact on NovoCure's bottom line.
The company recently announced median overall survival for patients with mesothelioma who supplemented standard care with TTFields. It was 18.2 months. This is over 6 months the historical control. Granted, this was an open-label trial that was comparing the augmentation of TTFields with historical controls. Such trials are, generally, unreliable.
Let's go ahead and actually look at how NovoCure conducted the pivotal mesothelioma trial:
We enrolled the last patient in our phase 2 pilot trial in mesothelioma, the STELLAR trial, in March 2017. There is a minimum 12 month follow up following last patient enrollment and we anticipate final data collection in the first half of 2018. The STELLAR trial is a single-arm, open-label, multi-center trial designed to test the efficacy and safety of Tumor Treating Fields in combination with pemetrexed combined with cisplatin or carboplatin in patients with unresectable, previously untreated malignant mesothelioma. The historical control for this trial is the results of the 2003 pemetrexed phase 3 FDA registration trial.

An interim analysis of the first 42 patients enrolled in the trial with an average follow-up time of 11.5 months was presented at the International Association for the Study of Lung Cancer in 2016. The one-year survival rate of patients treated with Tumor Treating Fields combined with pemetrexed and cisplatin or carboplatin was 80% (compared to 50% in the pemetrexed and cisplatin-alone historical controls). Median progression free survival in the Tumor Treating Fields-treated group was 7.3 months (compared to 5.7 months in the pemetrexed and cisplatin-alone historical control) and one-year survival rate was 79.7% (compared to 50.3% in the pemetrexed and cisplatin-alone historical control). Median overall survival had not yet been reached. No device-related serious adverse events had been reported to date.

Note: Median overall survival, discussed above, has been revealed since this filing (Source: NovoCure's latest 10-K)



All in all, NovoCure conducts trials in this fashion because it is cheaper and brings the product to market faster. And, simply, because they can and it's all that is required for them to market this product. I won't get into it, but devices are notorious for having an easier pathway to the market than drugs.
We suspect NovoCure will secure the mesothelioma market in a similar fashion to what they did with glioblastoma.
Market
There are ~ 3,000 mesothelioma patients in the U.S. that NovoCure can target. Outside the U.S., let's, theoretically, add 1,000 additional patients for a total of 4,000. NovoCure should be able to market TTFields next year for this indication.
Assuming a 25% penetration by 2023, cost of $20,000/month for TTField treatment, and a median overall survival of 1 year, this comes to $240M in peak annual sales for the mesothelioma market. Assuming 50% YOY growth, sales of mesothelioma treatments could look like:
2019: $50M
2020: $75M
2021: $113M
2022: $169M
2023: $253M
So, we can conservatively estimate mesothelioma will procure ~$250M in peak annual sales.
Now, let's begin to compound our estimated peak annual sales:
Indication
Peak Annual Sales
Total
Glioblastoma
$1B
Mesothelioma
$250M
$1.25B
Please Like And Share Our Content!